Monitoring and Reconnaissance – "Intense" Overflight by Russian Aircraft in the Skies of Idlib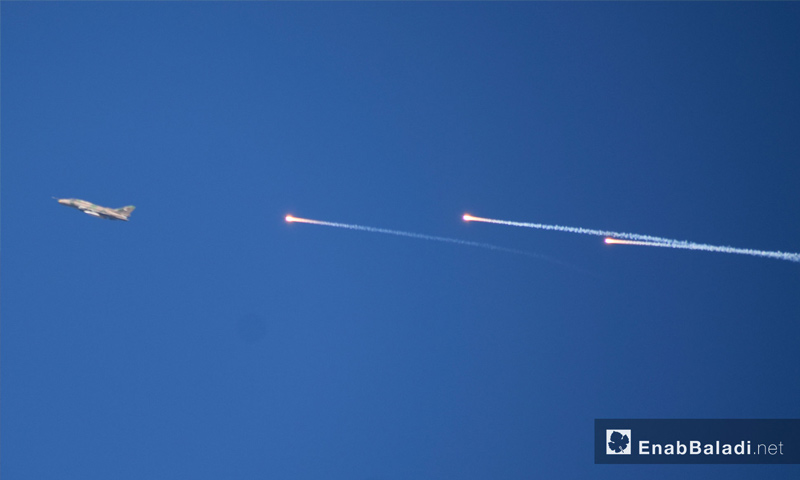 The skies over Idlib Governorate are witnessing intense overflight by Russian warplanes and reconnaissance aircraft, despite the Sochi agreement between Russia and Turkey having been reached last September.
Enab Baladi's correspondent for Idlib and Hama governorates reported on Wednesday 2 January that overflight of these aircraft was concentrated in the evening hours and after midnight. Flights have also increased since the Russian airstrikes which targeted the town of Jisr al-Shughour the previous Monday.
The correspondent for Hama said, citing regional flight monitors, that the Russian warplanes that were heard in the skies over "liberated areas" were of the Sukhoi AM-24 type, which are equipped with modern night-vision and GPS monitoring facilities, as well as equipment for monitoring communications.
The regional sources say that the jets have not, however, carried out any airstrikes since 31 December.
This is occurring although the Sochi agreement, which has been signed by Russia and Turkey, has entered into effect. The goal of this agreement was to establish a "demilitarised zone" between regime-held areas and opposition-held areas to the north.
Monday's airstrikes against Jisr al-Shughour, in western Idlib Governorate, constituted a sudden escalation of tensions in northern Syria.
According to reporting by pro-state media, Assad's forces responded to violations by "terrorist organisations" against the demilitarized zone agreement with shelling attacks on 02 January targeting militant movements on the outskirts of Jarjanaz town in south-eastern Idlib.
Artillery fire by Assad's forces has not ceased over recent days. In particular, shelling has targeted the western strip of Idlib Governorate, stretching from Jisr al-Shughour to the Sahl al-Ghab region in western Hama, as well as toward towns and villages in south-eastern Idlib.
Turkey reached an agreement with Russia on 17 September 2018 which included the establishment of a demilitarised zone between rebel-held and regime-held areas in Idlib.
The zone in question has a breadth of 15 km in Idlib Governorate and 20 km in the Sahl al-Ghab region in western Hama Governorate. This area, according to the agreement, must be free of heavy weaponry, including tanks and artillery guns.
if you think the article contain wrong information or you have additional details Send Correction