"Indiscreet" Kidnappings in Damascus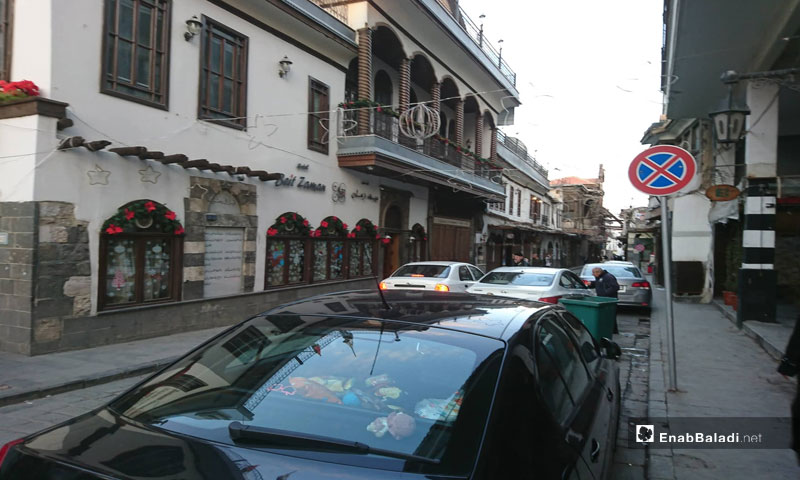 Having passersby around and being near his own home did not save Ahmad, a young man living in Jaramana neighborhood in Damascus, from becoming a victim to an assault and theft by a group of armed persons who attacked him in the full view of his neighbors.
"A few days ago, while coming home, in Jaramana, from work on my motorcycle, a car blocked my way. The persons on board forced me to stop, gathered around me, knocked me hard and took all the money I had, in addition to my cellphone," Ahmad told Enab Baladi.
What took Ahmad aback that there were people on the street, and none of them interfered to save him or even call the police, as he described it.
The war is not a curse to the people of the areas out of the control of the Syrian regime, but also the people in Damascus are suffering a lot, especially after they lost the safety and security which Damascus' people always seem to indicate.
One year into the Syrian revolution, groups were formed in the Syrian regime-controlled areas; they are called "popular committees" and have contributed massively to kidnappings, thefts and killings as to get money from the victims.
Ahmad believes that the persons who attacked him are a gang seeking a ransom, which if the family fails to pay, the victim will be killed, or his/her organs sold.
A Massive Ransom, or Else
Sami's abduction incident, a 20 years old young man, was the main trigger for his family to leave Syria, indulging no thoughts about a near return.
Rama, Sami's sister, said: "A year ago, a gang kidnapped my brother from an area near Baghdad street, the center of Damascus. We had no idea of what happened to him before the gang started calling my parents, demanding that they pay a ransom of three million Syrian pounds (About six thousand dollars).  They threatened to kill my brother and leave his body at our doorstep incase my family does not pay the required money."
"Luckily, my father's work was good, for he trades in cars. I think that the kidnappers knew of our financial status. So, he managed to provide the money needed for my brother's release," Rama added.
After this, her father, mother and male siblings went abroad, sacred of having to face a similar incident.
However, the financial status of Sami's family does not apply to all Syrian households, for not all parents can afford the requested sum of money. "Um Moayad" was contacted to pay a million Syrian pounds (About two thousand dollars) in return for her older son's life, of which she did not have the slightest amount, particularly after the death of her husband, who was a volunteer with one of the Syrian regime's affiliate groups.
"Um Moayad" said: "After the death of my husband, we lived depending on the monetary compensation, allocated by the government to the relatives of the army's martyrs and injured troops, and it is a very small sum, barely covering our basic needs."
A few months ago, "Um Moayad" was waiting for her son's return to their home in Dwel'a neighborhood. When time passed midnight, she tried to contact him, but his cellphone was out of services.
Though she made a complaint to the police, it was to no avail. Days after his disappearance, the mother received phone calls from persons asking for a ransom of a million Syrian pounds, but because she did not have the money, her son's fate is yet unknown.
Official Statistics Contradict Reality
In a census issued by the Criminal Security Department in Damascus, the details of which were published by the local al-Watan newspaper on January 3, theft ranks first among the crimes registered in Damascus in 2018 with 458 police reports.
Illegal migration ranked second, with 386 police reports in 2018.
As for murders, there were 21 police reports and 36 detainees, showing an increase in comparison to 2017, where 12 police reports were made.
The reported kidnappings, made into reports, had the same ratio in comparison to 2017; for there were 10 reports.
The al-Watan quoted a source from the Syrian regime's Ministry of Interior as saying that crimes in Damascus are decreasing, pointing out that the majority of the perpetrators are in custody.
A judicial source, functioning as a judge in the Palace of Justice, Damascus, told Enab Baladi, on the condition of anonymity, that, "murders, since the beginning of the war, rose with 20%. This is a high percentage for a city reigned with security like Damascus, for many persons are impersonating army officers and under the pretext of raids they are robbing houses."
He added: "Lately, security entities have been prosecuting the gangs founded under the war. Upon arresting a number of them, the majority belonged to National Defense and Popular Committees, given arms to protect their areas and used them for personal interests instead."
if you think the article contain wrong information or you have additional details Send Correction