"Idlib Transportation Center" and Attempts at Organizing the City's Transportation Movement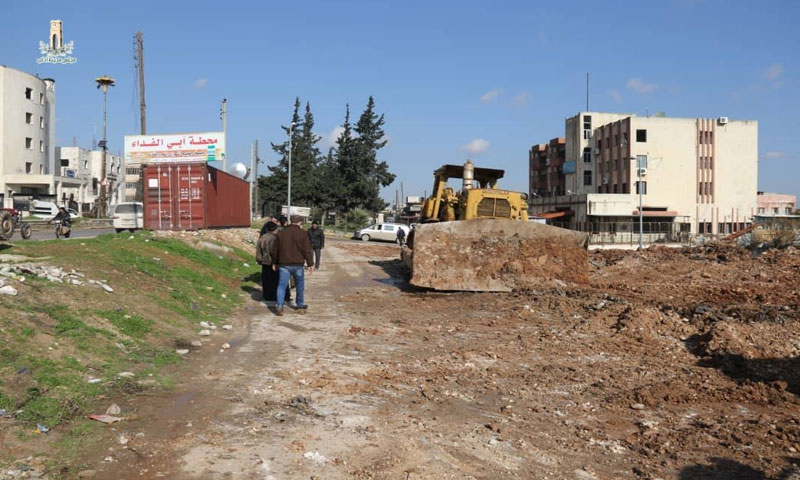 Under the many troubles suffered by the transportation sector in the city of Idlib, haphazard lines and absent administrative censorship, the sole function of which is to set the fees into order, which the mood of the driver is usually tuning , the Idlib City Council is planning to establish a Transportation Center to be a platform from where the internal public transport vehicles kick off.
The project's importance arises from the necessity of offering the city's population means of transportation compatible with their income, measured against a taxi fee which exceeds 400 Syrian pounds, in addition to facilitating the transportation process for university students, according to Hazim Shaikh Ibrahim, the director of Media and Service Office of Idlib City Council.
The new Transportation Center, Ibrahim Told Enab Baladi, the main building of which is to be constructed near the Administrative Sciences Faculty's building, will relief the citizens heading towards hospitals and the industrial area, in the city's eastern part, in addition to mitigating the traffic jam.
20 Buses and Two Voyage Clauses
The center is expected to start offering its services next month, while the bus voyage will be divided into two clauses.
In a round trip, the first kicks off from the main stop, passing through al-Qusoor streets, Ariha intersection, al-Thalathin street, Ibn al-Nafis Hospital, arriving at the al-Herafyin.
The second, also in a round trip, starts from the main stop, passing through the al-Mala'ab roundabout, the University of Education and Literature and finally the al-Herafyin roundabout.
Each of the clauses is covered with ten buses, according to Ibrahim, who pointed out that buses are allocated to bus owners, who apply for working under the project after getting a license from the city council and putting the bus to a technical test by the Transportation Directorate.
Ibrahim explained that the city's traffic committee has defined the fee with 75 Syrian pounds per passenger.
The Transportation Center's affairs will be organized through equipping the main bus gathering point, for it will be prepared through expanding the roads, removing the kiosks at both sides of it and fixing sign boards, indicating all the stops.
The current transportation fee is exhausting the people, a situation backed by the slow daily trips due to the military checkpoints erected in the area and the weak demand on transportation, which forces the drivers into a long wait for passengers.
The "Salvation Government" runs Idlib's administrative and security sectors after the "Interim Government's" influence diminished following "Tahrir al-Sham's" control of the area two years ago.
if you think the article contain wrong information or you have additional details Send Correction