Women Empowerment Activities in Rural Aleppo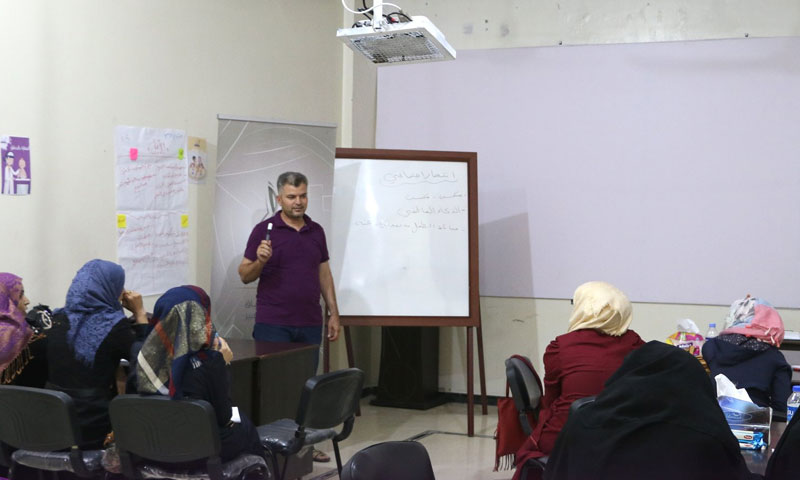 The Women's Association for Training and Development (WATD), founded in March in the Qalaat al-Madiq town, western rural Aleppo, conducts periodical training workshops to raise women's efficiency in various fields.
The Association was formed by a group of women functioning in the humanitarian sector, 20 women so far, representing rural Hama's villages.
The Association seeks to include women representatives of the area's remaining villages, according to engineer Maiyada Darwish, the Association's director, who told Enab Baladi that it does not receive any form of funding, as it relies on coordination and cooperation with some of the civil society organizations, which were very responsive to the idea.
Discussion-Based Sessions
The main goal of the Association's foundation is the activation of women's role in society and empowering them at an economic, social and cultural level, Darwish told Enab Baladi.
To achieve this, the Association organized several courses and workshops in the past a few months, where over 30 women participated in each of the separate events.
The courses covered areas relating to training on administration and leadership skills, in addition to discussions that addressed the risks of early marriage, child labor, abandoning school and family fragmentation.
The foundation of the Association echoed in the local community, for it is the first of its kind in rural Aleppo. This triggered the area's women to enroll as to play an active role.
Of the women who applied for membership is engineer Lama Khairo, teacher at Idlib's Agriculture Collage.
Lama attended several courses, including the management and initiation of developmental projects, conducted by the Association in cooperation with one of the area's organizations.
Lama told Enab Baladi that the workshops helped her develop her skills and capabilities.
Jumana al-Saleh, an Agricultural Engineering student, told Enab Baladi that she attended several courses on early marriage and family fragmentation, which focused on these tow situations' resultant risks and the proposed solutions to contain the phenomenon and maintain family cohesion.
In the past a few years, women's participation in the foundation of organizations and centers for the empowerment of women increased, a thing that was not familiar in the area prior to the Syrian revolution.
if you think the article contain wrong information or you have additional details Send Correction