"Women's Voice" Project to Build Women's Capacities in Northern Syria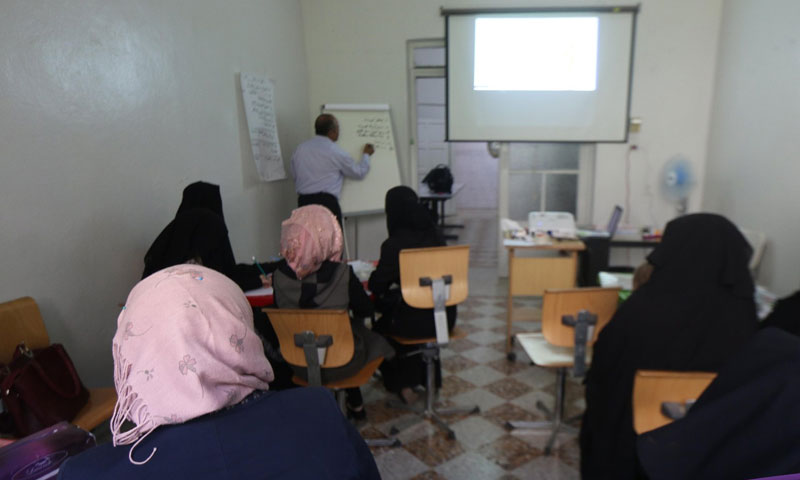 The Local Development Organization (LDO) launched the Women's Voice project in seven rural areas of Aleppo and Idlib, and this month it conducted a series of courses aimed at supporting women's associations and raising their efficiency.
The areas of Darat Izza, Atarib, Kafr Naha, Ariha and Ma'arat al-Nu'man were selected for the implementation of the project. The project is also searching for an alternative to Qalaat al-Madiq and Khan Sheikhun, which were supposed to be included in the scope of the project but have come under fire from the Assad regime and Russian military campaign in the area.
Courses and Tools to Assist Women
According to a letter to Enab Baladi, the organization has set up an "administrative empowerment" program for women's organizations through eight five-day sessions with 20 participants each representing an organization.
The areas of training revolve around the development of computer skills, leadership and communication skills, training of trainers, awareness on gender-based violence, project management, feasibility studies and accounting basics, while training staff on the development of the rules of procedure of associations.
Speaking to Enab Baladi, the director of the Northern Syrian Women's Association, Thelal Rahal, said after attending some courses that the project contributed to increasing awareness of women's responsibilities and rights while focusing on the importance of good planning for any project.
Local Development seeks to hold a number of dialogue sessions that will bring together association management teams, the local community and the Local Council to raise awareness of the important role women and enhance community confidence in their abilities.
It also aims to develop an electronic training platform containing the training materials received by members of the women's associations, to grant them the ability to train new beneficiaries after the project concludes, and to create an account for each association that allows them to communicate and relay their experiences.
Nucleus of A Women's Union
The organization is working to set up a committee to prepare a database for women, can be useful for them to find employment opportunities with other organizations, and to be "the nucleus of a women's union," as Rahal put it.
It intends to develop revenue-generating projects for associations to fully implement their activities aimed at building women's capacities, through the practical application of trainings provided within the project, with grants to associations that will be committed to attending all the training courses.
Another beneficiary praised the project, while speaking to Enab Baladi, and pointed to its aspiration in terms of development and services. Rabia al-Harami, the deputy head of the Syrian Women's Caucus in Ma'arat al-Nu'man, said that these projects can lead to a renaissance in society, through what it provides to meet the needs of women.
Persisting Needs
Meeting the needs of women, from education, work and care, is of great benefit in building society as a whole, through the role of women as wives and mothers, Rabia said.
Women in the north of Syria suffer from lack of capacity, and are in need of support through small projects that enable them to meet their requirements, especially female heads of households, according to the director of the northern chapter of the Syrian Women's Association (SWA).
Moreover, women need psychological support and health care, especially those suffering from the hardships of displacement, Rabia said. She added that women need to find shared projects that could help integrate local women with displaced women in host communities.
Over the past four months, the Syrian north has suffered a military campaign that has displaced more than half a million people, according to the emergency response coordinators in northern Syria on 25 May. The region was heavily congested last year after receiving more than a million people from opposition areas captured the Syrian regime.
The United Nations estimates that 83% of Syrians are below the poverty line after eight years of conflict. In its 2019 plan, the UN has set the goal of securing livelihoods and basic services as its main priority, with 11.7 million people in need of assistance throughout Syria.
if you think the article contain wrong information or you have additional details Send Correction