"Tahrir al-Sham" Explodes Bridges Connecting Regime Controlled Areas with Southern Aleppo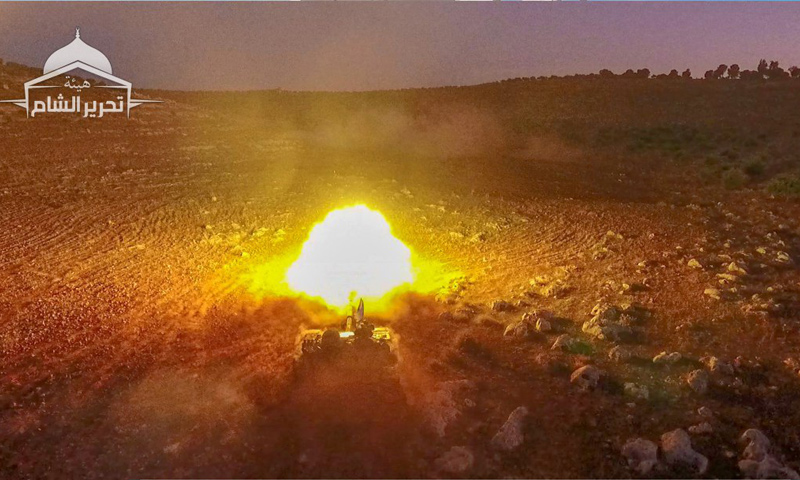 "Hay'at Tahrir al-Sham" exploded bridges in southern rural Aleppo, which connected the area with those controlled by Assad's forces and its affiliate militias.
The Engineering Brigade of "Tahrir al-Sham" has eradicated some of the secondary bridges that connected the town of al-Eiss with the area of al-Hadher, southern Aleppo, "Abu Khalid al-Shami" spokesperson of "Tahrir al-Sham's" military wing, said today, Monday, December 3.
Al-Shami added, telling Ebaa Agency, that bombarding the bridges is "to prevent the enemy from sneaking through them and to guarantee the people's safety."
The Assad's forces have bombarded, with missiles, the southern and western rural parts of Aleppo following the eradication of the bridges, and there are not civilian casualties, Enab Baladi's correspondent in rural Aleppo reported.
The current step, undertaken by "Tahrir al-Sham," resembles what the "National Front for Liberation" did in western rural Aleppo, for in the past a few months, the latter bombarded three bridges in the al-Ghab Plain area to obstruct the Assad's forces' progress in case a military operation is started.
Exploding the bridges in southern rural Aleppo corresponds to the military reinforcements brought in by the Assad's forces to the surrounding of Idlib governorate and the western and southern rural Parts of Aleppo, according to what pro-regime news networks have been reporting in the past a few days.
Last January, the Syrian regime managed to control the majority of southern rural Aleppo, reaching the eastern rural parts of Idlib, as it took over 40 villages in the area.
Since then, the southern and western rural parts of Aleppo have been witnessing light skirmishes and confrontations between the Syrian regime and the opposition factions, functioning there, while, lately, there has been talks about a military campaign that the Syrian regime might launch as to control all southern rural Aleppo.
Iran has a principal interest in southern rural Aleppo, being one of the key areas taken as a stronghold by the Iranian "Revolutionary Guard" in Syria.
Throughout the past years, Iranian officials have repeatedly visited rural Aleppo, the last of whom is the Iranian Minster of Defense Amir Hatami, who visited the city of Aleppo and its countryside last August.
"National Front" Bombards Bridges Connecting Regime Areas with those of Opposition in Rural Hama
if you think the article contain wrong information or you have additional details Send Correction