"National Front" Bombards Bridges Connecting Regime Areas with those of Opposition in Rural Hama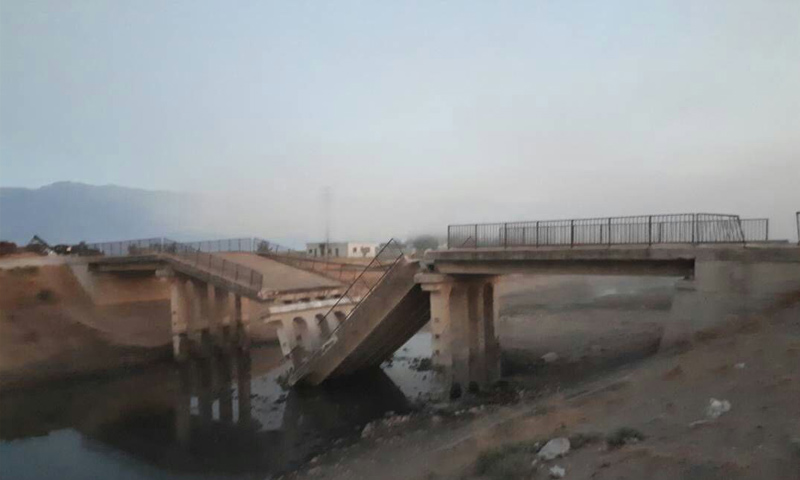 The "National Front for Liberation" has bombarded bridges connecting opposition-held areas with areas under the control of the Syrian regime, western rural Hama, in a proactive step to hinder the progress of the latter if a battle was to break out in the upcoming days.
Enab Baladi's reporter in rural Hama has today, Friday (August 31), said that the bombings targeted the two bridges of al-Sharia and Bait al-Ras in al-Ghab Plain, which make the principal link between the two sides' areas of control.
The reporter explained that the factions, which joined the "National Front," tried to bombard al-Huwayz, but the area's people prevented them, unless Assad's forces make an actual progress through military action.
The bridges' bombardment corresponds to talks about the anticipated offensive of Assad's forces in Idlib governorate, after massive military reinforcements has reached the area's surrounding, especially to Jurin camp, western Hama.
The Syrian regime's air force has already targeted a number of bridges in al-Ghab Plain, al-Jayyid, al-Sharia and al-Tuwayni, to prevent the opposition factions attempts at infiltration back then.
The reporter pointed out that the two bridge's bombardment has triggered western rural Hama people's anger, because many towns have been controlled by Assad's forces in the past a few years from which the people were displaced to opposition-held areas.
The reporter said that these towns' people were "hoping" to return to their areas which Assad's forces entered, covering hundreds of hectares of agricultural lands, to the west of al-Asi river.
The towns include al-Hakoura, al-Touta, al-Drableh, al-Tamanah, al-Ramleh, Qabr Fidda, al-Ashrafiah and al-Karim, which Assad's forces destroyed completely and confiscated their agricultural lands in al-Ghab Plain, known for its fertile soil, where various crops are cultivated.
The features of Idlib's upcoming phase have not yet been made clear; the situation is so far ambiguous amidst ongoing talks between Turkey and Russia.
In the past a few days, "Hay'at Tahrir al-Sham" has sent military vehicles to different areas of Idlib's south-eastern countryside, especially the fronts at Tamanah and al-Khuwayn.
Reinforcement were not sent by "Tahrir al-Sham" only, for the "National Front for Liberation" has also deployed reinforcements to the fronts at rural Hama and western Idlib, in the area of al-Ghab Plain, reaching Jisr al-Shugur city.
if you think the article contain wrong information or you have additional details Send Correction