"Al-Fahd Forces" Faction Announces Readiness to Combat Regime Military Movements in Suweida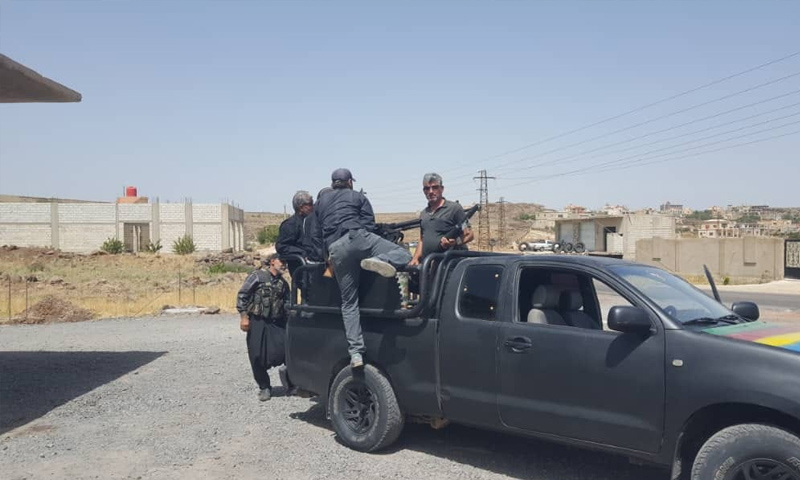 The "al-Fahd Forces" military faction, which is active in Syria's Suweida Governorate, has announced its readiness to combat regime movements in the area.
The faction posted a statement on its Facebook page on 17 December in which it said that "we, the al-Fahd Forces, announce our complete readiness and preparedness against those who try to infringe upon our positions".
The statement added that the announcement was in response to information that was circulating regarding meetings being held and demands being made for the disbandment of local factions and the confiscation of their weaponry. The statement attributed these reports to the "return of a repressive system with an agenda contrary to our national interests here in Suweida".
Rejection of Disarmament
The faction's statement came days following an announcement by the "Sheikh al-Karama Forces" which had also declared its readiness to resist disarmament. Information has circulated recently regarding attempts to assassinate figures from the latter group by the Syrian government's intelligence services.
The "al-Fahd Forces" affirmed several points in their statement, including that members retaining their personal weapons was a matter of "their dignity and the preserving of the peace".
The group said that "we reject any infringement in this regard; withdrawing weapons will be unacceptable for as long as there is reason to carry them, for as long as the area remains under threat".
The faction warned against "any forceful arrests for purposes of compulsory conscription. We consider any action in this regard as a threat to the stability of the governorate and to the peace among our people".
Who are the "al-Fahd Forces"?
The "al-Fahd Forces" is a breakaway faction from the "Men of Dignity Movement" and "Sheikh al-Karama Forces" groups. It does not have any relation to the two factions established by Salim al-Hamid in Qanawat village in Suweida Governorate, although the "al-Fahd Forces" also operate in theis village.
The faction was established by fighters from varying backgrounds, though it particularly included fighters who chose to leave the "Men of Dignity" movement after the killing of its leader Wahid al-Balaous. Those who left this movement said that it was due to the faction's practices being contrary to its principles.
The "al-Fahd Forces" now embraces the founding principles of the "Men of Dignity" movement, and the relationship between the two groups is good. The factions have several points of interest in common – most of all mutual self-protection.
if you think the article contain wrong information or you have additional details Send Correction