Al-Assad promotes internationally penalized officers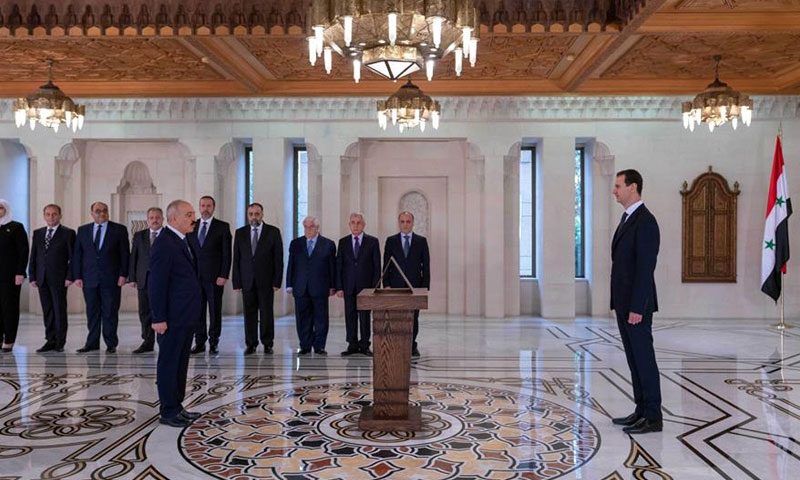 Amid the increasing demands and repeated calls by human rights centers and UN commissions to hold war criminals in Syria accountable, Syrian President Bashar al-Assad insists on the promotion of officers and officials who are internationally penalized and charged with war crimes to high administrative and military positions.
Al-Assad had made ministerial reshuffles in his government by appointing nine new ministers, on Monday, November 26.
During his meeting with the new ministers after taking the constitutional oath, on Thursday November, 29, al-Assad considered that the Syrian people aspires the government to combat corruption, which raised oppositionists' ridicule because of the call of those who they describe as war criminals to combat corruption.
The ministerial reshuffle included the appointment of Hussein Arnous as Water Resources Minister instead of Nabil al-Hassan, and Atef Nadaf as Interior and Consumer Protection Minister replacing Abdallah al-Gharbi.
Mohammed Khalid Rahmoun was appointed as Interior Minister instead of Mohammad al-Shaar. Mohammad Rami Radwan Martini was appointed as Minister of Tourism in place  of Bishr Yazji. Emad Mowaffaq al-Azab was appointed as Minister of Education and Bassam Bashir Ibrahim was appointed as Minister of Higher Education.
Suhail Mohammad Abdel Latif was appointed as the Minister of Public Works and Housing. Iyad Mohammad al-Khatib was appointed as Minister of Communications and Technology, and Mohammad Maan Zain al-Abidine as Minister of Industry.
Head of "Death Division" appointed as Minister of Interior
The first appointment was the transfer of Maj. Gen. Mohammed Khaled Rahmoun from the Political Security Directorate to the Ministry of the Interior, replacing former Minister Mohammad al-Shaar. Rahmoun is accused of crimes of bombing and torture in the Air Force intelligence branch he headed, according to With Justice website which is concerned with the prosecution of war criminals in Syria.
Rahmoun was born in 1957 and he is from the town of Khan Shaykhun in the southern countryside of Idlib. He is considered one of the most prominent security figures in the Syrian regime. He has been in security and military positions in al-Assad's forces since 2004 when he headed the Air Force Intelligence Branch in Daraa, before heading the Air Force Intelligence Branch in the headquarters in Harasta city since 2011. In 2017, he was promoted to the rank of Major General, and became the head of the Political Security Directorate.
Rahmoun had various nicknames, such as "Ghouta's executioner," for being responsible for the massacres in Harasta, Barzeh, Qaboun and Tishreen neighborhood, and the "Chemical Official" after being accused of bombing Ghouta with Chemical weapons in 2013, in addition to "the Head of Death Division" as he used to occupy the position of Head of Air Force Intelligence Branch in Harasta.
A former detainee in the Air Force Intelligence Branch in Harasta, who is originally from eastern Ghouta, told Enab Baladi that Rahmoun personally oversaw the raids and arrests that took place in the villages and towns of Ghouta, indicating that he has a firm personality and strong memory.
The detainee spoke about Rahmoun's firmness and ruthlessness, even with the officers under his command. He ordered the arrest of an officer for six months, because he smuggled a woman and her daughter from Barzeh al-Balad to Jordan.
Due to Rahmoun's crimes and charges of bombarding Gouta with chemical weapons, he was included in the United States' list of sanctions, in early 2017, along with other 17 officials and six prominent figures.
The godfather of al-Waar Evacuation appointed as head of Political Security Directorate
The second appointment consisted of naming Major General Hussam Luka Head of the Political Security Directorate, as Rahmoun's successor, after he was the head of the Political Security Branch in Homs and assistant to the director of the General Intelligence Directorate.
Luka is originally from khanasir area in the eastern countryside of Aleppo. He was appointed as head of Political Security Branch in Homs since April 2012, replacing Brigadier General Nasr al-Ali.  The newly-assigned director was known for his brutal strife against the first peaceful demonstrations that took place in the city of Homs.
He is considered one of the most prominent security figures of the Syrian regime. He played the biggest role in controlling al-Waar neighborhood in Homs, in 2017, following an agreement sponsored by Russia, dictating the departure of the neighborhood's inhabitants and fighters toward the north of Syria.
Luke has stepped out among lists of the Syrian regime's security figures who were held responsible for torturing detainees and peaceful demonstrators in prisons. Such notorious reputation led to including him in the European Union's sanctions list in 2012.
In recent months, human rights activists attempted to try those who had been accused of war crimes in Syria. Similarly, German and French judiciaries have issued joint arrest warrants against three Syrian intelligence officers, namely, the head of Air Force Intelligence Directorate, Jamil Hassan, head of the National Security Bureau, Ali Mamlouk, and head of Investigation Branch in the Air Intelligence Force, Abdul Salam Mahmoud.
The German General Prosecutor issued an arrest warrant against Jamil Hassan on June 8, after a criminal lawsuit was filed by former detainees.
Muhammad Khalid Rahmun: The "Executioner of Ghouta" Rules Over the Syrian Ministry of Interior
if you think the article contain wrong information or you have additional details Send Correction