14 Thousand "Free Army" Troops to Join East Euphrates Battle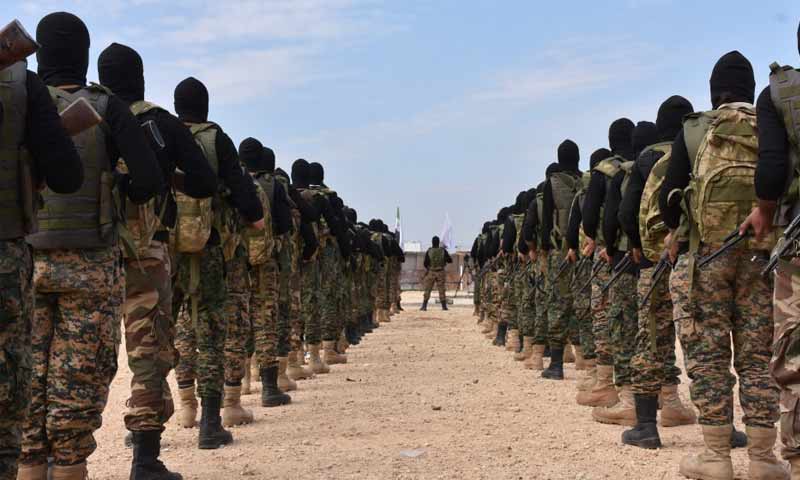 The "Free Army" troops are getting prepared to participate in the east of Euphrates' military operation, to kick off in a few days as Turkey stated.
14 thousand troops of the "Free Army" have been fully equipped with munition, equipment and arms and told to be ready for the operation, Yeni Şafak newspaper reported Today, Thursday (December 12).
For his part, Youssef Hamoud, spokesperson of the "National Army," confirmed that 14 thousand troops, from the Army's different legions, will be participating in the battle.
So far, the number is enough, and the Army has the readiness to offer more than the announced numbers according to the battle's development and its demand, Hamoud told Enab Baladi.
In the past a few days, Turkey announced that it will be launching a military operation against the "Syrian Democratic Forces" (SDF), positioned east of the Euphrates.
The Turkish President Recep Tayyip Erdoğan, in a press conference yesterday, said: "Turkey will start its campaign to save east of the Euphrates from the separatist terrorist organization in a few days."
Turkey has completed the needed preparations for the operation during the time it issued warning on east of the Euphrates, he added.
The "National Army" will participate with infantry, supported by infantry and artillery divisions from the Turkish army, according to Hamoud, who in a former interview said: "The battle will be integral, starting from Manbij to Tell Abyad and passing through Ras al-Ayn."
The Turkish army deployed tanks and military vehicles to the borders with Syria, in addition to positioning "Special Forces" units at several posts on the borders, TRT HABER channel reported yesterday.
The Turkish official channel reported that the military units are spread in the city of Kilis and Hatay province, in addition to the posts, surrounding, east of the Euphrates from Turkey's side.
30 armored vehicles arrived in Afrin, passing through Kirikhan area, Star newspaper reported.
The city of Tell Abyad is supposed to be the first target to the military operation that Turkey will start.
The city has been controlled by the Kurdish "People's Protection Units" since 2015, as it entered it following the removal of the "Islamic State" (IS).
if you think the article contain wrong information or you have additional details Send Correction