"SDF" Commander Pledges to Combat Any Turkish Attack East of Euphrates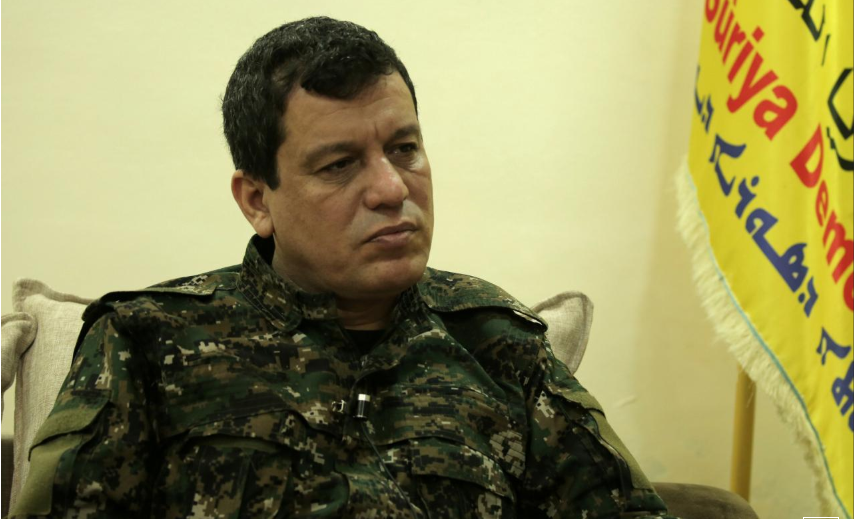 Mazloum Kobani, commander in chief of the "Syrian Democratic Forces" (SDF), announced his forces' readiness to combat any Turkish attack in territories east of the Euphrates, tow days following Turkey's declaration of the battle to be launched in a few days.
"We are ready for any attack and will respond strongly…within our areas," "Kobani" said in an interview with Reuters on Friday, December 14.
"Till now, our diplomatic attempts are ongoing to deter this," he added.
"Kobani" has been having a lower profile on media, while limiting his statements, in the past a few years, to several outlets, the last of which was in April, to Asharq Al-Awsat, in which he expressed the readiness to cooperate with Arab forces.
The Turkish President Recep Tayyip Erdoğan, in a press conference, held two days ago, said: "Turkey will start its campaign to save east of the Euphrates from the separatist terrorist organization in a few days."
Turkey has completed the needed preparations for the operation during the time it issued warning on east of the Euphrates, he added.
American Attempts
"Kobani" explained that Washington have made many serious attempts to deter the Turkish attack against the Kurdish forces, necessitating that the United States makes a greater effort.
He warned that the attack would hinder the "People's Protection Units" forces from combating the "Islamic State" in the Hajin enclave, rural Deir ez-Zor.
The Turkish military reinforcements continue to arrive in the Syrian-Turkish borders, especially from the direction of the city of Ras al-Ayn and the town of Tell Abyad, located on the orders.
In the past a few days, the factions of the "National Army" have announced the competition of the preparations for the launch of the military operation.
While commanders told Enab Baladi that the operation will cover Manbij, Ras al-Ayn and Tell Abyad.
James Jeffrey, the United States Special Representative for Syria Engagement, met "Kobani" inside Syria, after a visit to Turkey, early this week.
"(Jeffrey) knows well that Turkish attacks will make the fight against Daesh fail and will help its troops regain their power," "Kobani" said. "All the work between us will go to waste."
Who is Mazloum Kobani?
Farhad Abdi Shahin, commander in chief of "SDF", has many nicknames, which he is known by within and outside his surrounding, including Shahin Jilo, "Mazloum Kobani" and "General al-Mazloum."
The Turkish Ministry of Interior included Jilo on the "Red List," known as a part of its "Terrorism lists."
Jilo is responsible for the coordination of receiving arms and funding offered by the U.S., Talal Silo, defector colonel from "SDF," said in an interview with Anadolu Agency.
Silo added that talks were made in Raqqa between Shahin Jilo and the son-in-law of the "Islamic State's" prince concerning a deal about transferring all IS' fighters from Raqqa to Deir ez-Zor.
14 Thousand "Free Army" Troops to Join East Euphrates Battle
if you think the article contain wrong information or you have additional details Send Correction