Rural Homs "Cut off from the World" after Removal of Internet Satellites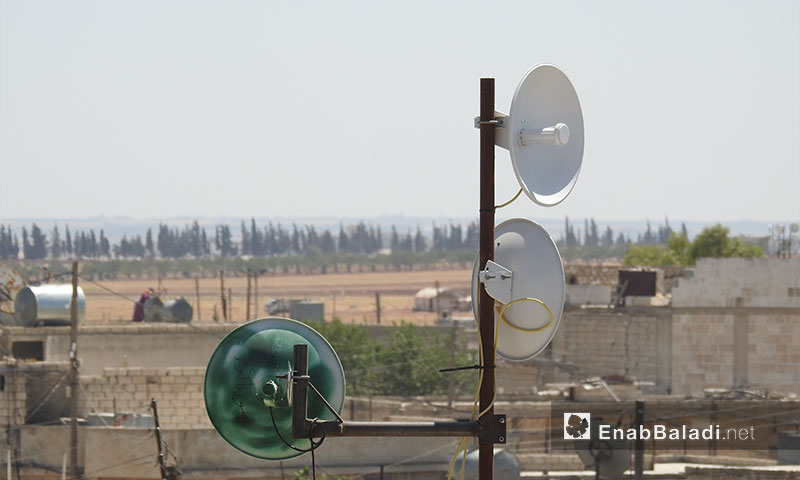 The people from the northern countryside of Homs are suffering after the Assad's forces have forced them to remove the internet satellite dishes and the Turkish cellphone lines.
According to Enab Baladi's reporter in rural Homs, today, Thursday (October 11), the removal of the transmitters and the two local telecommunication companies, "MTN" and "Stryiatel," abstinence from installing telecommunication towers in the area have cut the area's people off the external world, considering the difficulty of providing connection to internet.
The reporter pointed out that the Military Security patrols have confiscated the people's internet devices last Monday.
He also confirmed that the internet line's owners were detained for two hours before being released again, on the condition that they refer to the Military Security Branch on specific dates.
The Assad's forces have declared complete control over the two countryside of northern Homs and southern Hama on last May 16, following the departure of the last portion of the area's troops to Idlib, under a reconciliation agreement imposed by Russia.
The northern Homs deal provided for enhancing security and stability in the area's towns and cities.
Since the breakout of the demonstrations in 2011, the Syrian regime got hold off all types of communication methods in the cities, neighborhoods, towns and villages which witnessed anti-regime action.
It also resorted to the policy that is based on alienating people from their surroundings, which facilitated for its action and gave its forces a larger space to combat the demonstrators. However, with the area's breaking from its control, the people started to adopt alternative methods such as internet provided through satellite dishes and other networks from Turkey, Iraq and Jordan.
The cities and towns in rural Homs witnessed several events, imposed by the Syrian regime's security and military influence, in contradiction with the terms agreed upon under the "reconciliation" or legalization agreement.
The events include the arrests that targeted the reconciliation figures and former volunteers at the "Civil Defense" teams, in addition to campaigns in search of weapons, which were accompanied by a state of security chaos imposed by Assad's forces affiliated militias.
if you think the article contain wrong information or you have additional details Send Correction