Turkish Tanks Arrive at al-Ghab Plain for the First Time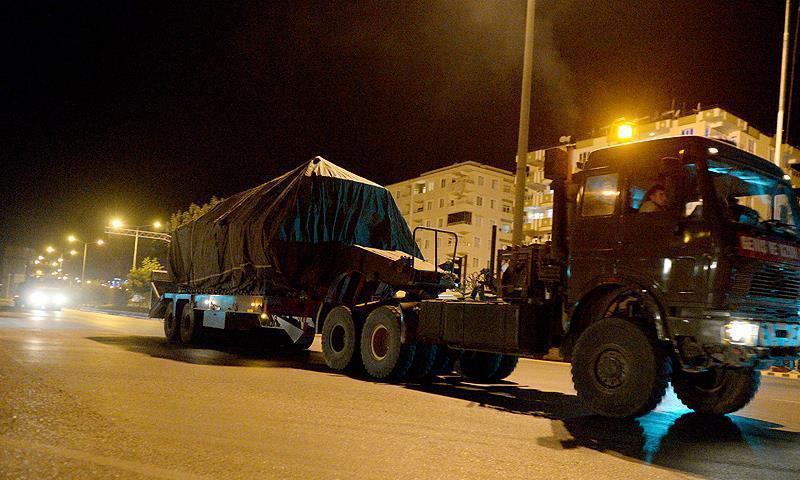 New Turkish military reinforcements has reached the supervision points in the western countryside of Hama, including tanks, as informed by Enab Baladi's reporter.
The rural Hama's reporter has today, Saturday (September 15), said that the military reinforcements of the Turkish army have reached the Turkish supervision point at Shiyar Maghar, al-Ghab Plain.
The reinforcements include, six tanks, ten armored vehicles and a car with a radar.
The reporter pointed out that a part of the reinforcements has headed towards the observation point in the village of Eshtabraq, Jisr al-Shugur.
The Turkish military reinforcements are being deployed in the shadow of the much talked about attack that Assad's forces and Russian and Iranian allies are planning against Idlib governorate and the intensified aerial shelling that has been targeting the rural parts of Hama and Idlib for the past five years.
The Turkish army continues to deploy reinforcements to the observation points it spread in Idlib, which are not limited to vehicles and weaponry, but lately they have been including ready-made police posts and concreate blocks, in addition to the Turkish special forces that arrived at the Murak point, which is a first of its kind development.
Yesterday, the Turkish army has also sent new military reinforcements to its units at the borders with Syria, according to the Turkish "Anadolu Agency."
According to the agency, the reinforcements include artillery systems and military vehicles, which reached the city of Kilis.
The reasons why the Turkish "massive" reinforcements are being sent to the Syrian borders are not clear yet, but they followed the failure of the Tehran summit last Friday, after a disagreement between the two presidents Recep Tayyip Erdoğan and Vladimir Putin over a ceasefire deal in Idlib.
The reinforcements precede a meeting that will next Monday join Erdoğan and Putin in Sochi as to discuss the political process in Syria that would spare Idlib a bloody battle.
if you think the article contain wrong information or you have additional details Send Correction