Tanks and Canons, Turkey Continues to Deploy Reinforcements to Borders with Syria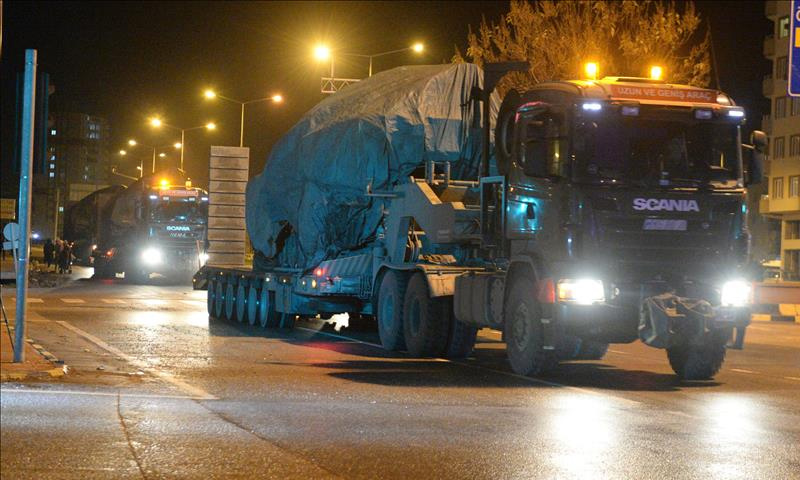 The Turkish army continues to deploy military reinforcements to borders with Syria, including tanks, canons and heavy vehicles, in the frame of the military operation Turkey aims to start in east of the Euphrates.
Today, Friday (December 28), Anadolu Agency reported that new military reinforcements have arrived in the Elbeyli district, Kilis province, south of Turkey, aiming at empowering the units deployed along the borders with Syria.
The Agency added that the military convoy which includes tanks, cannons and armored personnel carrier, loaded in trucks, have reached the area accompanied by extreme security reinforcements.
Part of the reinforcements has, in the past a few days, arrived in northern rural Aleppo and took its post at the borders of Manbij city, controlled by the "Syrian Democratic Forces" (SDF), Enab Baladi's correspondent in rural Aleppo reported.
Manbij city's fronts, in its western part, are completely reinforced by the factions of the "National Army," while the timing of the military operation is still ambiguous, the correspondent added.
Yesterday, Thursday, Turkish websites, including Adana Post published footage, showing a number of "M60 Sabra" tanks heading towards Kilis province on the borders with Syria.
According to the footage, more than ten tanks have arrived at the Syrian borders, accompanied by armored vehicles, as a part of the preparations of the military operation announced by Turkey in the east of the Euphrates.
Turkey announced that it made an agreement with the United States to complete the Manbij road map, prior to the U.S. forces' complete withdrawal from Syria.
Last Tuesday, the Turkish Minister of Foreign Affairs Mevlüt Çavuşoğlu said that the finalization of the Manbij road map is to take place prior to U.S. withdrawal.
"We informed the Americans of the necessity that their withdrawal from Syria does not serve the agenda of the PYD and the PKK," he added.
Turkey and the U.S. arrived at Manbij's "road map" early in June, which provides for establishing security and stability in Manbij, according to the Turkish Minister of Foreign Affairs Mevlüt Çavuşoğlu.
if you think the article contain wrong information or you have additional details Send Correction