Turkey Brings in Military Reinforcements to Borders with Syria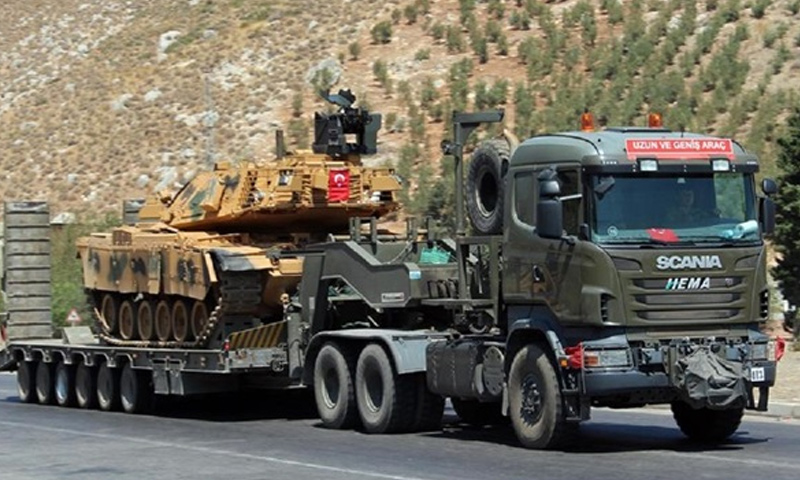 Turkey continues to bring in military reinforcements to the borders with Syria, in sync with the international action seeking to resolve the future of Idlib governorate.
The Turkish Anadolu Agency has today, Friday (September 7), reported that a convey of reinforcements have reached the province of Kilis to support the units positioned at the borders with Syria.
The agency added that the convoy includes vehicles loaded with tanks and that it arrived at Elbeyli district, Kilis province, pointing out that the Turkish army has increased reinforcements at the southern borders, in the shadow of the tension witnessed by Idlib.
The reasons for calling in reinforcements to the borders separating Turkey from Syria are not yet definite; it is not known if they are being deployed for Turkey's fear of attacks against its forces in the upcoming days or to enhance the observation points spreading in Idlib.
On August 18, the Turkish army sent armored vehicles and "upgraded" tanks to the border with Idlib.
The Turkish "Daily Sabah" newspaper has, back then, reported that the reinforcements included military trucks, which arrived in the state of Hatay, southern Turkey, from various military units in the country.
The newspaper explained that the trucks were loaded with "M60T" tanks, which were upgraded after the Operation "Euphrates Shield" in the northern countryside of Aleppo.
The fate of Idleb is to be decided at the tripartite summit that began in the Iranian capital Tehran, joining the presidents of Turkey, Russia and Iran.
The governorate of Idlib has been for months occupying the international public opinion, with talks about an imminent attack by Assad's forces and their Russian and Iranian allies against the governorate.
The West warns of a humanitarian disaster in Idlib, home to about 2.65 million people, including 1.16 million internally displaced persons, according to the United Nations Office for the Coordination of Humanitarian Affairs (OCHA), especially with the military reinforcements that Assad's forces have deployed to the surrounding of the governorate in preparation for a military operation in the upcoming days.
The international community has warned that the attack would lead to a humanitarian catastrophe in the region.
The Turkish and European diplomatic forces, along with the United Nations', have doubled in recent days to prevent Assad and Russia from launching the attack, but Russia insists on the attack under the pretext of controlling thousands of "terrorists".
if you think the article contain wrong information or you have additional details Send Correction