Marriage Despite Age Gap: Men "Allowed," Women "Denied" the Right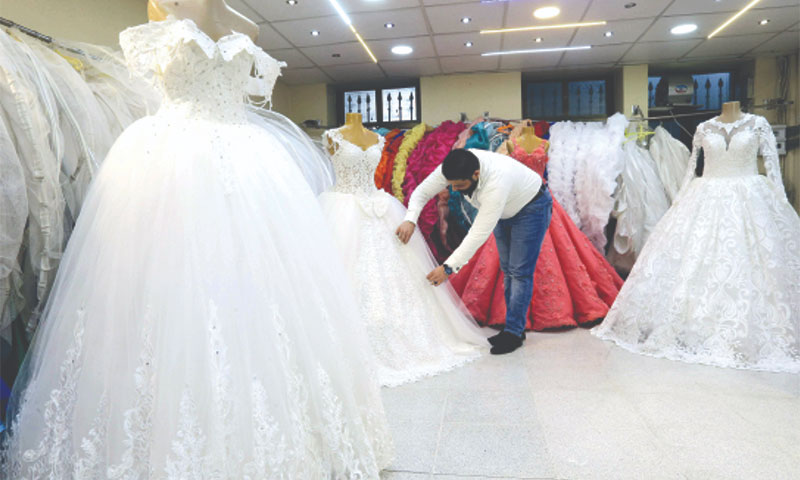 Almost sixty years old, Samar tied the knot with Khalid, a man 20 years younger than herself. However, the expression "May God keep your son," which a woman directed at samar on a visit, in reference to Khalid, the husband, was about to terminate the relationship.
In an interview with Enab Baladi, lawyer Moutaz, who refused to reveal his full name, said: "I was Samar's representative since her first marriage, and I opposed her second marriage to a man a lot younger than herself, especially that she is very rich, while her husband owned nothing. However, she did not listen to me and insisted on the marriage, on the pretext that she became lonely after the death of her husband and the migration of most of her family members."
A man's marriage to a girl younger than himself is normal and desired in the Arab society. Contrastingly, the marriage of a young man to a woman older than himself, or even to a woman who is almost his age, is unfamiliar. This relates to traditions and inherited concepts, which concentrate on ideas that relate to a woman's look; women age faster than men, for instance. There is also the issue of fertility, as women can give birth only to a limited age.
A Marriage with an Expected End, Says Mahmoud al-Maarawi
The principal sharia judge in Damascus, Mahmoud al-Maarawi derives his judgment from a number of inherited concepts, some of which he solidifies with real-life incidents, which he personally managed to examine by virtue of his work.
In statements, he gave to "Tishreen" government newspaper, he said that young men's marriage to women older than themselves is none-equivalent, adding that a marriage seeks having children and establishing a family, where mercy and warmth reign. These aims cannot be realized unless the marriage contains the needed factors for the relationship's continuity, the most important of which are equivalence and age commensurability.
"There is no doubt that a young man's marriage to a woman older than himself is often not destined to last, because it is an in-equivocal marriage," he added.
Al-Maarawi explained that there are not any statistics about the divorce rate in such marriages, but he asserted, through the divorce cases that he examines, that the rate is way higher if compared to divorce in other marriages.
Lawyer Moutaz agrees to the al-Maarawi's opinion, saying: "Following the many problems which the age gap caused between my client Samar and her husband Khalid, she came to my office to document a consensual mukhala`ah contract and told me that she could not bear the society's look any more, even though her husband was loving and loyal. Nevertheless, the situation was not as easy as she though it would be, so she preferred separation."
Mukhala'ah is a mutually agreed contract between husband and wife to terminate the marital relationship.
The sharia-based court witnesses a low rate of similar marriages, according to the sharia jurisprudence and al-Maarawi's daily observations, who estimates it with 10%.
The strangest of these cases, according to al-Maarawi, was the marriage transaction of a young man who was yet 22 to a divorced woman, who is more than 20 years older than him and who has children, the older of whom is at his age. The judged noticed that the young man's personality was simple and kind of weak, unlike the women. Surprisingly enough, she managed to convince him to offer her a dowry that is 10 times of that is generally requested by women. Upon asking the man about the benefit that he will be getting of this marriage and his motive, he said that it is "love" and while trying to advise him, he insisted and the women insisted more, accordingly the court decided that the dowry's value must be decreased, after a strong disagreement on the part of the woman, who finally accepted that it be lowered to the level of the generally acknowledged dowry, 500 thousand Syrian pounds.
Only a month passed, when the married couple came to the court to register a Mukhala'ah contract.
Stability or Benefits
Samar's situation differs from that of the younger "Reem," who is 48 years old and has her own job.
Reem describes her experience with marriage, which she calls "bitter," insisting that she has committed the greatest mistake of her life, when she married a man younger than herself, and who is also less than her in terms of education and social positioning.
She says: "I had to marry a man, five years younger than myself, due to social pressure after I passed 40. This was the marriage available to me. Though he assured me that he was convinced with who I am, I later discovered that his marriage to me was for the sake of interest only, which is money."
"I do not deny it that I myself sought an interest as well. I wanted to silence people's tongues, who show no mercy at a woman who has been late to marry, accusing her of having a bad reputation, especially if she works," she added.
In his interview with "Tishreen," counselor al-Maarawi, concerning marriage to older women, he said: "The husband often gives up the duty of guardianship to the woman and does not handle the responsibility of family administration, which takes from it the factors needed for stability, and marriage ends where the interest it is based on ends."
Sociology Does Not Agree to al-Maarawi's Estimations
However, sociology considers that agreement between a couple does not necessarily relates to age. Nidal Bakour, sociologist, explains to Enab Baladi that "we cannot measure the success of marriage with the couple's age, for there are cases where the wife was older than her husband, with a huge age gap, and their marriage was a success."
Comparison does not apply to our way of thinking or our current reality, for the social state that the Syrians are living is really poor due to social changes that relate to wars and stability, according to Bakour, who believes that the cause must be discussed from a humanitarian point of view. If there is a true love, he believes that a negative impact would not occur, especially when a young man marries a woman who is older than himself.
Still, both men and women are exposed to harassment from the surrounding community, according to Bakour, for the young man is constantly blamed by his family because they see him as the best man in the world, who always deserves the best. As for the woman, she sometimes might suffer social ridicule and blame on other times, as well as accusations of trying to be young and exploiting a young man who is younger than her.
Bakour advises the couple who are a target for social harassment not to pay attention to criticism and focus on their life together, so the relationship does not fail.
Does the Sharia Judge Have the Right to Prevent the Marriage?
Al-Maarawi explains that the law has provided the judge with the power as to deny a couple the permission to marry incase their ages are disproportionate or there is not a benefit of the marriage. Practically, if the judge denies the permission, the couple resort to customary marriage then they file a case or apply for the registry of the marriage which turned into reality that cannot be ignored as to protect the woman's rights, especially if the woman is pregnant or has given birth, which does not hinder the legal penalty that is usually imposed on the customary marriage contract, as he put it.
Concerning the judge's right to allow or prevent a marriage, the lawyer Gazwan Kurunful, the head of the Free Lawyers Union, says that it is legally correct, telling Enab Baladi that "Article no.9 of the Syrian personal status law has provided the sharia judge with the ability to prevent a marriage if an age discrepancy exists between the couple or if there is not an accepted interest of tying the knot."
At a personal level, Kurnful believes that this type of regulations, which give the judges unlimited authority, especially those relating to managing a person's relations, life and marriage, is a kind of guardianship and violation of his/her right to choose, which in turn violates the principle of freedoms which the Constitution protects."
The judge has no right to prevent an adult couple from getting married due to age gap, pointing out that this is his personal opinion as a man of low, but the judge is "unfortunately" given that privilege by the law.
What if We Reversed the Picture?
In his statements on the judge's ability to prevent the marriage of a women of a man who is younger than herself, al-Maarawi depends on considering the "competency" condition provided for by the Syrian personal status law, as a condition for a marriage contract to be correct, under which competence in relation to social status is also categorized, knowing that in case the woman's or girl's guardian agrees to the marriage, the competence condition get cancelled, which thus leaves a woman's destiny, in case she is married to a man older than herself, at the hands of her guardian, not her own person.
The phenomenon of minor girls marriage to older men spreads at the refugee camps, especially in Jordan and Lebanon, for the ratio increases there due to the war and the conflict's repercussions, as well as the discrepancy in the living standards and filial fragmentation.
Late in 2017, the "Issam Fares" Institute for Public Policy and International Affairs published a study, saying that 22% of Syrian females in Lebanon, between the age of 15 and 19, are married.
According to another study conducted by the Jordanian Chief Justice Department, the directorate of Mafraq governorate has registered the highest percentage of Syrian minor girls' marriage, with 299 cases, followed by the capital Amman with 263 cases.
The UN Children Fund (UNICEF) condemned girls' early marriages, pointing out in a report it issued in 2017, that a girl out of seven, between 15 and 19 years old, is liable to forced marriage around the world, while the number increases to one out of three girls in the developing countries, where girls are forced to marry while they are not 18 years old yet.
if you think the article contain wrong information or you have additional details Send Correction