The "Salvation" Government Organizes an Agricultural Conference in Idlib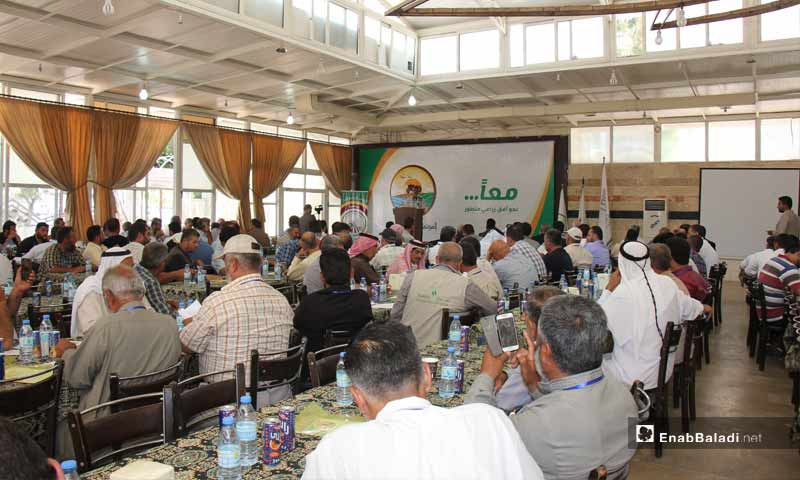 The ministry of Agriculture, under the "Syrian Salvation Government," has launched the first agricultural conference in Northern Syria, to find out the reasons and the repercussions of the inflating agricultural sector in the northern parts of Syria, held y the opposition, in cooperation with the General Union of Farmers.  
The conference, featuring the "Together towards a Developed Agricultural Horizon" slogan, was launched on Monday, August 6, in the presence of the elites, who are interested in the agricultural sector in Northern Syria, including farmers, agricultural equipment, pesticides and water resources merchants, as well as expert technicians and academicians.
Fayez Khlaif, the Minister of Agriculture under the "Salvation" government, told Enab Baladi that the conference aims to indulge those who are interested in the agricultural sector in the process of planning the agricultural policy of Northern Syria, pointing out that the conference is the first of its kind in the north since the Syrian opposition took over the area.
The conference's participants discussed the agricultural reality in Northern Syria and examined the means to solve the problems faced by the agricultural sector there, in a manner that help achieving the desired agricultural development.
For his part, the agricultural engineer Zakarya la-Nayef told Enab Baladi that agriculture-related conferences are important, as they contribute in spreading awareness among farmers in terms of dealing with the problems that the sector faces, adding that "we hope that the conference brings goodness to the farmers and the agricultural sector."
The agricultural sector in Northern Syria suffers from several difficulties and problems, on top of which are the absence of specialized entities, which would focus on its development, in addition to the repercussions of the military action and the siege imposed on the area.
The population of Northern Syria basically depends on agriculture as a source of income. Numbers indicate that 75% of the northern and eastern rural parts of Aleppo depend, in the first place, on the rainfed and irrigated agriculture, which is their primarily, almost the only, source of living.
Nonetheless, the rising prices of fuel, fertilizers and agricultural medicines, in the past a few years, have negatively affected the area's agricultural production, not to mention that the "Islamic State" has planted explosive devices in the area's lands before exiting it.
The farmers in Northern Syria are facing a dilemma of a different sort, which relates to marketing and selling their products, due to the unstable Turkish decisions in terms of allowing them to transport their production through the borders, after a series of problems that befell the crops, affecting the quality and prices.
if you think the article contain wrong information or you have additional details Send Correction