Wastewater crop irrigation increases health and environmental risks in northern Syria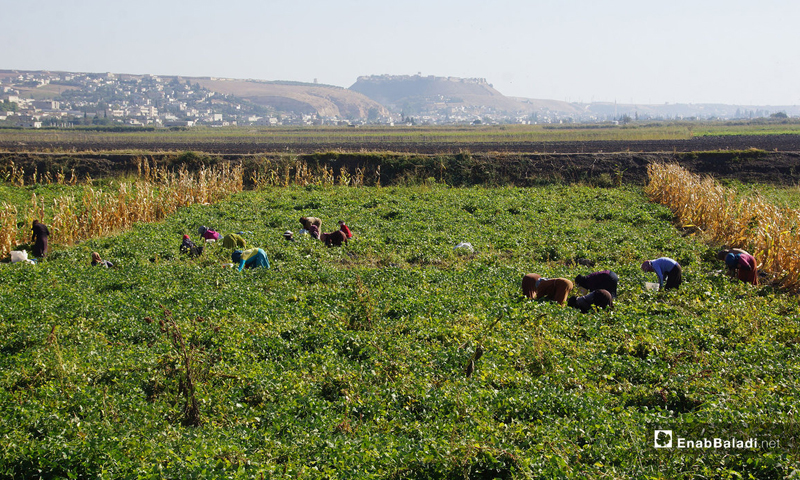 Idlib – Iyad Abdel Jawad
Farmers use untreated wastewater to irrigate their lands in northwestern Syria due to an upsurge in poverty rates and the prohibitively high prices of everything, not taking into account wastewater's adverse health and environmental impacts.
Wastewater widely used 
 Midian al-Muhammad is a farmer from the village of Rabeeta in the northern countryside of Idlib. Al-Muhammad's primary goal of growing vegetables in his one dunam agricultural land is to meet his family's needs without having to purchase high-priced agricultural products from stores.
Al-Muhammad has to irrigate his land with untreated wastewater because he cannot afford to buy tanker water; one water tank truck costs around 90 Turkish liras (TL-10.6 USD), which was not among al-Muhammad's possible options. 
Root causes 
 Abu Muhammad, who declined to mention his real name for fear a fine, is a 30-year-old farmer from the village of Abian Sam'an in the western countryside of Aleppo. He said that he irrigates his 15-dunam- agricultural land, which is planted with okra, zucchini, and cucumber, with sewage water.
He said that he resorted to untreated wastewater irrigation because surface water such as rivers, lakes, and dams is lacking. Furthermore, he cannot afford to dig a well. 
Government reaction 
 The Assistant Minister of Agriculture and Irrigation in the Syrian Salvation Government (SSG), Engineer Ahmad al-Kwan, told Enab Baladi that the ministry issued "circulars" to stop wastewater crop irrigation. The last circular was published last May. 
The ministry announced that it would impose penalties on the farmers who violate its decision by holding them detained for three days, setting a fine, and finally asking them to grow another crop. 
 Al-Kwan pointed out that the Ministry of Agriculture and Irrigation is coordinating with some NGOs to establish wastewater treatment plants to make the wastewater suitable for agriculture irrigation, the last of which was the treatment plant of Kafr Yahmul.
Health and environmental hazards
 Agricultural engineer Anas Rahmoun added that the health damage of wastewater crop irrigation is represented by the presence of excess levels of nitrates. These nitrates are stored highly in the leaves of irrigated plants, such as lettuce and Swiss chard. When these leaves enter the human body, they cause various diseases and many bacteria harmful to health.
 The agricultural engineer said that the untreated sewage water negatively affects the soil. It causes soil salinization, retrogression, and degradation. Furthermore, when sewage leaks happen, pollutants are released to the drinking water wells, causing water pollution.
In northwestern Syria, the demand for fresh water is increasing while supplies decrease due to rising temperatures. However, water is not available enough for 63 of its residents, according to the assessment of the REACH initiative, issued at the beginning of this June, whose data dates back to last April.
if you think the article contain wrong information or you have additional details Send Correction