Robotics Invade the Syrian Communities at Countries of Asylum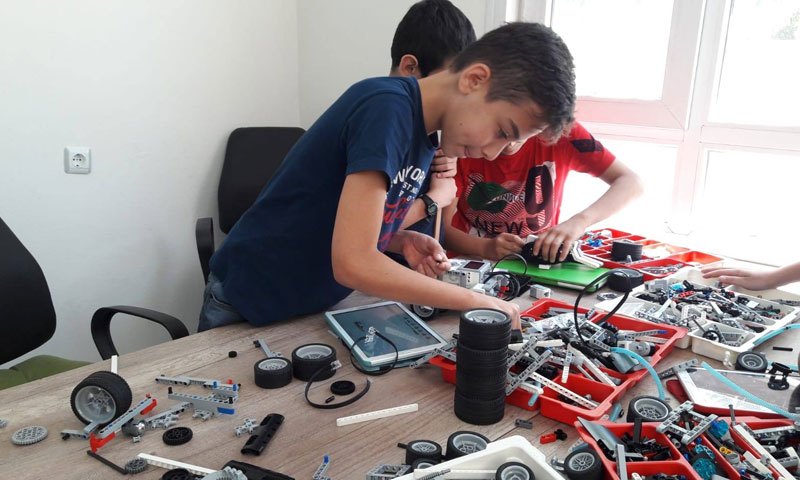 Many studies are skeptical of the healthiness of utilizing technology and its tools for the purposes of development or scientific research, at a time, where social media networks and electronic games have consumed both the effort and time of a whole generation of children, youth and even elderly, away from learning as an objective.
However, the Syrian communities at countries of refuge, in the past a few years, have shown a massive degree of awareness towards the need to positively make use of technology in the lives of refugee children on a specific term. Some orientations appeared, centralizing on turning children from passive recipients into active users, through training them on combining and programming of robots and drones, skills with which they reached universality.
Teaching Robotics-Based Project in Turkey
In mid-2017, a group of Syrian young people in the Turkish city of Gaziantep have launched a project called "Robobasic," which creates a space for children and adolescents to train on combining and programming of educational robots and understanding the modern technology, its tools and concepts away from the stereotypical approaches, which limited technology to entertainment alone.
Tamim Kabarah, the director of "Robobasic" Center, told Enab Baladi that the project currently includes 55 Syrian and Turkish children, who are trained on modern robots under the supervision of specialists, in addition to learning the programming of drones and physics.
He added that the center has a staff of scientifically competent trainers, including programming and automatic control specialists, others knowledgeable in the field of educational robots, as well as specialists in dealing with and protection of children. There is also an administrative staff, the task of which is planning, communication and marketing.
According to Kabarah, training on robots does not only develop the child's sense of creativity, but rather it encourages team work, good communication, and the ability at finding solutions, in addition to enhancing children's critical thinking.
The training idea is based on forming groups of trainees. Each team consists of three children, who are assigned the task of combining and programming a robot as a group. They are also supposed to make a presentation about the problem that the robot poses a solution for, depending on a method that integrate entertaining technology with daily life skills, as the project's director put it.
He added that this type of training guarantees scaling up the scientific quality of children's pursuits and help them build a better future, at a time where ignorance threatens to drown a whole generation of Syrians, since about two million Syrian children have dropped out of schools inside and outside Syria, according to the United Nations Children's Fund (UNICEF).
Kabarah told Enab Baladi that his center seeks to spread the culture of robotics among a massive segment of Syrians, pointing out that they are seeking to reach the decision makers of the Syrian educational process as to include the educational robot and programming in curricula.
"Robobasic," a center concerned with teaching robotics and programming in the city of Gaziantep, received a formal registration from the Turkish government in 2017, as a profit-oriented company.
A Similar Experience in Lebanon
"Robogee" gave a different manifestation of the proliferation of robotics among Syrian refugees, in Lebanon in particular, when "MAPS" organization started a Syrian robotics team in 2016, consisting of a group of refugee Syrian children in Lebanon, under the name "Syria's Hope."
The team ranked first in the competition organized by the American University in Beirut, despite being the only Syrian team. The victory helped them be part of the America "VEX" competition for 2017, where they had to face key Korean, Japanese and other international teams. Though they achieved no rank, they received the jury's award.
The team returned to participate in April 2018's version of the competition and was awarded the International "Inspiration and Motivation" award. It ranked 55th at the level of the world in relation to creativity in the field of robotics, surpassing 945 of the 1,000 participant international teams.
In a former interview with Enab Baladi, Fadi al-Halabi, "MAPS" Organization's director, said that the goal behind the competition is scaling up the Syrian children's level of thinking and shedding a light on refugees' passion for education, studying and self-development.
This kind of competition is often focused on choosing the best designed robot that are capable of performing certain tasks, one that has been achieved by a group of students and team spirit.
What Is Robotics?
Robotics has been one of the most innovative educational areas in the world since 1932, when it was invented by the universal Lego Group. Robotics has not so far achieved a strong presence in the Arab world and the Middle East, in general.

The educational robot's idea is based on the development of a complete package of tools, including mechanical parts (gears, screws, wheels, motors) that can be configured to form different robotic models and can be programmed to perform specific task or tasks using the arms, a set of sensors (special tools) to help them understand the surrounding environment.
if you think the article contain wrong information or you have additional details Send Correction