Damascus: Students Arrested at a Protest Condemning Cancellation of Complementary Exam Sessions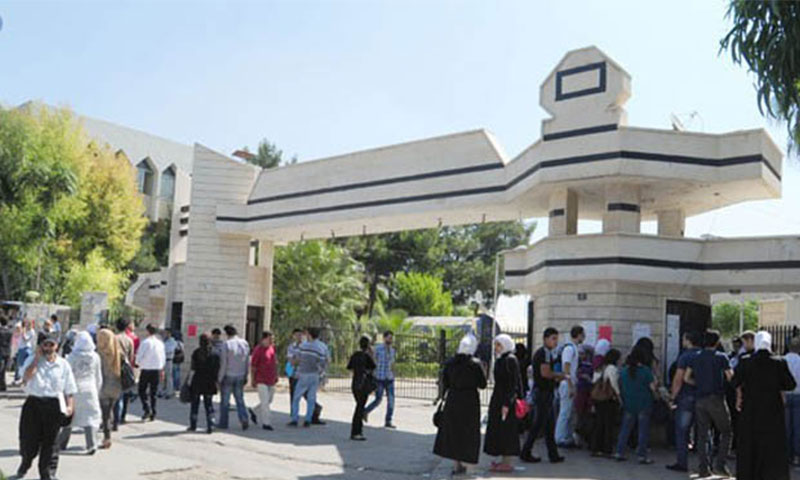 Syrian regime-affiliated security forces have arrested several students in Damascus, during a picket, in protest against the abolition of the complementary exam sessions at the Syrian universities.
According to "Damascus Now," a regime loyalist "Facebook" account, on Tuesday (August 28), the "law enforcement and security" forces have detained a number of young men for planning "unlicensed" demonstration, demanding the continuity of complementary exam sessions.
The account did not mention the number of the arrested students, but "Swot al-Asema" network, have reported on its "Facebook" account that 30 students are detained, arrested by the military police in Umayyad Square, at the center of Damascus, while preparing for the demonstration.
Enab Baladi's reporter in Damascus confirmed that a number of students were detained during the demonstrations, pointing out that the military police and security forces patrols are spreading in the neighborhoods of Damascus.
The Ministry of Higher Education, under the government of the Syrian regime, has on August 18, issued a decision, providing for the cancellation of the complementary exam sessions at the Syrian universities for the academic year of 2018-2019, which will be restricted to students whose graduation is hindered by passing four courses only.
The decision caused an uproar among the university students, who demanded keeping up the complementary exam sessions. Some of the students called for the organization of sit-ins to abolish the decision.
Since 2009, every year a complementary exam session is announced under an exceptional presidential decree and not under a fixed ministerial decree.
In an answer to the demonstrating students, the Prime Minister Imad Khamis said: "there will not be a complementary exam session because our universities' status has went back to what it used to be prior to the war."
The educational quality of the Syrian universities has deteriorated in the past a few years of war, according to the Director of Damascus University's Media Office Mohammad al-Omar.
The decrees issued in relation to conceded pass, exceptional exam sessions, the exemption of students who did not pass and academic year, have all affected the value and recognition of the Syrian diploma.
if you think the article contain wrong information or you have additional details Send Correction