Al-Rukban Refugee Camp "Besieged" as Syrian Regime Prevents Aid from Entering the Area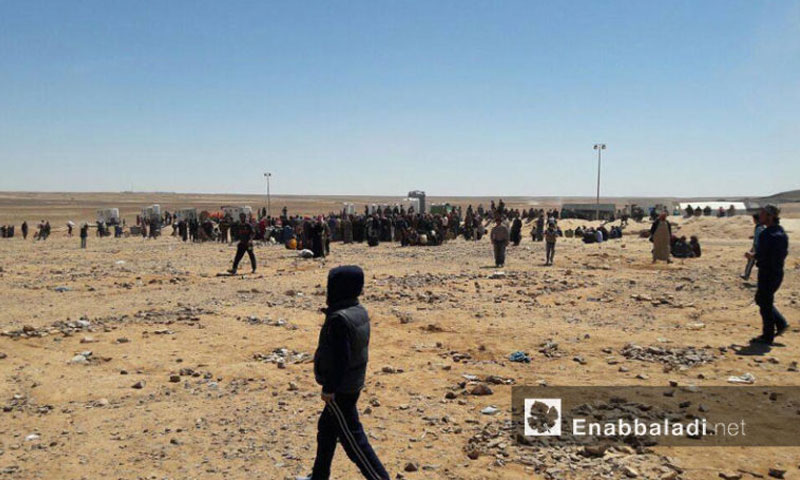 Displaced citizens in al-Rukban Refugee Camp, on the Syrian-Jordanian border, are suffering "difficult" conditions after the Syrian regime prevented aid from entering the for more than a week.
Muhannad al-Tala'a, commander of the "Revolutionary Commando Army," functioning in the Al-Tanf base, said today (Monday), August 6, that the Assad forces had prevented the entry of food materials into the camp for nearly a week, in sync to lacking any other method to deliver these materials to the area.
The prevention of aid entry followed Assad's forces control over Southern Syria, the two governorates of Daraa and Qunitera.
Media sources from the camp told Enab Baladi that Assad's forces have prevented aids' admission, in a step to impose pressure on the people to force them out of the camp towards the areas they control under "reconciliation" and "legalization" agreement.
The sources pointed out that the camp is witnessing a "famine" and lack of life's basic needs, especially those relating to healthcare and services.
Al-Rukban camp is located in a desert area on the Syrian-Jordanian border near the al-Tanf area. It was established in 2014 and is home to more than 70,000 displaced Syrians, mostly from the rural areas of Raqqa, Deir ez-Zor, Homs and Hama.
Jordan considers the problems of the camp to be a Syrian issue and not a Jordanian one, since it is based on the Syrian soil. It has refused more than once to allow aid admission to the camp, fearing that refugees might enter the Kingdom.
It also tightened border controls, especially after the attack on a Jordanian military site in 2017.
In 2017, the United Nations was able to enter relief aid to the camp two times only. Earlier this year, Jordan allowed the entry of aids for one time only.
The camp is run by a local civil council, the areas tribes' leaders and well-known personalities and civil entities.
According to sources, in the past a few months, hundreds of people left the camp towards the regime-controlled areas because of the difficult humanitarian situation and the military threat surrounding it.
The "Forces of Martyr Ahmad al-Abdo" and the "Revolutionary Commando Army," supported by the United States, are deployed in the camps vicinity.
if you think the article contain wrong information or you have additional details Send Correction