Turkey Admits Telecommunication Towers into Idlib Governorate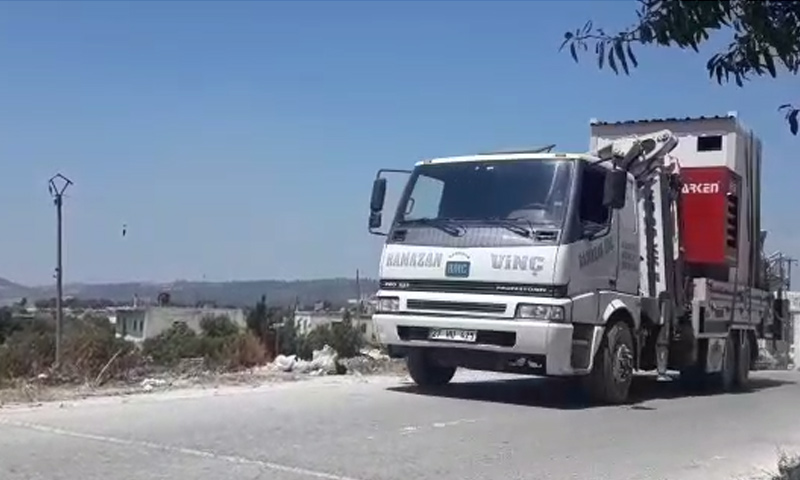 Turkey has admitted telecommunication towers into the governorate of Idlib as a first step after it installed 12 monitoring points under the "de-escalation" agreement, signed by the guarantor states.
Enab Baladi's reporter in Idlib has today, Saturday July 7, said that a Turkish military convoy has passed through the Kherbet Eljoz crossing, carrying telecommunication towers without defining a destination.
The reporter said that the destination is expected to be the eighth monitoring point, installed in Eshtabraq, rural Jisr al-Shughur, pointing out to the equipment which the convoy was transporting.
The people of Idlib and its rural parts basically depend on the Turkish mobile phone operators, the range of which covers Syrian areas and on top of which are "Turkcell", "Avea" and "Vodafone".
The reporter, quoting informed sources, has pointed out that the Turkey will install supervision towers in the majority of the monitoring points it spread in Northern Syria, the number of which is 12.
In the past a few months, Turkey has installed 12 monitoring points in Idlib under the "de-escalation" agreement it signed with the guarantor states of the Syrian file.
Most of the points focus on the Eastern flank of the governorate, starting from the western countryside of Aleppo to Murak, the northern countryside of Hama.
"Turkcell", a Turkish mobile phone operator company, has already installed the first cell tower in Idlib governorate, in the monitoring point, located in the village of Sarman, eastern countryside of Idlib.
Idlib governorate has, in the past a few months, received thousands of displaced people, the last of whom came from eastern Ghouta and rural Homs. Today, Idlib's population has crossed the three million mark, according to the Interim Government's statistics.
Early this year, "Turkcell" said that the first thing that the Syrian refugees in Turkey have requested was SIM cards and internet packages.
In his speech for the "Davos" World Economic Forum Kaan Terzioğlu, the Executive Director of the Company, said that Syrian people requested internet even before food as to contact their families in Syria and to reassure them about their conditions.
if you think the article contain wrong information or you have additional details Send Correction