Assad's Forces Attempt Progress towards Tafass City from Three Axes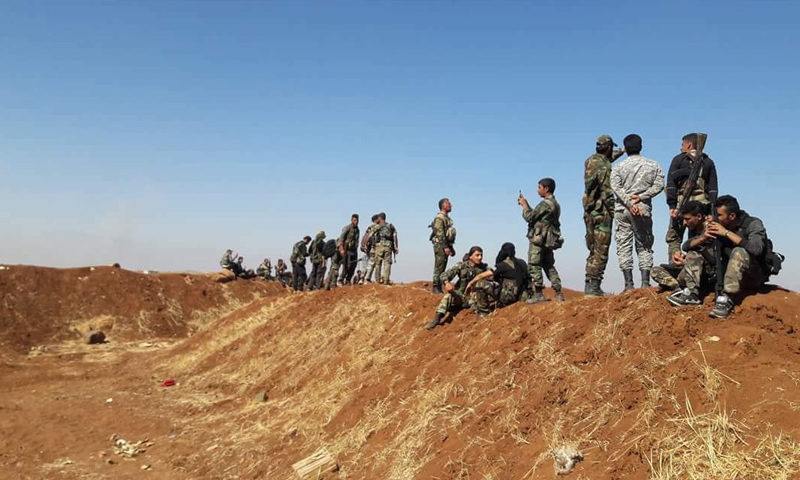 Assad's forces, backed by the Russian air force, have launched a massive attack from four points in an attempt to control the city of Tafass, rural Daraa.
The leader of "Almoatazbellah Army", Abu Hussian Jelin, has today, Thursday July 5, told Enab Baladi that Assad's forces have started an attack from Tall al-Smn, northern Tafass, Tall al-Kheder, the south eastern part of the city, and the main road from Da'el and from al-A'bara.
Assad's forces failed to advance towards the city and the "Free Army" troops were emplaced at all the axes according to Jelin.
For its part, the Central Operation Room in Southern Syria has published a voice recording on Telegram, stating that "Free Army" troops are mobilized to support the axes of Tafass city, the western countryside of Daraa.
Assad's forces' ground attack coincided with an intensive shelling on the city, launched by the Russian air forces since yesterday, targeting residential neighborhoods.
This attack followed the failure of the negotiations between Daraa's military factions and Russians in the city of Bosra al-Sham yesterday.
The Central Operation Room has today, Thursday July 5, reported that the negotiations failed due to the Russians' insistence on handing over heavy weaponry.
The ground offensive towards the city came a few days after Assad's forces control over the two cities of Da'el and Abtaa under a reconciliation deal which they sealed with the military factions functioning in the city.
Through controlling Tafass, Assad's forces aim to divide the opposition-held areas in the rural countryside of Draa into two parts, as to focus on each area separately.
If the military factions withdraw from Tafass, Assad's forces will be a threat to a number of towns and villages in its surrounding, starting from Muzayrib and reaching Tell Shihab.
Several factions function in the area, on top of which are "Almoatazbellah Army" and groups under some factions, including "Artillery and Rocket Regiment" and "al-Thawra Army".
if you think the article contain wrong information or you have additional details Send Correction