Assad's Forces Attempt to Advance in Eastern Daraa from Three Axes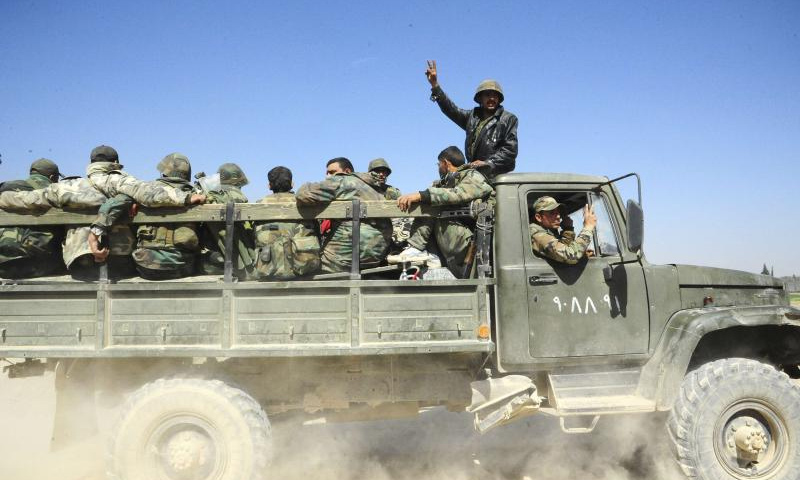 Assad's forces and allied militias are trying to advance from three axes towards the opposition's factions' control areas in the eastern countryside of Daraa, failing to progress to the day.
In their battle, Assad's forces rely on military air coverage, facilitating their access with artillery and rocket shelling, which targeted residential neighborhoods, killing dozens of civilians in the past three days.
An interview with the leader of "Army of Free Tribes" faction, Rakan al-Khdiar (Abu Hatem) today, on Friday, June 22, he named the axes from which Assad's forces are trying to progress: the town of al-Bustan, the Air Defense Battalion in Haran and the Samma al Hneidat axis.
The leader has also informed Enab Baladi that all their attempts have failed to the day, pointing out to reinforcements which arrived at the areas of Skâkâ and al-Dawrat in the morning.
Assad's forces are seeking to capture the two towns of al-Masikeh and Busra al-Harir, which might lead to separating the area of al-Lajat completely from the rest of the areas in the eastern countryside.
Yesterday, Thursday 21, the "Syrian Television" mentioned that the "Syrian Army" managed to cut the "al-Nusra Front's," under "Hay'at Tahrir al-Sham," supply lines in al-Lajat, the northeastern part of Daraa.
However, the leader "Abu Hatem" refuted any progress on the part of Assad's forces, pointing out to the confrontations that the area is witnessing to the moment, which the military factions are trying to combat entirely.
Enab Baladi's reporter in Daraa said that an intensified shelling is yet targeting the eastern countryside of Daraa. Today, it targeted the towns of al-Bustan, al-Masikah and Jadal.
He explained that the military air force has, for the first time in a year, targeted the city of al-Hirak in the eastern countryside of Daraa, in which more than five civilians were killed in the past three days.
The American response to Assad's forces' violations of the "de-escalation" agreement in Southern Syria have not been declared yet; and America has threatened to react to these violations last week, demanding that Russia restrict them.
If al-Lajat area was to be separated, Assad's forces would not have to enter it in a military manner or try and impose pressure on it to surrender without fighting.
The al-Lajat area is known for its rocky terrain and its tribal nature, making it a fort for opposition factions that allow them fight battles which may last for many months.
"Tiger Forces" are the spearhead in the anticipated military operation, which received massive reinforcements in the past a few days, in both the western and northwestern rural parts of As-Suwayda, amidst talks that Brigadier General Suheil al-Hassan will utilize the al-Tha'leh airport as a location for the battle's operation room.
if you think the article contain wrong information or you have additional details Send Correction