Joint US-Turkish Patrols Begin Operating in Manbij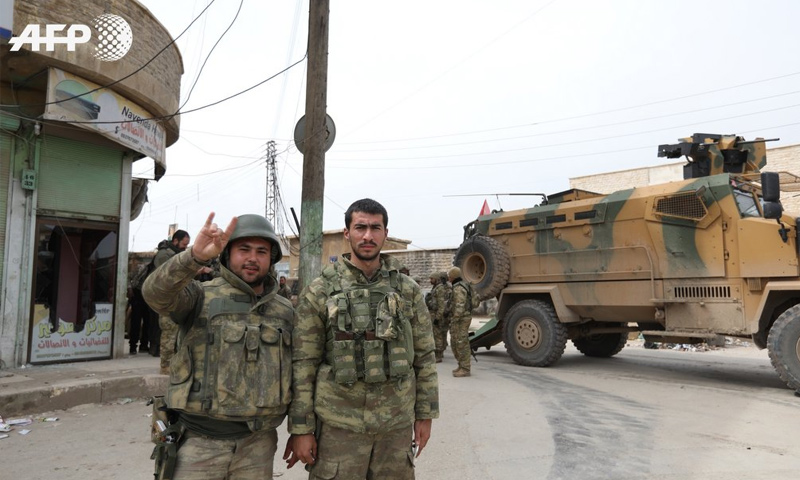 Joint US-Turkish patrols have begun operating in Manbij town and eastern Aleppo Governorate in accordance with a road map agreed by the two parties over recent weeks.
The leader of the FSA-allied Manbij Military Council, Adnan Abu Faysal, said on Tuesday 18 June that his group had been officially informed of the beginning of joint patrols focusing on the area's frontlines.
The commander told Enab Baladi that the initiation of the patrols followed the entrance of a military delegation into the city on Sunday 17 June.
Turkey and the US reached an agreement for the city's road map at the beginning of this month. The agreement aimed to establish security and stability in Manbij, according to comments by Turkey's foreign minister Mevlüt Çavuşoğlu.
A US-Turkish plan for the town with specific phases began its implementation with the withdrawal of the leadership of the Kurdish YPG militia. This is to be followed by the Turkish Army and Turkish and US special forces assuming a monitoring role, which will last for 45 days after the 13 June meeting held between Çavuşoğlu and his US counterpart Mike Pompeo.
The third phase of the road map is the formation of a local administration within 60 days, as well as local and military councils which will provide security services in the city according to the ethnic distribution of the residents.
Manbij is seen as an initial experiment in joint US-Turkish administration. Questions are also being raised regarding the remainder of the areas which the YPG controls along the border area with Turkey.
Turkish Prime Minister Binali Yildirim announced on 16 June that the implementation of the road map agreed upon by Washington and Ankara for the YPG leaving Manbij would take 90 days.
The YPG had announced the withdrawal of its military advisers after the road map was agreed upon. In a statement on 5 June the organisation said it had withdrawn the advisers which had been deployed in the city to provide "military assistance", based on a request by the Manbij Military Council.
if you think the article contain wrong information or you have additional details Send Correction