Assad's Forces Disrupt Daraa Truce by Attacking the Air Defense Battalion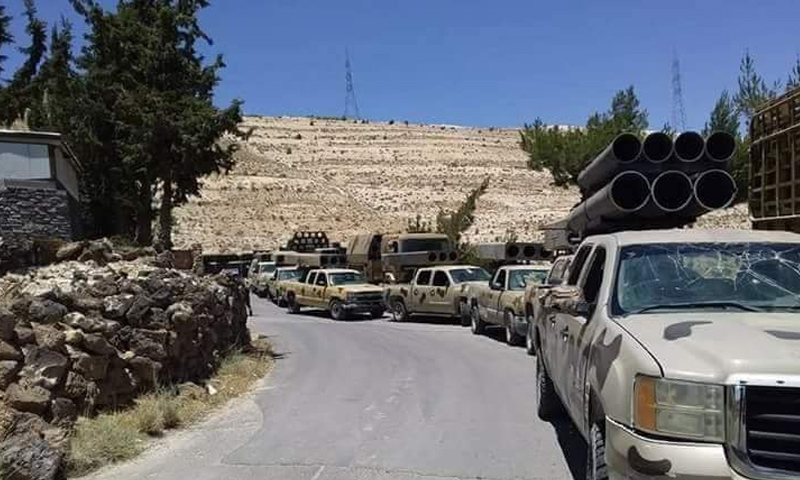 Assad's forces and allied militias have disrupted the Daraa truce with an attack on the Air Defence Battalion, positioned in the south-western Daraa al-Balad.
Enab Baladi's reporter in Daraa said today, Friday June 29, that Assad's forces are trying to control the Air Defense Battalion to block the supplies road between the eastern and western parts of rural Daraa.
He also said that the confrontations are yet going on, conceding with aerial and artillery shelling on the area, without any reports on casualties, deaths or injuries.
The Syrian regime's official media has reported that "the military air forces are targeting positions of terrorist groups in the town of Kiheel, eastern Daraa, with a number of air raids".
Assad's forces attempt at penetration are viewed as a preach of the truce, which Russia and the opposition factions have agreed upon yesterday, Thursday June 28, the supposed span of which is 12 hours to twelve o'clock today.
Informed sources have told Enab Baladi on Thursday June 28 that the two sides have sealed the deal following a meeting in the city of Daraa in the morning.
The sources added that Russia has imposed certain conditions on the factions to approve prior to the end of the agreed upon ceasefire deal.
According to the reporter Assad's forces are attempting to advance to the Air Defence Battalion from the direction of Sajnah neighborhood towards al-Zumal (the small hills), with which the opposition factions have fortified themselves.
He said that to the time of writing this report, Assad's forces have failed to make any progress in the area.
Assad's forces, through the Attack on the Battalion, aim to cut the supplies road which links the western countryside of Daraa with its Eastern countryside.
This attempt came a year after a similar attack, through which Assad's forces controlled the Battalion and cut the road off militarily. Back then, the factions recaptured their points rapidly and scores of Assad's forces were killed and imprisoned, in addition to the varied vehicles, weapons and munitions they seized.
In the former attack, Assad's forces created an enclave in the Sajnah neighborhood (adjacent to al-Manshiya neighborhoods) in the direction of the farms, at the rear side of Jumruk Daraa al-Qadeem, at the Syrian Jordanian borders, trying to force a complete siege over Daraa al-Balad.
if you think the article contain wrong information or you have additional details Send Correction