As Dala Arrives.. Iranian Forces Withdraw From Southern Syria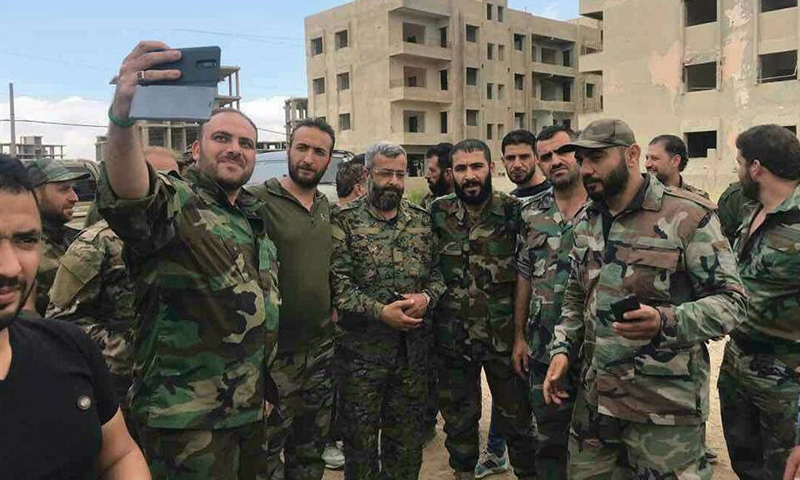 Iranian military personnel and fighters from the Lebanese "Hezbollah" militia have begun to withdraw from positions in southern Syria.
According to what military sources told Enab Baladi on Thursday 31 May, a large proportion of Iranian forces have now withdrawn from the country's southern region.
According to the sources only a fraction of the forces remain in the area. Those that remain are due to withdraw over the coming days.
The Iranian withdrawal has come following a request from Israel, and is in preparation for a deal with Russia which could lead to Assad's forces taking control of the southern border as part of an exchange.
This development was reported on the same day that Israeli Defence Minister Avigdor Lieberman was holding a meeting in Moscow with his Russian counterpart, Sergei Shoigu. The Israeli head of military intelligence, Tamir Hayman, also attended the meeting.
The results of this meeting have not been reported until now. However, the Israeli newspaper Yedioth Ahronoth said on Wednesday that Lieberman would come to the meeting with a "substantial Israeli request", which was for "Assad to take control once more of the border area with Israel".
The newspaper said that Lieberman would discuss with Shoigu a "Russian deal" involving a security understanding between the two countries. This would entail the Syrian regime's control over the whole of the Syria-Israel border in exchange for Iranian forces and Hezbollah leaving the area.
The withdrawal of the Iranian forces is taking place at the same time as Colonel Ghayath Dala, the head of the so-called "al-Ghayth Forces" militia, is arriving in the area. This involves the deployment to Quneitra Governorate of the militia's junior and more senior officers, as well as soldiers from Assad's 42nd Armoured Brigade, which is part of the Syrian Army's 4th Division.
According to information obtained by Enab Baladi, Dala and his forces in the Republican Guard are to take over most of the fronts in Quneitra and the "Triangle of Death", from which they will launch an attack against southern rebel-held regions.
Dala is known as one of the military commanders who participated in the campaigns in Eastern and Western Ghouta, after which Assad's supporters gave him the alias "Lion of the Ghoutas".
Forces from the 4th Division have also arrived in Quneitra in preparation for the upcoming military campaign in southern Syria, according to informed sources who spoke to Enab Baladi.
Over recent days southern Syria – and particularly Daraa – has been at the forefront of events in the country following the completion of the regime's campaign around Damascus and in Syria's central region. Assad's forces' sights are now being set on the rebel-held front close to the Jordanian border.
if you think the article contain wrong information or you have additional details Send Correction