Khamenei's Personal Representative in Syria Visits Daraa City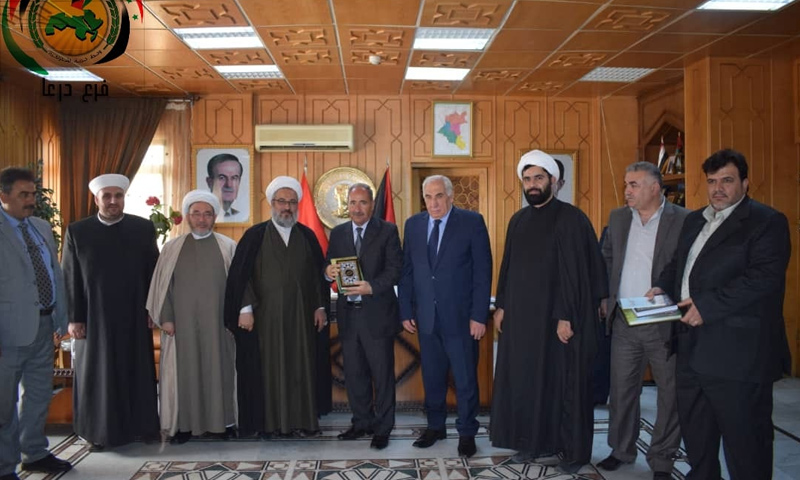 Abolfazl Tabatabai, personal representative of Supreme Leader of Iran, Ayatollah Ali Khamenei, in Syria has yesterday, Wednesday (October 25), visited the city of Daraa.
On its "Facebook" page, the "Ba'ath Party-Daraa Branch" posted images of the meeting that joined Tabatabai with Mohammad Khaled al-Hanous, Daraa governor, and Hussain Saleh al-Rifai, party secretary of the Daraa branch, and General Mohammad Rami, Leader of the Daraa Governorate Police.
The page mentioned that the Tabatabai made the visit as to offer blessings and to congratulate the Assad's forces for their victory in Daraa governorate and the return of security and safety to the area, after it was controlled and "liberated from terrorists," according to the page's description.
The visit is conducted in the shadow of the reported deepening presence of Iran in Daraa's areas, through military formations affiliated with it and with the Lebanese party of "Hezbollah," and the salaries that are being paid as to lure the young people, who have signed settlement deals with the Syrian regime, to join their lines.
Enab Baladi's reporter in Daraa pointed out to the appearance of "Hezbollah" affiliated military groups in the eastern area, in the past a few weeks, which made tempting offers to opposition figures, including the ability to stay in the governorate, financial attractions and salaries higher than those received by the troops of the "Fourth Division" of Assad's forces and the "Fifth Legion," directly led by Russia.
The Assad's forces managed to control the two governorates of Daraa and Qunitera last June, according to a settlement agreement, following days of constant shelling and military deployments.
Prior to the attack, Russian-Israeli understandings were reached as to get the latter's undeclared approval of allowing the Assad's forces control over the southern borders, in return for the removal of Iranian forces.
Despite this understandings, photos of Iran-funded militias' troops went viral, without an official declaration from the Syrian regime or Russia about the participation of Iranian forces in the area.
The leader of the Iraqi Abu al-Fadhal al-Abbas militia appeared in Daraa, Southern Syria, accompanying a Russian officer at a school, used by the militia as a military post in Da'el town, western Daraa, according to Enab Baladi's observations.
In addition to this, Iranian websites mourned Mohammad Ibrahim Rashidi, an Officer of the Iranian Revolutionary Guard, who died on Monday in the  village of  Deir al-Adas, north-western Daraa.
if you think the article contain wrong information or you have additional details Send Correction