A Syrian Math Teacher's Exile and Journey of Success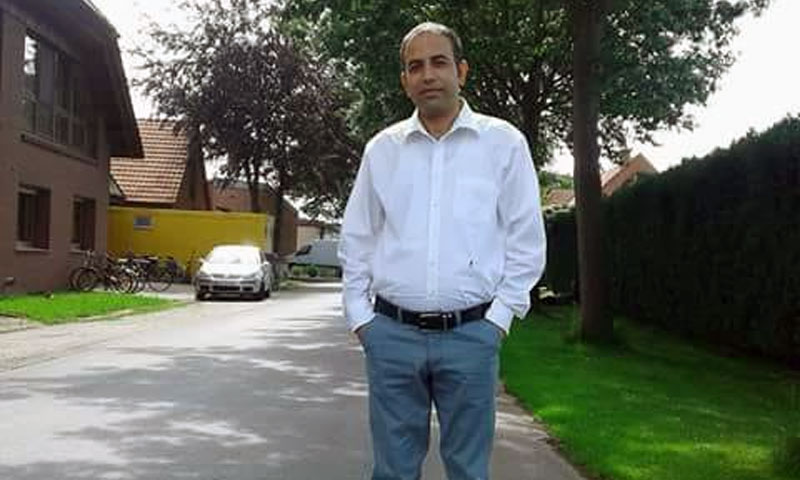 His passion for math enhanced his insistence on refusing all other fields of academia, including engineering, to join the mathematics department at the University of Aleppo, from which he graduated with a master's degree. His graduation heralded a journey of innovation and development in this fascinating world, as he describes it.
Since he sought asylum in Germany, in 2015, the math teacher Mahmoud Darwish worked hard for months to make a difference in the field after ten years of working as a teacher in the Syrian high schools and institutes; the leap was his shift to the international scientific sphere, where he was patented for his achievements in that specialty.
The Syrian teacher arrived at time saving geometrical rules and discovered new theories in the right triangle, in addition to the development of a few geometric progressions and proofs for complex equations, as he said.
In his interview with Enab Baladi, Darwish added that these discoveries are on their way to be patented, the reason why he would not provide further information about his achievements before they have officially crystalized and acknowledged at an international scientific level.
The son of the city of Manbij, in the northern countryside of Aleppo, has spoken of the growing interest in his expertise in the field of math, for his discoveries were presented at the "Goethe University", Frankfurt, and that he has lately paid a visit to the "Max Planck" Institute, in the city of Bonn, saying that his findings are to be presented in several European universities soon.
He described his life in Germany, saying that "at the beginning, I suffered a great emptiness in exile, one that I was not used to in Syria. However, the spare time has given me the opportunity to focus on math and conduct more studies on the field."
Darwish started working with Arab and international groups specializing in mathematics; at the same time, he kept in touch with well-known professors and doctors in Germany, who met to exchange expertise. He described the atmosphere provided by these groups and relating activities as "full of benefits."
The leap he achieved in his professional life since 2015 is a source of pride, but Darwish stressed another crucial phase in his life, which corresponded to his very first steps in teaching the "thrilling" math subject before graduation, which was followed by becoming an official teacher in the institutes and high schools in the city of Manbij, pointing out that he felt like on cloud nine when he managed to deliver information to his students.
"I choose to study math at the university of Aleppo because for me it was the most trilling subject to learn. My high school grades allowed me to study engineering, but I choose math to specialize in the field and develop it further," Darwish said.
Today, the Syrian math teacher seeks to reach proficiency at German language; he is also preparing math models, from which university applicants could benefit, especially on the acceptance test during the preparatory year.
if you think the article contain wrong information or you have additional details Send Correction