A Handicraft Exhibition in Idlib for the Economic Empowerment of Syrian Women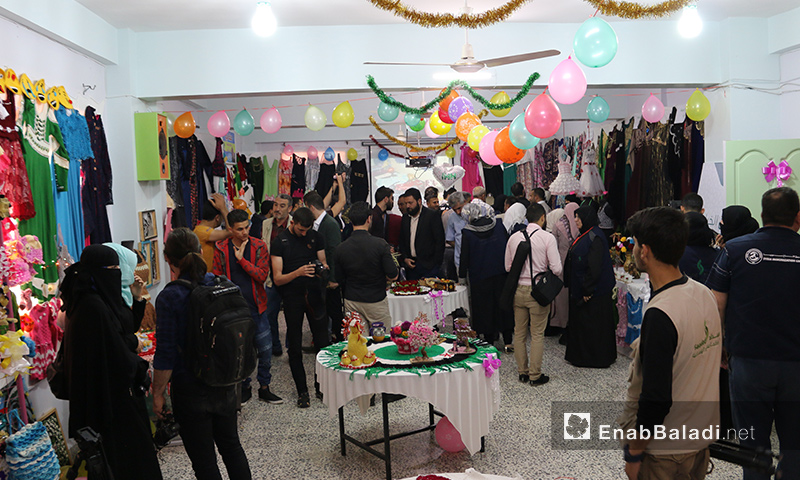 The handicrafts exhibition started in the city of Idlib with the participation of a group of local organizations, aiming at empowering Syrian women professionally and economically, supporting women's domestic projects and creating a space through which they can participate in the creative work in Idlib governorate.
The exhibition was held on April 30 under the auspices and coordination of the Turkish Relief and Human Rights Organization (IHH) in order to promote the voice of women workers and their efforts within a joint work of the Syrian civil society organizations in Idlib, including "Sadad" organization, "Syrian Women Association," "Mazaya," "Zomorda," "Balsam," "Women Now," "Effa" and other centers.
"Sadad's" Executive Director Abdulrahman Al Yahya said that the exhibition was the result of a series of vocational training courses organized by these institutions to support women during 2017 and 2018, including workshops and training courses that sharpened these women's talents.
He added that the main objective of the exhibition is to gather craftswomen's efforts and to help them exchange creative idea among themselves and with the organizations, as well as to communicate their voice to the outside world.
"Sadad" has organized a training project for the two years of 2017 and 2018; the course is of two stages. Each stage included a series of training courses for women in the fields of sewing, handicrafts, nursing, literacy, women's hairdressing, as well as psychological support courses, numbering more than ten courses and workshops, with the support of the Swiss Foreign Ministry.
The project included training women in a certain craft for three months, after which women were able to produce, but the problem that faced project's managers was weak promotion of these women's products. This necessitated the organization of a joint exhibition seeking to deliver their products to local markets, to support them externally and to help them share their innovations, said Widad Rahal, director of the "Syrian Women Association".
Rahal, who participated in the exhibition on behalf of the association, told Enab Baladi that the existence of such exhibitions is very important in the context of the empowerment of Syrian women professionally and economically, especially that women in the Syrian society are supporting their families under the economic conditions experienced by Syrian families, from which the male breadwinners (father, husband, brother) have been absent.
Similar exhibitions are planned to be held in Idlib periodically, reflecting the civil face of the Syrian society away from war, fighting and destruction.
if you think the article contain wrong information or you have additional details Send Correction