A Vocational Program for Schools' Dropouts Empowerment in Idlib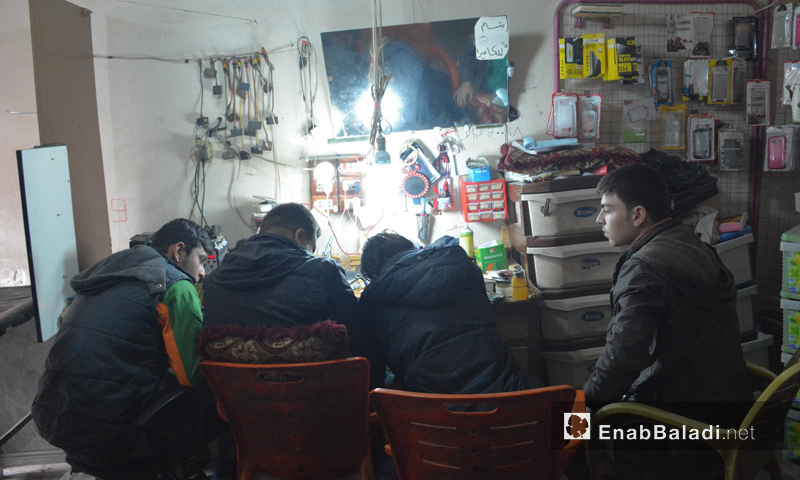 Sattouf Mounir, an 18 years old young man, dropped out of school seven years ago; currently, he is benefiting from the vocational empowerment program, sponsored by "Ataa" for Humanitarian Relief Association, in cooperation with the "Save the Children" Organization, in Idlib's camps.
Sattouf attributes escaping school to the deteriorating financial situation, telling Enab Baladi that he knew about the empowerment project through the leaflets that have been distributed in the camps' area; he, then, directly headed to the center and enrolled in the project, which started on 15 January, to end in mid-March 2018.
The young man, indeed, benefited of 70% of the education he received in relation to motorbikes' maintenance, and stressed that he will continue to work in the field, whether on an individualistic basis or for a shop owner "to sharpen my skills and learn a profession to help me make a living."
After the courses, he feels better about his situation; "now, I can be an active member in my family and support them."
The Project's Mechanisms
Mohammad Saad Eddin, the Director of the Vocational Training Project in Atmeh Camps, under "Ataa" Association, explained the Project's action mechanism, pointing out that  "it is a part of the tendency to help youth and offer education to adolescents; it gives the schools' dropouts and the people between 16 and 20 years old a chance."
The Project concentrates on the professions that meet the local market's and the public needs, including men hairdressing, cellphones, electrical devices and motorbikes maintenance, as well as women hairdressing.
The Project was launched in two phases; the first ended late in 2017, and the current would take two months, explaining that "50 people will benefit from it, distributed on four centers: Harem, Maaret Elnaasan, Dar Alreaya and Qah."
Students' selection process followed specific standards, the most important of which is being close to the project's location, literacy and passing a data probing examination, as well as the financial need and situation of the participants' families, according to Saad Eddin, who pointed out that the students received a complementary curriculum in math, Arabic and English.
As for the workshops, the students attended the ones they chose, and the Project's Director points out a person was assigned to follow the process up, along with an affiliate person to make sure that the participants are committed to the project.
Tool chests were distributed to the participants at the end of the first phase, according to Saad Eddin, for some of the people who completed the phase "have already opened their own shops in their houses or joined the second phase."
if you think the article contain wrong information or you have additional details Send Correction