The Journey of Bayadha's Families to the Forgotten Camp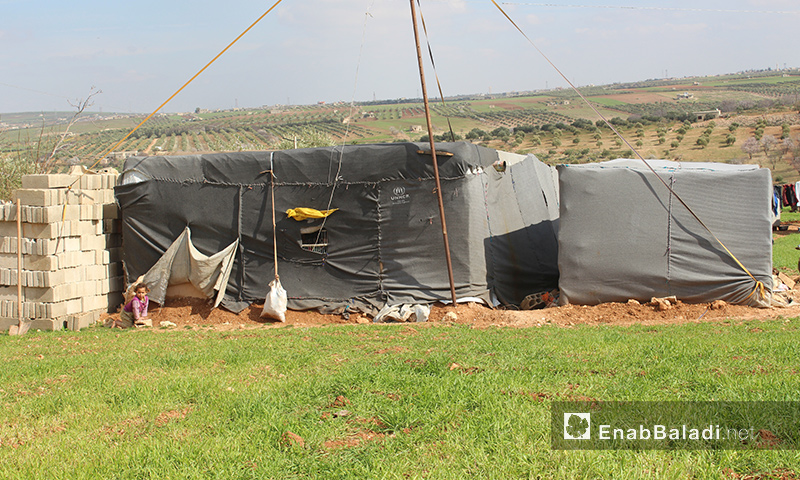 About 25 people from the Bayadha neighborhood in the city of Homs have been taken by the painful journey of displacement to the northern countryside of the governorate, after Assad's forces managed to control their neighborhood on 18 April 2012.
Even though they have been in the area for a long time now, the people are still suffering the lack of facilities in their miniature camp, especially that the local organizations in the area are not showing support.
Bayadha neighborhood is one of the largest neighborhoods in the city of Homs, and its population was about 100 thousand people prior to displacement.
Ahmad, one of the camp's residents, told Enab Baladi that, "WE left Bayadha neighborhood five years ago and took refuge in the al-Rastan's farms, in the northern countryside of Homs. To the day, we have not received any aid from humanitarian organizations, despite the fact that the organizations are distributing aid in the nearby neighborhoods, but they did not offer us anything."
Describing the tents they are living in, Ahmad said that they are built of insulating canvas, fabric coverings and some wood, depicting their suffering due to cold and the rain water penetration of the tents during the winter and the unbearable heat during summer.
The camp's people work in agriculture and herding sheep to make their daily living; they have also rented the camp's land from the area's people, and it is difficult for them to pay the required money.
The young man appealed to all those who can help the camp's people to alleviate their pain of displacement and the siege over them, pointing out that the camp does not have a single medical center or a school, amidst an absent healthcare and babies milk, for the closest pharmacy to the camp is about two kilometers away.
The Director of the Relief Office in the Local Council in the city of al-Rastan, Mohammad Abass, confirmed that the camp is not supported by any organization, calling on the local and international humanitarian organizations to step forward and help to drill a well and open one medical point at least.
In the camp, the people are, currently, buying water from tanks; they pay about 1400 Syrian pounds for each thousand litters of water (each dollar is about 470 Syrian pounds).
Following a military attack, launched by Assad's forces against Bayadha neighborhood in Homs, in 2012, the people were forced to leave their houses and head to the northern countryside of Homs, where some lived in al-Rastan in rural Homs and others settled down in the camp, which later came to be known as Bayadha Camp.
if you think the article contain wrong information or you have additional details Send Correction