Eastern Ghouta: 120 Deaths in 24 Hours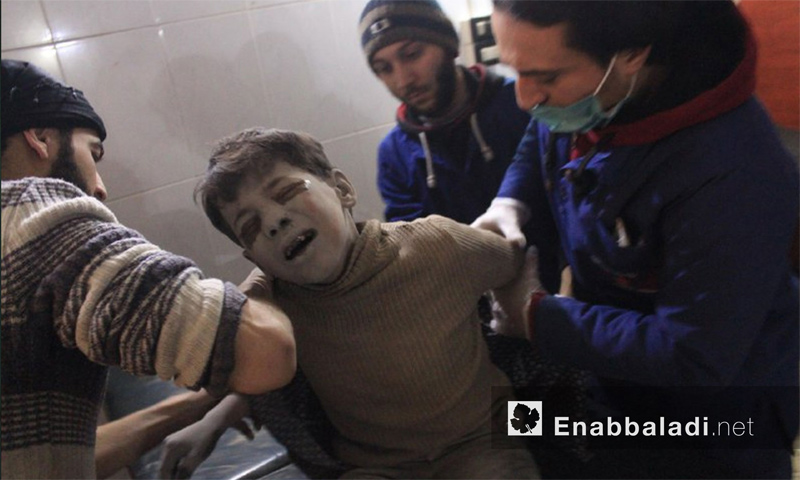 The towns and cities in Eastern Ghouta are suffering under an atrocious attack by the Syrian regime and Russia, which intensified aerial attacks killing dozens of civilians in the past three days.
Enab Baladi's reporter, quoting medical sources, on Tuesday, February 20, said that due to the shelling, the death toll has reached 120 civilians in the past 24 hours only, describing the situation as: "It is a genocide; Ghouta never witnessed such a thing in seven years."
According to the reporter, these people were killed in the towns of Hamouriyah, Otaya, Zamalka, Saqba, Jisreen, Ein Taram, Al-Nashabiyah, Beit Sawa, Otaya, Mesraba, Shufiniye, and the two cities of Hazeh and Duma.
The air raids, launched by the Syrian regime and Russian aircrafts, are targeting bakeries, hospitals, food-related warehouses. The reporter said that three hospitals went out of service yesterday, midnight.
He pointed out that the warehouses of Mohi Eddin Almanffosh, who have been in control of entering goods and food from the areas under the Syrian regime to Ghouta through al-Wafideen crossing, have also been affected by the raids.
The governmental media outlets confirm the aerial and artillery shelling on Ghouta, saying that it is targeting the positions controlled by "armed groups," within the military operation that Assad's forces and ally militias have started in the past two days.
On 19 February, the Russian Foreign Minister Sergey Lavrov sated that the scenario through which Aleppo was controlled might be repeated in Eastern Ghouta.
The reporter declared that the Russian aircrafts are currently participating in the shelling, unlike the past a few months.
He also quoted Observatories in Ghouta which confirmed the Russian aircrafts' participation in the shelling, based on the sound of the rockets that are targeting residential neighborhoods.
Reconnaissance aircrafts did not relinquish Ghouta's sky since yesterday, and six aircrafts are taking shifts in initiating the attacks.
According to UN, the situation in Damascus' Eastern Ghouta "is spiraling out of control" warning of a humanitarian disaster that might befall the area.
In his statement today, the UN's regional humanitarian coordinator for Syria Panos Moumtzis demanded an immediate cessation of the military operations that are targeting civilians on a daily basis, in addition to the need to open humanitarian crossings for critical patients.
In the past a few days, Assad's forces have mobilized a number of militias to the surrounding of Ghouta, the most prominent of which are the "Tiger Forces" to participate in the military operations seeking to control the entire cities and towns of Ghouta.
Easter Ghouta has been suffering a suffocating siege for more than for years, amidst talks about a humanitarian catastrophe, threatening about 400 thousand people in Ghouta.
if you think the article contain wrong information or you have additional details Send Correction