Three Syrian Women Journalists Documented the Siege of Homs City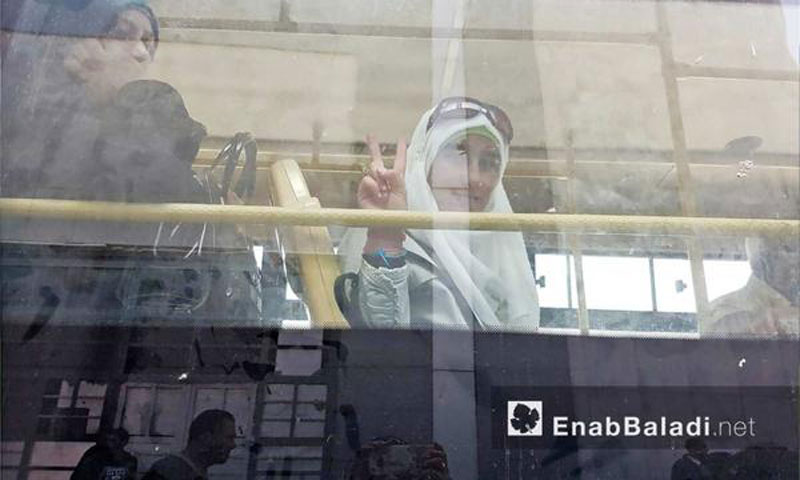 During the Syrian revolution, women became active in different fields of work; they insisted on being present in educational, relief and medical institutions. Contrastingly, they were almost absent from the media domain, especially in the opposition-held areas in Homs governorate.
Homs lacked women journalists due to the traditions and customs which refuse any type of work that forces a woman to appear and be present in certain places, "mix with men" and move from one area to another.
Despite the obstacles, familiar or not, women continued to play a role in media. Not only that, they enhanced their presence in Homs' media front.
Three names, three women and three journalists were there to cover the city's daily events, through video and written reports both.
Sama al-Sibai Documented Homs' Siege from the Outside
Sama al-Sibai, a media activist, couldn't document the happenings in Homs and the Syrian regime's violations of human rights from inside the city. However, she insisted on presenting anything that has the ability to give the besieged civilians a voice and a way to reach media agencies and television channels.
Sama, 33 years old, started her media journey in the last months of 2011, as a collaborator with Al-Jazeera channel providing it with news and videos, which support other field reports.
Sama told Enab Baladi that one year after she began working in the media field; her career witnessed a leap and shifted from individual to group work. She worked for "Sada Media" center and was one of the founders of "Homs Media" center.
The activist faces a number of obstacles, including the difficulty in communicating with other activists inside Homs and the inability to get the needed information. However, Sama's work is hampered the most by her surrounding's refusal of her work in the media for "how can a woman work as a journalist under [war] circumstances."
Sama has a different opinion from her society's concerning women working in the field of media. According to her, young men and women can create a special team; men activists document the events happening on the ground while women activists edit the materials and publish them.
Judy Arash from Homs to Aleppo's Countryside
The journalist Judy Arash,  24 old years young woman, resorted to her camera and held tight to it in the second year of the revolution. She documented the siege over al-Waer neighborhood, the place where she lived and grew until she left to the city of al-Bab in Aleppo's eastern countryside in May.
She told Enab Baladi, where she used to work as a reporter, that she always wanted to finish high school and then study architecture, but the outbreak of the revolution was a turning point in her life.
The military security in Homs arrested Judy in mid-February 2012, while she was trying to provide the neighborhood with aid. The detention continued for 14 hours, during which she was beaten and physically and psychologically abused.
"After the arrest, I went back to al-Waer neighborhood. There, I moved from one house to another fearing another arrest reaching the point when al-Waer became totally out of the Syrian regime's control in 2013," she said.
At the beginning, the female activist faced many challenges for girls were known to work in medical or relief fields. In Homs, all of it, there were only two female activists, one in the neighborhoods of Old Homs and Judy in al-Waer.
Judy said that people used to find it difficult to accept her as a journalist in al-Waer and that many people subjected her to verbal harassment back then.
Wiam Badrakhan and the "Murals of the Siege"
Wiam Badrakhan is a female activist and a photographer who used to paint on the walls of Old Homs. Most of her paintings alluded to the displaced people's dream of going back to the neighborhoods they were forced to leave.
Wiam was trapped in the siege with the fighters in al-Khalidiya neighborhood in Homs; she presented their daily suffering. Later on, in a movie titled Silvered Water, the director Ossama Muhammad took these sufferings to the screens of Cannes Film Festival in 2014.
Enab Baladi tried to communicate with the media activist, but there was not a response.
Wiam filmed several documentaries from Homs and learned how to use a camera through being in the formerly besieged neighborhoods of Homs until she left the city with the last group of civilians and "Free Army" fighters.
Wiam participated in the drawing of murals in the Turkish city of Istanbul to represent the siege of Homs. Through these paintings, she wanted to send the world a message that "Syria will return to its true people," according to what she wrote on her Facebook page.
if you think the article contain wrong information or you have additional details Send Correction