"Homs Women Union" Runs Vocational Training Courses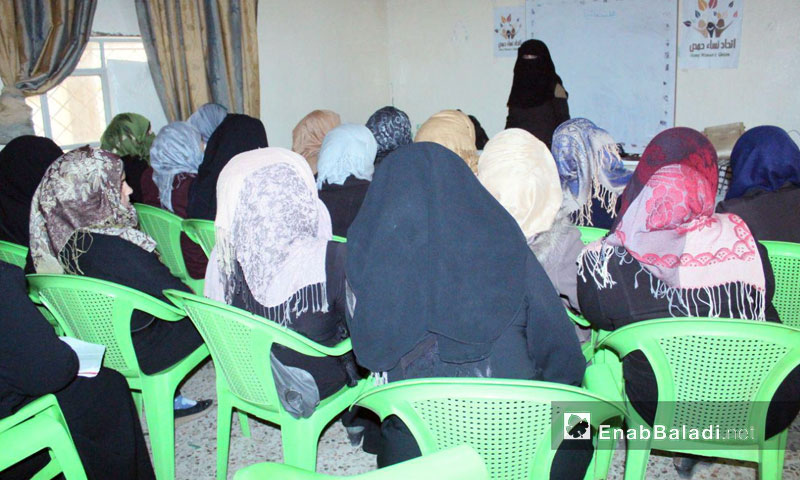 "Homs Women Union," newly formed in the northern countryside of the governorate, runs vocational training courses in different areas, in the frame of this year's plan, which has been set after its formation.
The Union's staff have finalized a nursing and first aid course in the city of al-Rastan, on Tuesday February 1, that started on 21 of January, in cooperation with the Civil Defense, while other courses, in various fields, continue in other villages and towns in the northern countryside of Homs.
The Union's Director, Ibtisam Mahmoud, told Enab Baladi, that the union have, in the past a few days, activated vocational training courses in different fields: Sewing, hairdressing, handicrafts, literacy and nursing, in coordination with the Civil Defense centers.
She pointed out that the nursing course has included the principles of first aid at three levels, and it has also presented health care awareness seminars, offered by Nour al-Mudalal, a Civil Defense volunteer, explaining that: "the seminars, to the day, are presented once or twice a week, including social health awareness about issues related to women."
In an interview with Enab Baladi, Nour said that the course provided the women trainees with the basics of first aid and nursing, in addition to a summary about chronic and communicable diseases, with a focus on teaching the methods of ambulatory aid for fractures, wounds, bleeding, burns, suffocation and animal bites.
The women attendees, 30 trainees, also learned to give shots, expose vines, measure pressure, pulse and heat, and some common errors in relation to pregnant women, babies and lactating women, according to the volunteer.
Zahra, a student, attended the course and told Enab Baladi that she sought to learn first aid principles, to cure simple cases and prevent them from worsening, pointing out that "she will teach others everything she learned in the course, after she get an expert testimony."
The Union was established under the name, "Homs Women Assembly," as an independent civil society organization in November 2017, under the governorate's council, to irradiate illiteracy among women in rural Homs and develop their skills through social, cultural, health and educational awareness programs.
if you think the article contain wrong information or you have additional details Send Correction