'Women's Creativity' Concludes its Activities North of Aleppo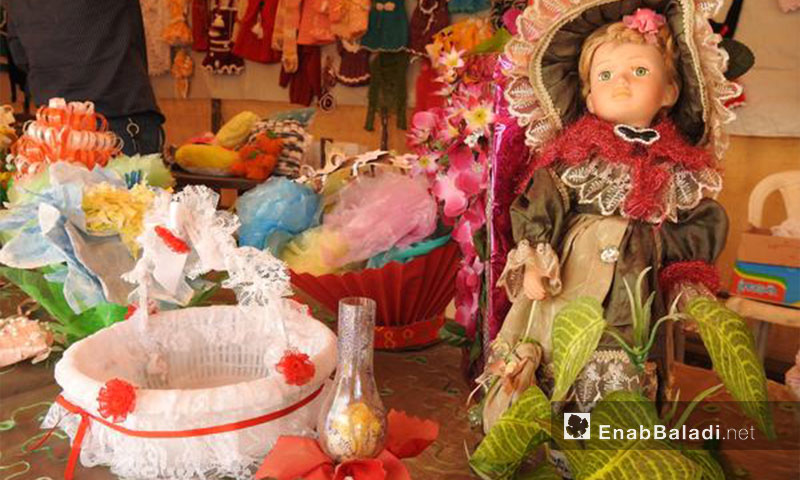 The exhibition 'Women's Creativity and Education' concluded its activities in the town of Turkman Bareh, north of Aleppo, on Thursday (October 12th). The exhibition carried the name of the organizing center and presented the handicrafts made by women, who receive training in different fields in the same center.
The exhibition, which lasted for three days, included handicrafts, woolen art and paintings. Alaa, a new apprentice at the Center, said that she learned Koran, wool knitting and crochet.  In an interview with Enab Baladi, wishing that the Center would keep developing, she said that "It is nice to be supported by the people surrounding you to feel your achievements, especially that we have always wanted to create such a center here."
Today, the Center, which organized the exhibition, includes 327 and 30 female supervisors, according to Mrs.Thuraya Mohammed Al-Hadi the director who fled from Raqqa Governorate to the north of Aleppo and constructed the Center in cooperation with the town's Local Council.
Thuraya speaks about the exhibition's preparations and how she felt the town women's urge to learn.  "Many of the women who made the products [in the exhibition] were unable to find a way to learn, especially under the pressure they were exposed to over the past period."
According to the Center's director, when the 'Islamic State' Organization was fired from the town and the town welcomed many displaced people from different places, the Center started training 40 women during its establishment. "The women trainees came from the areas surrounding the town. Most of these women became widows at an early age due to war and needed to prove themselves and to achieve their ambitions," she said.
The idea behind establishing the Center was to present the women's products in front of the people, according to Mohammed Ahmed Al-Barakat, the Director of Turkman Bareh's Local Council.
"The women's dreams were forgotten last year. However, some of them brought their suggestions to the Center; we discussed them mutually, and here we are today," the Center's Director said.
The Center is interested in various fields, most notably literacy, sewing, woolen works, hairdressing, and Turkish language education. In accordance with its management, it aims to develop women's professional abilities and skills and raise their cultural awareness.
if you think the article contain wrong information or you have additional details Send Correction