Return of the Silk Road to Refugees
Has Turkey Unlocked the Asylum Doors to Europe?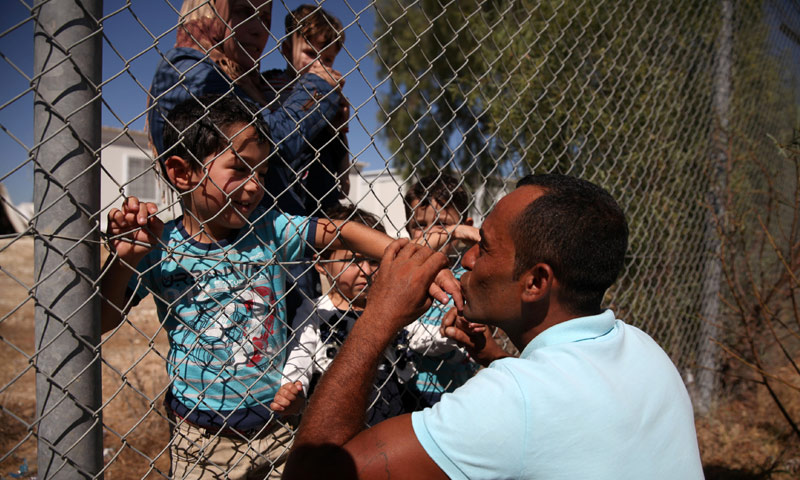 As soon as Europe closed its doors and began arranging the asylum papers stacked on its shelves after the "unprecedented" wave of 2015, a new wave loomed between Turkey and Greece, the gateway to the European Union.
After receiving more than 1.2 million asylum seekers as a result of pursuing an open door policy for refugees, European countries decided, in early 2016, to control their flow by closing some roads, tightening border controls and concluding agreements that contributed to a significant decline in the influx of immigrants by 87% compared to 2015.
The biggest wave arrives to Greece
On September 10, more than 300 arrived on the Greek island of Cyprus from Turkey via the Aegean Sea, which is the largest influx of refugees to Greece after 2011, local police said.
However, the batch was preceded by "sudden" waves which have increased in the past two months, after a recession of more than a year and a half, amid reports of the reduction of the Turkish Coast Guard control on the shores of the Aegean Sea since the beginning of last August.
On the third and fourth of September, more than 350 refugees arrived at the Greek islands on eight boats.  On August 23, 26 Syrian refugees arrived in Greece and 40 refugees, including children, arrived at the Greek island of Metellino on August 14, most of them are Syrians from the city of Mohsen in Deir ez-Zor, who came from Turkey in an "illegal" manner, according to data from the Turkish Ministry of Interior.
Migration Agreement in "Danger"
Following a formal agreement by the European Union (EU) with Ankara in March 2013 to prevent the influx of asylum seekers from Turkey to Greece, Turkey thought it would get from the EU what it had been unable to obtain in decades.
Under the agreement, Ankara pledged to repatriate migrants who had "illegally" travelled to the EU in exchange for promises to allow Turkish citizens to travel to EU countries without entry visas.
It also agreed to prevent illegal migrants from crossing into Greece in return for providing financial aid to Syrian refugees on its territory and speeding up accession talks.
Since all the European promises to the Turkish side failed, despite the relative commitment of Turkey to control its borders, the immigration agreement was used by Ankara as an instrument of pressure in every political clash with a EU state.
It is crystal clear now that Europe's agreement with Turkey on the issue of refugees is not stable as the European Commission President Jean-Claude Juncker hinted late in 2016 that the EU-Turkey agreement faces the risk of cancellation.
Likewise, Turkish President Recep Tayyip Erdoğan has repeatedly said that he wanted to revise the immigration agreement, though it has not yet been canceled.
The Turkish Coast Guard… Present Absentee
The relations between Europe and Turkey are witnessing a clear escalation from both sides. The head of the Free Syrian Lawyers' Association, Ghazwan Koronfel, attributed the reason for the return of the wave of asylum to such a crisis.
In an interview with Enab Baladi, Koronfel said that Turkey could exploit its coasts and the presence of nearly three million Syrians on its territory to get concessions from the European Union.
With the return of asylum through Turkey over the past two months, it seems that Ankara has decided to open its doors to Syrian refugees on its territory, especially after its dreams of joining the European Union were dissipated when German Chancellor Angela Merkel said in a television interview earlier this month that Turkey " will never become a member of the European Union."
However, the lawyer Koronfel ruled out the recurrence of the same wave of asylum of 2015. "We have told the Syrians over and over again that Europe will not open its doors to you, yet some are still paying thousands of dollars to be detained in Greece," he said.
German-Turkish relations have deteriorated following the coup attempt in Turkey, followed by several arrests and the strengthening of the president's powers, which was not appreciated by Europe, calling it a "suppression of freedoms."
However, Turkey is always trying to prove its goodwill by saying that its coastline is still under surveillance, announcing that it has been holding a number of asylum seekers as detainees while attempting to sail to Europe.
What is there after Greece?
From the point of view of lawyer Koronfel, refugees stranded in Greece are awaiting an unknown fate after the detention of more than 60 thousand asylum seekers in camps and shelters. He expressed surprise at some Syrians who are still considering this option, while some of those refugees are waiting to reunite with their families who moved to Western European countries, while the other group is waiting to find a route or agreement that will allow them access to Germany, Austria or a Western European country.
Koronfel went further, however, when he said that there would be another future for Syrian refugees in Greece, with the establishment of the so-called "De-escalation zones" in Syria which would force those refugees to return.
"We are facing a real crisis, but unfortunately people are not aware of what might happen to them," he said.
He advised refugees not to risk their lives, money, and future by emigration to Greece. He preferred that they either stay in Turkey or return to their "safe" areas in Syria.
New methods launched by smugglers

After closing the Balkan route in March 2016, which was the crossing point to a million asylum seeker to Europe the year before, EU countries faced other challenges, namely the detention of more than 60,000 asylum seekers in Greece and about 8,000 in Serbia.

The Balkan route starts from Turkey, where refugees arrive to Greece by sea or to Bulgaria by land, and from there north to Slovenia or Hungary, and then to Germany, Austria or other Western European countries.

Refugees began to take the Balkan route to Europe in 2012when the EU eased restrictions put on entry visas for the Balkans citizens.

The closure of the Balkan route has pushed smugglers and human traffickers to search for alternatives to reach the European Union countries. They have opened new, uncontrolled routes, across the Black Sea to Romania and across the Strait of Gibraltar in the Mediterranean to Spain.

The Director of the EU Regional Office for the European Union, Eugenio Ambrosi, told the German news agency DPA on 12 September that the number of migrants arriving through these routes is "relatively small."

He emphasized: "However, this small number is evidence that smugglers and human traffickers are looking for alternatives to continue their business."

According to the International Organization for Migration (IOM) statistics, 10,300 refugees arrived to Spain through the Mediterranean in 2017, which is four times the number in the same period of 2016, while hundreds arrived to Romania via small boats in the Black Sea.
if you think the article contain wrong information or you have additional details Send Correction