Inside Syria's militant-run prisons: Abuse, torture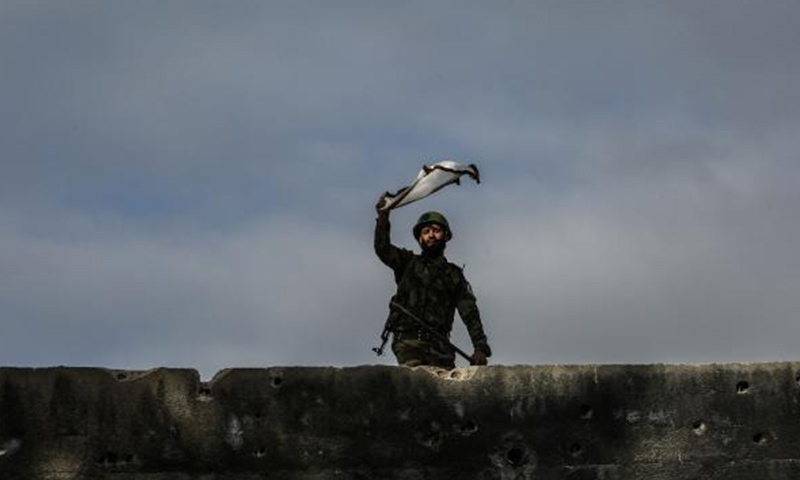 By Loubna Mrie and Ahmad Zaza, Syria Deeply/Syrian Independent Media Group
He was only 14 years old when he was first detained by the Syrian government for joining the 2011 protests against President Bashar al-Assad. When militants linked to al-Qaida began gaining ground in rebel-held Idlib province three years later, Jawdat Malas would once again find himself holed up in a dark and dingy detention room.
The media activist from the Idlib town of Maarat al-Numan said that life in an al-Qaida prison comes with a cruel routine: For hours every day, he would crouch in a corner of a dark cell, where he would be tortured until his body was heavily bruised.
"I reached a point where I was constipated. My whole body was dark blue," he said. "Other detainees were taking care of me. I had no idea what I did wrong. I was terrified."
Malas says that he was arrested on charges of colluding with the Free Syrian Army, a confederation of nationalist forces fighting the Syrian government. He also says he was falsely accused of supplying video footage to the U.S.-led coalition fighting al-Qaida and the Islamic State in Syria.
"They beat me up and terrorized me, asking me to give them the names of who I work with and whom I work for," he said. At one point, militants pressed a knife against his throat and shot a bullet on the ground to rattle him into submission.
"I had nothing to tell them and nothing to confess. But they didn't care," he said. "If you are not serving their agenda and if you are not with them, you are their enemy."
In rebel-held parts of Syria, Malas' story is not an anomaly.
Since the Syrian conflict began in March 2011, civilians, activists and human-rights groups have consistently reported that non-state armed groups have subjected thousands of people — including aid workers, doctors, lawyers, rebels and journalists — to arbitrary arrest, enforced disappearance, unlawful detention and torture.
Though pale in comparison to the number of people detained by the Syrian government, arbitrary arrests by armed militant groups is becoming a grave and often overlooked problem for Syrians living in rebel-controlled parts of the country.
The exact number of missing and detained is unknown, but the Syrian Network for Human Rights, a local watchdog, estimates that more than 9,000 people, including at least 200 children, have been kidnapped or arrested by extremists, such as al-Qaida and IS, since 2011.
Syria Deeply spoke to three former detainees who were imprisoned in militant-run facilities in Idlib and the rebel-held Damascus suburb of Douma. Their stories tell of the barbarity that abounds in rebel-held Syria's jails.
Arbitrary arrests in Idlib
Malas was eventually released by al-Qaida-linked militants after being detained for two months. He said that his captors had finally realized that he had no useful information to provide about either the FSA or the U.S.-led coalition.
The media activist continued to document and track violations in Maarat al-Numan following his release, but this time his camera lens widened its focus beyond abuses carried out by the Syrian government.
"This time I knew that I am not only fighting against Assad. I am fighting against all those who are trying to hide behind religion to dominate our struggle," he said. "And I have to document their violations like I do with the Syrian regime."
In Idlib province, Hay'at Tahrir al-Sham, an al-Qaida-led alliance of insurgent fighters, has become a dominant force in the only governorate in Syria under near complete rebel control. The hard-line militant group has carried out several arrests against moderate Syrian rebels, activists, citizen journalists and even schoolchildren over the past year alone.
An activist-run monitoring group sprung up roughly two years ago to document and track abuses carried out by HTS and its predecessor — the Nusra Front — in the province and nearby areas.
One of its founders, Assem Zidan, who lives in Turkey because he is wanted by the group, says that it is difficult to provide accurate statistics on the number of people detained in al-Qaida jails. He says he believes, however, that the problem of arbitrary arrests in Idlib is only increasing.
In one week this month, his monitoring group recorded the kidnapping of dozens of civilians in Idlib by HTS. On June 15, the monitor claimed that more than 50 FSA rebels were being detained in an HTS prison located in the northern Hama countryside, near Idlib. Syria Deeply could not independently verify these reports.
Zidan says that these HTS crackdowns and arrests target any individual or group that has a large following and is capable of "changing public opinion" in its respective area of control. These people are often presented with three options, he said: "detention, death or following their [HTS] ideology."
Detention in Douma
Torture and arbitrary arrests have also rattled the rebel-held Damascus suburb of Douma, which has been under the control of Jaish al-Islam, a hard-line armed opposition group, since late 2013. The city of nearly 140,000 people, has seen the arrest of women and children as young as 10 years old at the hand of the radical armed group. The Jaish al-Islam group is also accused of kidnapping and arresting Razan Zaitouneh, Wa'el Hamada, Nazem Hamadi and Samira Khalil, four human rights activists who were abducted in Douma on Dec. 9, 2013.
Tellingly, the al-Tawba (Repentance) Prison, which is supervised directly by Jaish al-Islam, is one of the most infamous institutions in the eastern suburbs of Damascus, notorious for its abuse and torture methods.
While there is a large network of activists in the area, there are no accurate statistics on the number of detainees in the jail. Abu Khaled, a 31-year-old media activist from Douma, says he is surprised by the absence of such reports since arbitrary arrests by the militant group have proven to be a serious problem in rebel-held areas east of the capital.
"Random arrests take place all around Eastern Ghouta. Some former prisoners who had been detained by Jaish al-Islam have spoken of the abysmal conditions in Jaish al-Islam's prisons, and especially in al-Tawba prison," he said.
"These prisons are as bad as those of the Syrian regime, and, according to former prisoners, many detainees stay in prisons for months without trial."
Firas, a 32-year-old resident of the suburb was detained in the facility for a month in the summer of 2016. Unlike other prisoners who were accused of spying for the government or colluding with rival rebel groups, the Douma native says he was thrown into jail for raising a complaint against a well-connected neighbor who had links to the hardline Jaish al-Islam group.
"I talked to my neighbor many times hoping that he could find a solution for the loud noise made by his generator, but he never responded," said Firas, who works at an Internet cafe in the suburb. "I finally decided to go to the police, but it was me who was arrested after they claimed I attacked my neighbor and destroyed his generator."
Firas was confined to a small cell for one month, where he was subject to "torture and humiliation" by armed militants. He said, however, that he had to "overlook these abuses" because the militant group could easily accuse him of colluding with the government and end his life.
He was eventually released from prison after agreeing to drop his complaint.
"When I left prison, the generator was still in place. A little while after that, my house was hit by a shell and my neighbor's generator was destroyed in the attack. Now neither my house nor the generator is there," Firas told Syria Deeply.
Abu Muhammad, a 42-year-old father of three, was held for a month and a half by Jaish al-Islam in Douma last year on charges of colluding with the Syrian government. "I found it ironic to be detained by Jaish al-Islam [on charges of collusion] when I was one of the first in my town to join the Syrian revolution," the vegetable vendor said.
Abu Mohammad described the torture he faced in the Jaish al-Islam prison as "brutal." He said that he was surrounded by dozens of other prisoners who also had no idea why they were being detained. He would eventually be released after residents connected to the group vouched for him and pledged to keep him out of trouble.
---
Loubna Mrie is a Syrian activist and photojournalist. Ahmad Zaza is a Syrian journalist based in Istanbul. The Syrian Independent Media Group is comprised of six independent Arab media organizations working together to highlight untold stories from the war-torn country: AlJumhuria; Enab Baladi; Rozana Radio; Syria Deeply; Syrian Female Journalists Network; and Syria Untold. The project is supported by International Media Support.
if you think the article contain wrong information or you have additional details Send Correction