"Robbers" Become Less Active by Night as Idlib's Traffic Becomes more Active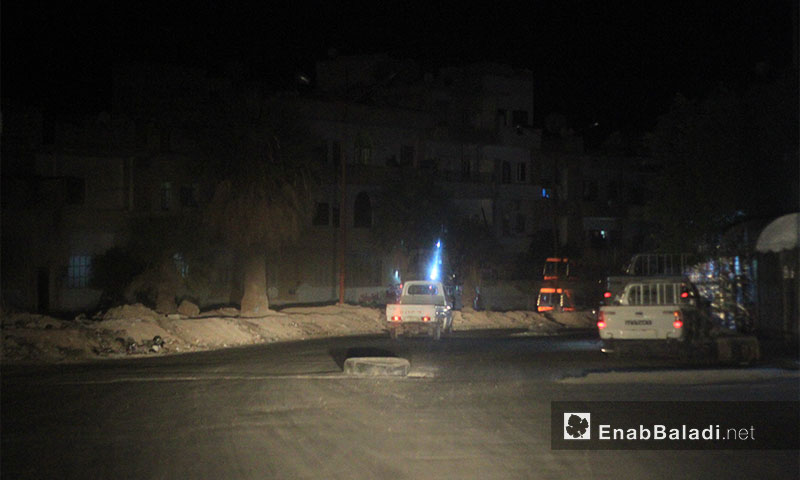 Mundher Hummel, a taxi driver from the city of Idlib, used to avoid taking customers outside the city after sunset. However, today, he works until 10 pm commuting between the villages and towns of the province without fear or panic, according to him.
In the past few weeks, traffic in the roads between Idlib and its outskirts at night has limited the movement of bandits and "robbers". Citizens have not been used to doing this since the opposition took control of the city in March 2015 because they suffered from transportation difficulties as the streets were empty and occupied by gangs of bandits only.
Since military air raids stopped in the skies of the province, life has gone back to what it used to be. This has helped facilitate the movement between cities and towns at night after it was considered as a "red line" that no citizen could cross. Hummel says that he has previously encountered a number of obstacles the first of which were the military air force machine guns that targeted roads and the gangs of "bandits".
Today, the driver takes his customers on rides to zones that are "relatively close" to Idlib, such as Binnish, Ariha and Ma'arrat Misrin. He clarifies to Enab Baladi that "In the past, I had many urgent requests from patients or passengers to take them on a ride outside the city, but I rejected most of them. However, my work conditions have improved now, and it is not as dangerous as it used to be".
The province is experiencing some serenity as the intensity of bombings has weakened since the "tension-easing" agreement was signed in early May between the guarantor countries in Astana, Russia, Turkey and Iran.
Less Active "Robbers"
"The starting point for checking road banditry was when military aircrafts equipped with "L39" machine guns stopped targeting the major roads and  the vehicles that used them"
Alaa Zakkur, a member of the Executive Force in the city of Idlib, said to Enab Baladi that the bandits cannot be categorically controlled. However, he confirmed that their activity has actually significantly decreased.
This, he thought, was due to the end of air strikes which allowed people to travel. "Dozens of cars move in the roads. This does hinder the kind of robbery that targets isolated cars only," Zakkur said pointing also to the security measures that have been taken to check this phenomenon.
Yet, increasing traffic activity in some roads is something that is not characteristic of all zones, for some are still almost deserted at night.
The road from Idlib to Ariha is drivable all the time because it is located in a densely populated area. However, driving through the roads of some remote zones or small villages is not always guaranteed, and what prevents people from traveling at night is their unwillingness to take risks.
Night Travel is not Safe in all Cases
"Seek security in the morning, for the night brings nothing but loneliness and void," (old proverb) says the 50-year-old Munir Abdel Kafi from Idlib, considering that "there is no need for car travel by night; those who need to move are just a few, and we are in the midst of a war, no one can expect what will happen within hours or probably even minutes".
Abdel Kafi told Enab Baladi that "The conflicts among the factions themselves are reason enough for one not to travel by night, for one can never tell when a fight can start." He added: "Someone might face problems with the car or other difficulties and he might not find anyone to help him".
The province is witnessing frequent "internal" brawls among the opposition factions, and some civilians or combatants have already been arrested at their checkpoints because they were suspected to belong to rival factions with different incompatible ideologies.
Idlib Civilians consider the "tension-easing" agreement as a key to restore peace in a province that has been going through constant bombings for years, "internal" battles, and has also been fighting Al-Assad's forces. All this has reduced the city's potentials to waste and its civil institutions and infrastructure to mere chaos.
if you think the article contain wrong information or you have additional details Send Correction