"Aircraft Machine Guns" Fracture Rural Idlib's Life Vine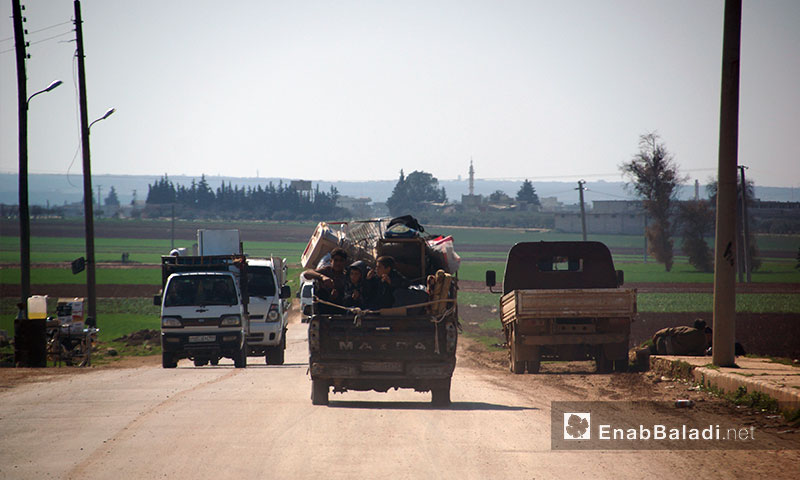 It is impossible to see any sort of life, not to mention passersby, at the International Highway, the main artery of the southern and eastern countryside of Idlib governorate. Similar to lightning, cars speed up escaping aerial attacks while coffee and fuel merchants left their shops on the road for good.
This is how the Aleppo-Damascus road has turned to be, following an atrocious campaign, still active, by the Russian and the Syrian aircrafts, which target the slightest move on rural Idlib's major roads, compelling the people to take secondary routes between the cities and towns, deemed as less dangerous but the worst relating to the movement of civilians and goods transportation.
"Baher" Monitors "Aircraft Machine Guns"
"Dozens of daily air raids and aircraft machine guns have been allocated for the roads," says "Baher Observatory" (Sea), in an interview with Enab Baladi. "Baher" works in the field of observation and spays on the airport communications to warn people of the aircrafts; he refused to tell us his real name and preferred the alias, with which he is identified through walky-talkies.
He said that the number of air raids that target Idlib governorate exceed 50 kick offs from different airports, the most prominent of which is "Khmeimim," the Russian airbase in Tartus, in addition to the following airbases: Hama, Shayrat, T4 in Homs, al-Nayrab and Kuweires in Aleppo.
"Baher" indicated that targeting major roads is the military aircrafts new methodology, for they strike with different kinds of planes that people came to call "Harbi al-Rashash" (aircraft machine guns), low-flying aircrafts that become active at night and attack major routes.
"Baher" states that "Harbi al-Rashash" kicks off 15 times a day, between Khmeimim air base with "SU25" aircrafts and the Syrian regime's airbases, at night, with "L39" aircrafts. These planes fly for about half an hour each time and focus their operations on the Damascus-Aleppo International Highway, pushing the moving cars into a state of extreme paralysis.
"We warn people when Harbi al-Rashash is in the air. We identify its place and when its shift would end and call the people to listen to frequency no.16 (A general walky-talky frequency for civilians)," says "Baher".
Then he adds, "some people do not show concern, thinking that the aircrafts would not target civilian cars. However, many cases have been spotted where civilian cars and refugees have been attacked on the major roads, causing deaths, injuries and massive materialistic losses, especially in Saraqib, deemed as a necessary point to pass to different directions in Idlib."
Rising Prices and Difficulties in Transporting Goods
Omar al-Mustafa, is a man from the southern countryside of Idlib and a food commodities' merchant, told Enab Baladi, that lately there was a relative rise in the food prices in general.
The rise is due to another rise in transportation expenses, for the goods' transportation cars are today taking secondary roads, which decrease distance, time and fuel dispensation.
Moreover, these secondary or agricultural roads are not prepared to tackle the pressure of all these cars because after the revolution they stopped being maintained; these roads also deactivate the cars' suspension systems, according to al-Mustafa.
The Roads between Patients and Hospitals are Cut
Ghaida Faoury, a woman displaced from the city of Hama to the southern countryside of Idlib, spoke to Enab Baladi about her dilemma, for this month, every day, she has to take a journey from the city of Kafr Nabl, where she lives, to the city of Idlib to receive treatment and have medical tests.
Ghaida, nonetheless, cannot any more undertake the journey due to the poor roads and the air raids that are constantly targeting them, which might worsen her health.
"I will definitely go when a new truce is signed, but I think that such a day is impossible," Ghaida adds.
The city of Idlib is suffering from an intensified military aerial shelling, especially in the southern and eastern countryside, due to the battles at Abu al-Duhur Military Airbase axis. Aircrafts were not satisfied y attacking military positions only; rather, they have focused their attacks on the areas near the Damascus-Aleppo International Highway, particularly in Khan al-Sabil, Maarrat al-Nu'man, and Saraqib, deemed as central parts of the area.
if you think the article contain wrong information or you have additional details Send Correction