A Journey between Duma and Middle Strip
Ghouta Infighting Internally Displaces Its Inhabitants and Divides it into Strips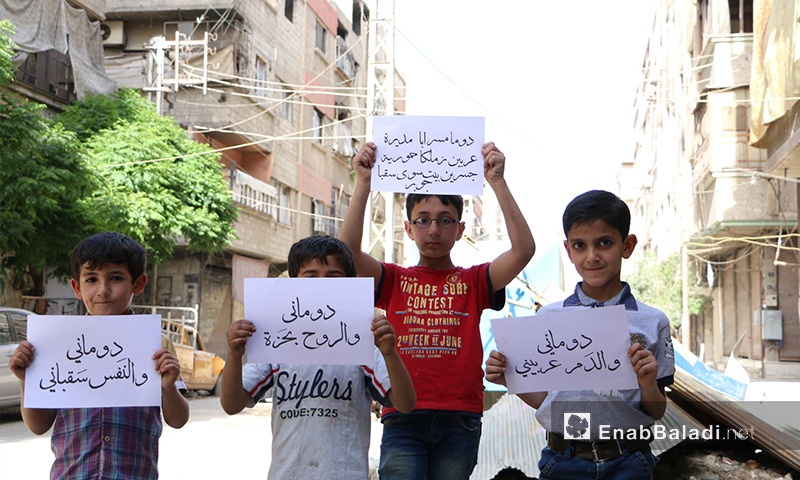 "I saw built fences that are even higher than they used to be during the last fight. We were stopped and closely inspected at roadblocks more than once especially males" said the employee Sana Maarawi about her daily commute from Duma, her city to her job in Middle Strip.
Ghouta recent fighting led to fragmentation of the social structure, internal exodus from cities and towns, depending on the areas the factions control, and the inhabitants have become no longer able to move freely to see their relatives and friends.
Summing up a conversation with her friend, Maarawi says: "I have realized how the inhabitants of Middle Strip hold a grudge against the factions and explicitly or implicitly blaming people in Duma strip  for what happened one way or another".  However, she declares that this made her feel sad because "people supported or stood with none; instead, they chose to condemn the fight and participated in demonstrations against it."
Despite the mutual accusations between residents of both strips, demonstrations broke out on both sides condemning the fight and stressing the need to not mix the inhabitants and the factions.
 Civilians Are the Most Affected
"Jaysh Al-Islam states that fighting came as reaction to Hay'at Tahrir Al-Sham hijacking its relief column which was heading to Al-Qaboun and also as reaction to what Al-Nusra is doing in the region.

While Al-Rahman Legion and Hay'at Tahrir Al-Sham agree that the attack is 'arranged and malicious' and describe it as 'assaulting and tyrannical'".
Ghouta villages and towns in Rif Dimashq have witnessed tensions that started from April 28 which marks the anniversary of last year fight wherein Jaysh Al-Islam launched attacks to wipe out Hay'at Tahrir Al-Sham. Al-Rahman Legion fought by Hay'at Tahrir Al-Sham's side accusing Jaysh Al-Islam of assaults against its headquarters and members.
Scenarios Of arbitrary arrests and migration from cities and towns in both strips have resurged which made transportation difficult for people and students and triggered inhabitants disgust.
A grocery store owner, Salim Nahass, states: "as if people are not getting enough of the Syrian regime's bomb shells and air strikes to be also attacked by their fellow citizens".
Nahass' business has been affected by the increasing prices of summer vegetables a good part of which mostly
comes from Middle Strip as the road has been blocked.
Nahass explains to Enab Baladi that in case he wanted to go to Middle Strip he needs to go through Arabin to Harasta which is a longer and more costly route compared to Masraba-Duma highway which is currently blocked.
Internal Exodus
Ghouta inhabitants have been cursed with internal displacement especially those situated in Hazza town, on the confrontation lines between the factions and in the outskirts of Al-Ashaari and Madira causing them to move to other cities and towns in the two strips to search for new homes.
"We woke up to violent clashes .The shooting was too intense to the point that we thought the regime broke into Hazza, to discover lately that it was a fight between factions," said Wael Al-Salihani who is a  father of four children and who suffered a lot from the fight between factions.
Salihani explained that his family was trapped in the house for two days until they "ran out of milk, water and bread that my children's cries almost killed me. After several calls for help via internet, The Civil Defense managed to get me and my family out thanks to the continual battle intermissions and to the darkness that shielded us."
Ahmed Sulaiman, who is a citzen of Duma, is afraid of entering his native town since the fight broke out because he might get arrested by Al-Rahman Legion members deployed on the road.
He announced that "[he] was trapped in Middle Strip when the fight has started…"and that he ''missed [his] wife and children who are currently without their breadwinner".
Enab Baladi recorded cases of arrests by Jaysh Al-Islam, Hay'at Tahrir Al-Sham and Al-Rahman Legion within their corresponding authority zones in both strips.
Dysfunctional Education and Health Sectors
The suffering of Ghouta people did not come to an end with the division, education also suffered. Students had to leave the middle schools situated between Duma and Middle Strips. Since the beginning of the fight no one has been able to go to school because of road blocking and the dispersion of snipers.
Muwafaq Kamal is a first year student at the College of Education, Aleppo University said that they were meant to start sitting for exams in 9 Ramadan. However, the Institution has often suspended classes before because of the regime's shelling and irrevocably stopped them two weeks ago because of the fight.
He said "we will have to quickly study the accumulated lectures in light of the short time left before the beginning of exams" believing that the interruption affects students' academic achievements and increases the pressure on them.
The Health sector, in its turn, was also affected as the patients' movements to Duma, where lies the only dialysis department in Ghouta, have been hindered by the difficulties that prevented them from moving there.
A senior medical authority, who refused to say his name, declared that the number of dialysis cases has declined during the fight. He also spoke about how in emergency cases the lives of patients might be at risk because they might not arrive in time. "In some cases," he says, "we had to move patients by stretcher bypassing the high-built fences which amplified their sufferance".
He also said that "only enemies would be pleased by the situation in Ghouta", for "the emergency services that have been established through the painstaking efforts of senior doctors have completely stopped". He put the blame for all what happened on the leaders' intransigence, ignorance and irresponsibility calling all social groups to hit the streets and reject the factions' tyrannical domination which only brought destruction and devastation.
No Solutions in the Horizon to End up the Suffering
During the fight a civil committee, which was authorized by civil institution most notably Rif-Dimashq Council, was formed to remove the obstacles between the factions and facilitate people affairs.
The committee, headed by Akram Tooma who is deputy head of the interim government, consisted of seven members, and it has had to face some objections as to its legal bases by some institutions .
The committee has issued several statements, the most recent of which on May 8, to call upon the factions to an immediate cease fire, opening of the roads and the apoliticization of civil institutions in addition to the release of all detainees arrested during the recent happenings and the formation of an independent judicial court calling people to demonstrate and holding the factions responsible for the safety of Ghouta. However, the committee's demands were in vain.
The eastern towns and villages of Ghouta are experiencing today a "suspicious" peace because of the low rate of factional fighting, with continued sniping and intermittent clashes throughout Ghouta.
Few days ago Jaysh Al-Islam announced it was ready to cooperate in the opening of the Misraba-Hamouriyah road to and cargo engines to enable traders to transport and purchase goods and transport them to the Middle Strip and to civil defense engines, ambulances and humanitarian cases.
A civil defense authority, who refused to identify his name, said to Enab Baladi that: "Al-Rahman Legion refuses to open the road for what it called  "lack of trust" and seeks to open a branch road from the town of Madira, reflecting divergent views on opening the road between the two factions.
The roads are still cut off until Saturday, May 13. The University of Aleppo has suspended lectures and classes in its colleges and institutes while Ghouta people are waiting for a solution that will end their suffering which has been going on for weeks.
if you think the article contain wrong information or you have additional details Send Correction