Reverse migration
Syrians Who Gave Up The "European Dream" To Return to Their Country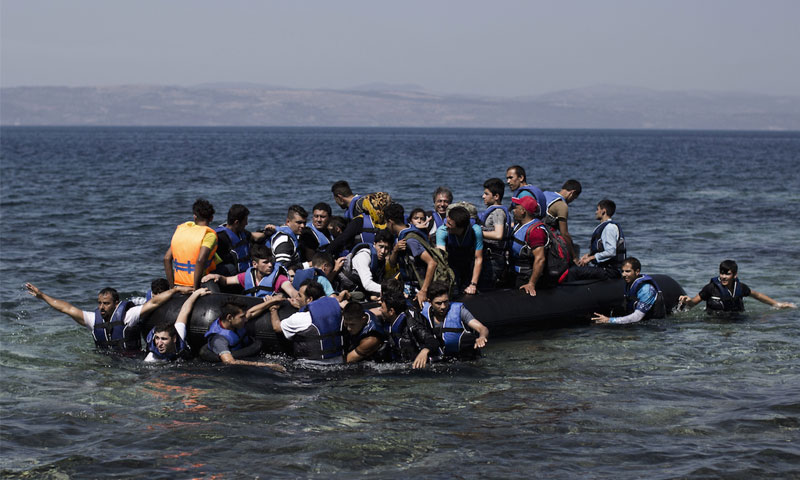 From Syria to Turkey to Europe and from there to Syria, a seaway whose features have been deeply rooted in the minds of some Syrians escaping the conflict and driven by the hope of finding better living conditions that might offer a more secure future.
After a costly trip involving the threat of drowning at sea, the lure of Europe was not enough to persuade some Syrians to stay in the European Union. They prefer instead to live in a situation of conflict and its consequences rather than safety.
Manar al-Amid, a young Syrian graduate from the Applied Sciences Faculty of Damascus University, left Damascus after failing to find a job. She decided to emigrate to Europe for "academic interests" but returned to Damascus with "disappointment".
"Strict asylum procedures forced us to return home"
Manar arrived in Turkey via Beirut airport. There, she boarded an inflatable boat with a group of migrants towards the Greek islands, from which they crossed the European forests on foot up to Austria, arriving in October 2015.
Enab Baladi interviewed Manar, who described the trip as "very scary and dangerous", and said they were about to drown after the inflatable boat's engine burst at sea.
After arriving at the camp in Austria, she found no place to stay, so one person there posted a Facebook ad calling on Austrians to welcome her into their homes. She ended up living with a family composed of a mother and her daughter.
However, two months later, they apologized and asked her to leave the house because a guest was arriving to stay with them. She was forced to move to stay with another family, who she said made her feel uncomfortable and treated her badly.
Manar pointed out that the main reason that made her to return to Syria was that she did not receive financial assistance due to the strict asylum procedures in place when she applied for asylum.
At the beginning of 2016, European countries restricted asylum laws and tightened border controls following the EU's agreement with Turkey in March 2016, which halted the flow of refugees across the Aegean Sea.
Manar said she used to check with organizations and refugee centers every week, and every time they told her that her name was "not registered yet".
She added, "I was living on the money my family was sending me from Syria. However, because of the difference in value between the Syrian pound and the euro, my family could not continue to transfer money". Therefore, after four months, she was forced to return to Syria.
Fines are paid in euros… and financial aid "was not enough"
Refugees in European countries suffer from "strict" laws, which are different from those in their own countries, as they often do not pay attention to some of the conduct prohibited by European law.
Yamen al-Hamawi, a 19 year-old Syrian refugee who was forced to pay many fines in Germany, could not get used to it, as he told Enab Baladi.
Yamen arrived in Germany in December 2015. However, he could not stay for more than a year there, despite being granted a three-year residence visa.
Yamen said he had faced several difficulties in learning German and integrating within his new society. But what pushed him to return to Damascus was that he was unable to afford to pay the fines he incurred because he was "unaware" of German laws.
"I got an 800-euro fine because I downloaded a song on my cell phone, which was protected by intellectual property rights. This amount was twice as much as the monthly financial assistance I was receiving", Yamen said.
"Strict" German laws that do not exempt refugees
Enab Baladi contacted a Syrian man, Omar Shehab, who is familiar with refugee affairs in Germany, and who explained that German laws are "strict" concerning copyright and intellectual property rights.
Article 63.2 of the German law, which was issued by the legislative authority after the last amendment in 2002, states that rules must not be applied leniently with regards to violations of intellectual property rights of authors, including literary or musical compositions.
The fine is between 800 and 5,000 euros, and the punishment may reach three to six months' imprisonment.
Julia Ryberg, a legal expert at the Consumer Affairs Office, spoke with the Deutsche Presse-Agentur (D.P.A) in March 2016 and told them that refugees should be warned of intellectual property violations before being fined.
Ryberg confirmed that there are cases in which refugees were forced to pay fines FOR "illegal" data exchange.
A lawyer, Henning Werner, who also spoke with the agency, pointed out that refugees would not lose their residency and would only be fined financially.
According to statistics issued by "Ostio", a German services and consulting company, more than 150 million euros are paid annually as fines for violations of property rights in Germany.
Concerns over family reunification cast their shadow over the return to Syria
Omar Shehab told Enab Baladi that the most important reason pushing some refugees to cancel their requests for asylum and leave Germany is "secondary residence", which was recently issued by the German government for Syrians in March 2016.
It is a renewable one-year residence, which stipulates that the refugee has to return to his country if the war ends there. The person who holds this type of residence cannot bring his family and cannot submit a request for family reunification.
According to Omar, a number of young married people could not leave their wives and children, especially as some of them left their families in Turkey alone.
In addition, some students do not have their qualifications recognized in German universities and do not find the support they expected to find. Omar also explained that the literary baccalaureate certificate is not recognized in Germany, as well as some university qualifications in fields such as law, languages.
Concerning integration within European society, some Syrians from conservative environments could not cope with an open-minded society based on freedom of thought and belief. Some of them prefer to raise their children in the environment in which they lived, even if it is less safe.
Financial assistance is granted to those who "voluntarily" wish to return to their home country… Syrians are excluded
After the "open door" policy adopted by the German Chancellor Angela Merkel towards refugees, she was accused of burdening her country economically and exposing it to the risk of "terrorism". This pushed the government to launch financial aid programs worth 150 million euros at the end of the last year to motivate refugees to "voluntarily" return to their home countries.
Under this program, every refugee over the age of 12 will be granted 1,200 euros if he decides to cancel his asylum request and return home.
Meanwhile, asylum seekers whose asylum application has been rejected will be granted 800 euros if they decide to return to their home countries and not appeal the rejection decision within the period permitted.
However, Yamen al-Hamawi confirmed that he did not receive any financial assistance when he decided to return to Syria, and that these incentives are granted to Afghan refugees and those who came from Balkan and North African countries.
The German government prefers Syrian refugees not to return to their country because of the conflict there. Most of the returnees leave without canceling their asylum requests, departing from German airports to Greece and from there they are smuggled to Turkey, then to Beirut and from Beirut overland to Damascus.
Facebook groups called "reverse migration"
On Facebook, Enab Baladi observed several groups that offer tips and information on how to return from Europe to Greece and then to Turkey. For example, we came across a group called "Reverse Migration Platform" (which contains more than 22,000 members) and another called "Reverse Migration from Europe to Greece and Turkey", and many other groups.
The group's posts showed that many people had expressed their desire to leave Germany, while others asked how to arrive from Turkey to Greece and then to Germany.
"Human smugglers" posted announcements in the groups about the trips they manage from Turkey to Greece, although the two countries tightened security procedures on their maritime borders.
Omar Shehab said that human smugglers always discover maritime routes that are not monitored but he warned those who are returning to Damascus via Beirut airport that they could be held by airport security.
This is exactly what happened to Manar al-Amid, who pointed out that security at Beirut airport held her for 48 hours in a dark room under the pretext of verifying that she was not involved in any "terrorist activity". She says that she was then transported by bus to the Syrian border and handed over to Syrian security, who allowed her enter Syrian territory.
Up to the end of 2015, more than 350,000 Syrian refugeesSyrian refugees
if you think the article contain wrong information or you have additional details Send Correction