We cook using fuel made from sticks, wood and trash
Homs: Women's Coffee Morning in al-Waer Without Coffee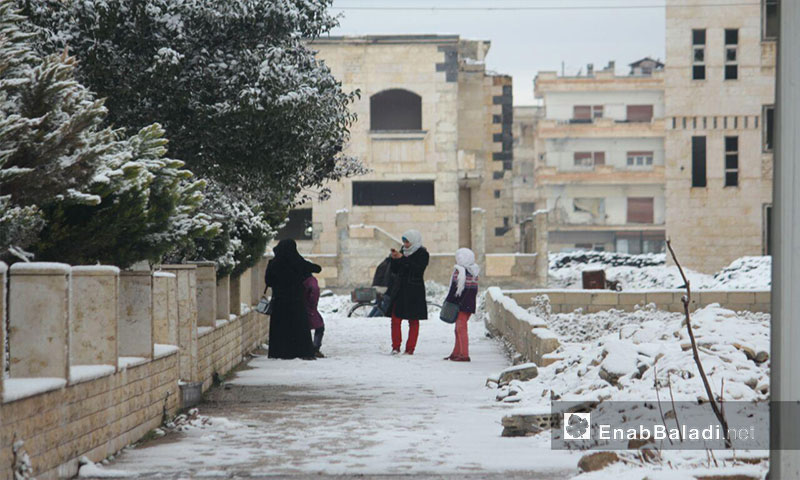 Women in besieged al-Waer no longer get together in the morning around a cup of coffee. Instead, they gather in the streets looking for fuel for one or a few days, from tree branches that have become an essential alternative to oil and gas during the siege and the most important resource in the absence of the men of the household.
Eman Abdul Halim, a woman in her forties, told Enab Baladi that the siege had transformed the lives of women in the neighborhood of al-Waer in Homs from an ordinary one to a life full of obligations. Comfort has become a mere dream, added to the other dreams of the besieged, who seek freedom and safety.
"As a woman, I noticed a change in my life over three stages, each radically different from the other", Eman added.
In the period before the revolution, "I lived a comfortable life with my family. However, during the revolution I gradually lost that life mainly due to being displaced, since I was forced to leave my property and my "kingdom" (her house). The siege has also deprived me of my most basic rights, such as security, basic goods and access to daily needs", said Eman.
The regime-imposed siege on the neighborhood since 2013 has changed Eman's life from what it was in the past, and it is difficult to get that life back.
"In the past, women did not have a gas range to cook on but they had a small stove on which they were able to cook the most famous Syrian dishes. Now we do not have the gas to be able to light the stoves. So we cook on heaters and fireplaces using sticks, wood and garbage that we collect from the streets every day. We've forgotten the taste of meat and our famous dishes. Our main meal consists of rice or bulgur. Our biggest feast now is a siege version of al-mujaddara, which is different from the ordinary one since we make it without onions, which should be sprinkled on the top", said Eman.
Being both father and mother
After years of siege, the lack of means of earning a living has occupied the women of al-Waer and changed the old traditions of Homs such as "al-sobhiyya" (morning gatherings), which have become a thing of the past, according to Zainab Jalal, one of the neighborhood's residents.
Zainab told Enab Baladi, "As you see in Syrian soap operas, the women of the neighborhood used to gather regularly in one of their houses each morning and spend wonderful moments around a cup of coffee and breakfast that we prepared together. We would talk about different topics and about the latest news in our families, discussing all the little details. Life is different now, we have become pre-occupied by the difficulties of daily life. The barriers and obstacles have pushed us to give up this habit, which was very common."
The difficulties of life and, for some women, losing their husbands, have made women responsible for doing the job of men, such as providing for their families and all their needs, as well as doing the housework. According to Zainab, "The war has not been easy in any way. It is rare to see a house without a 'disaster' that has changed its residents' lives forever, and it is difficult to find men, since most were either arrested, martyred or gone missing. This pushed women to take on their role as father, mother and wife".
Zainab lost her husband after he was arrested by regime forces four years ago, making her both father and mother to their four children. Despite that, she did not let go of her morning habits but instead of spending it at home, she spends it on the street.
"Despite the additional responsibilities that life has forced on us, it also made us share our stories and our responsibilities in the streets of the neighborhood. My friends and I go out in the morning to collect what we need. We also talk about life and the latest developments through the whole journey but the only difference is that we don't make any coffee", added Zainab.
The foundation of Homs society
The medical and relief activist, Yasmine Umm Jihad, told Enab Baladi that these issues have not prevented women from following the revolution and contributing to it, as they see it as the only way to get rid of the regime and its oppression. "Women have become prominent in various domains such as the medical, humanitarian relief and media fields. Women are also active in education and have been able, through their persistence, to participate in leading society as a mother, wife, educator and worker all at the same time", said Yasmine.
She added, "Women have continued this work in spite of attempts to stop them out of fear that they will be arrested. This work is part of sustaining the popular mobilization, which men cannot do alone. One hand alone cannot clap. All Syrians must work to get rid of this regime that has filled our lives with pain and loss and proven to be the most murderous in history."
if you think the article contain wrong information or you have additional details Send Correction