Facebook Traders in Damascus … Shopping is a Matter of Luck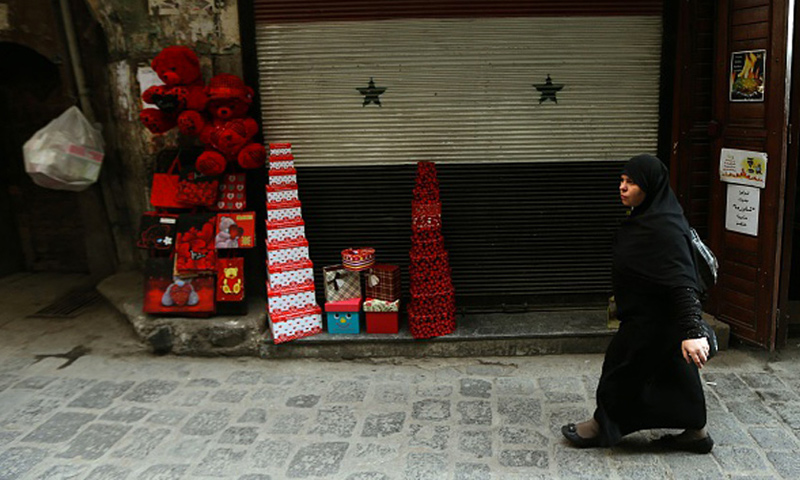 Enab Baladi
"I usually buy what I need from the goods displayed in Facebook groups since they're good quality and cheaper than from the market". This is how Dhoha, a media studies graduate living in Damascus, describes her experience of online shopping on Facebook markets that have no address.
Dhoha, who is 23 years old, explains how the purchase is carried out. She tells us that her friend added her to a group whose administrator displays products with details about the price, size, color and place of delivery, and includes a phone number for reservations and orders.
Dhoha contacted the group's administrator to order a pair of shoes. They agreed on a delivery time at which the seller would deliver the order to the closest place to the client's address.
Concerning the difference in price, Dhoha said that she had found the winter shoes in a shop in al-Jisr al-Abyad for 8500 Syrian Lira. Through the Facebook group she bought them for just 5500 Syrian Lira.
A different type of shopping than usual
Online shopping is a growing phenomenon in Damascus, especially via Facebook groups. This type of shopping is different from the common concept of online shopping, which has become widespread throughout the world given ease of access to the Internet and to products, as well as falling prices and greater freedom of choice.
Best international websites for shopping

Online shopping on specialized websites is spreading across the Internet but this type of shopping is not common in Syria.

Among the most prominent global online markets are Amazon, the E-bay online marketplace for selling smart devices and cameras, Namshi for clothes and accessories and Shopping, which offers reduced discounts and offers.
Online marketing began with Amazon, which sells books and later expanded into selling other products. It then expanded to include all sectors and all countries around the world.
Payment is carried out by filling in the customer's name, address and credit card number on a form on the website. This process is confidential and all data is kept safe and secure.
A breather on blue pages
The online shopping phenomenon is widespread in Damascus in particular as it is one of the cities that has been least affected by the Syrian revolution and in which access to the Internet has only been cut off for short periods of time. Life continues in its most famous neighborhoods.
Damascus' residents do not enjoy all the aspects of a normal life but online shopping provides a way of escaping from the daily routine and avoiding the difficulties of going out shopping due to overcrowding and the increase in checkpoints.
Ghofran is a student who is married and the admin of an online shopping group. She told Enab Baladi that due to the difficulty of opening a shop in light of the difficult economic conditions, she resorted to selling her products through Facebook groups.
Concerning the problems faced by Facebook traders, Ghofran said, "The problem is that customers don't stick to their orders or the delivery dates".
Ghofran displays her trading policy on a pinned post at the top of the group's page. She mentions in the post that the products are available at her house in the suburb of Qudsaya and she delivers to places in Damascus that are accessible. Products can be exchanged on the same day and returned subject to prior agreement between her and the client.
Ghofran makes sure to take pictures of the products that show what they really look like in order to avoid problems with customers.
Online selling has become a source of livelihood for some women who produce handmade products at home, which they then market in online groups.
What do the women of Damascus think?
According to a survey carried out by Enab Baladi in two secret groups containing thousands of female members, "Yalanjiati" and "Luxury", women in Damascus prefer the idea of shopping using Facebook groups.
Women's views regarding their experiences varied. Amen, a volunteer at an organization that works on child protection, advised women who want to order a product to ask about the details, such as the type of fabric, the thickness, length, etc.
Amen said, "These details give a full picture of the item so that the buyer will be completely satisfied when they receive it."
However, Samar had a different experience. She bought a fur coat for her daughter but the item was very different from the pictures online. The fabric was light and did not resemble the image shown.
Samar advises girls to avoid buying online. Instead, she recommends physically viewing items in shops and buying something right in front of their eyes that satisfies them.
Noor, currently residing in Sweden, spoke about the difference between local products, which she received in excellent condition, and "foreign" products shipped from Syria. She says the latter usually do not resemble the picture or the quality in the description.
Farah, a translator, says that some sellers are very nice and honest but there are also others who are the opposite. She said that she once asked to postpone a delivery because of an emergency but the seller's response was very rude and disrespectful.
if you think the article contain wrong information or you have additional details Send Correction