"Malls" Spread in Idlib… Competitive Prices but Customers Face Risks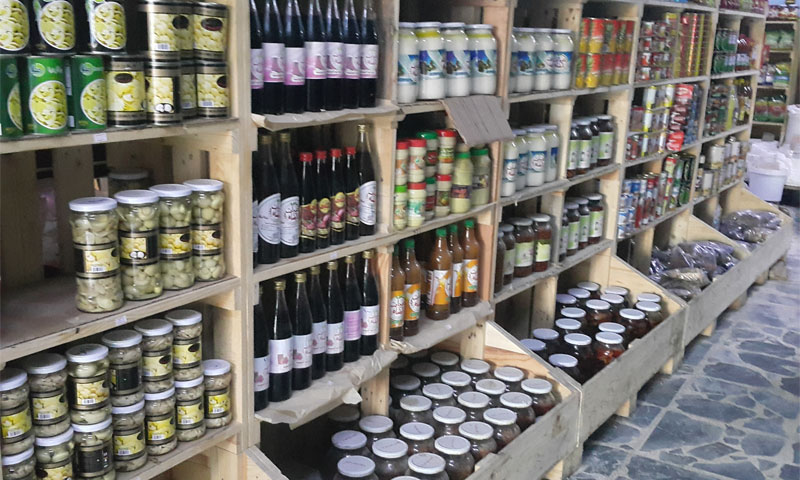 Enab Baladi – Idlib
Supermarkets have spread throughout the city of Idlib and other major cities in the province to provide for people's daily and household needs. They target consumers who are located far from shopping areas.
Syrians have begun launching private low-budget economic projects to overcome the massive damage to large projects and infrastructure due to the war.
The owner of one supermarket in Idlib (who asked that neither his name nor his location be disclosed for fear of being bombed) told Enab Baladi that establishing these centers is primarily a financial investment. Although these projects face huge difficulties and challenges in light of the continuous bombing targeting residential areas, the supermarket owner said "Allah is the protector." He added, "This is how everything around us works, this is what Allah has written for us."
Investing in such projects is considered risky as each costs around 30,000-40,000 US dollars to launch due to its size and the amount of merchandise involved.
The centers contains sections for meat, cheese and other animal products, cleaning materials, household appliances and vegetables.
The owner added that reducing people's suffering and supporting them by providing such facilities is important, "Certainly, when people find one place that has most of their daily needs and with relatively cheap prices, this will save them time, effort and money, and perhaps even save them from being exposed to bombing, since they don't have to move between shops."
Civic organizations get involved
Several supermarkets belonging to non-profit civic, relief or development organizations have been established in the province recently. According to Enab Baladi's observations, some of the organizations run these projects themselves while others provide funding to people to run the "malls" as development projects.
These projects provide employment opportunities for youth and address people's needs. However, people fear that their profits will go to the organizations' managers and will not go towards supporting the organizations' activities.
Everything you need in one location
Mahmoud al-Omarin, a displaced person from Damascus' countryside living in Idlib city, sees that the most important thing the supermarkets offer is that people can find everything they want in one place. This saves migrants and displaced persons living in the city from having to search for things in a new place they do not know well.
He added, "I do not know the markets here so I go to the store even though it's far from where I live, but I'm sure I'll find whatever I'm looking for there."
Some customers do their weekly shopping in a supermarket close to home, purchasing all the food products and groceries they need for the week.
Kamal Jamoul, a man in his forties from Idlib city, buys most of the things he needs from the supermarket to save money. He said, "The big stores sell consumer products at wholesale prices. Since I'm responsible for a large family, which requires a large budget, buying from the store helps me get through the month."
He gave an example, "If you buy some vegetables from a regular greengrocer for 2000 Syrian pounds (1 US dollar being equivalent to 500 Syrian pounds), you can get the same vegetables of the same quality for 1900 Syrian pounds (from the big store)."
"Perhaps that's not a huge difference," continued Jamoul, "But if I buy vegetables every other day, I save 1500 Syrian pounds per month. If we calculate the same price difference for staple goods and cleaning materials then you find yourself saving around 10,000 Syrian pounds per month, which is a good amount."
The supermarkets are "dangerous" but essential
"I don't like these supermarkets, I think they should be shut down," said Mounir al-Ghali, a recently displaced resident from Aleppo. He considers that any place where people gather is sure to become a target for warplanes at any time, "The same applies to markets and places where people gather." Al-Ghali explained, "So I find that small scattered shops are more suitable and safer."
There have been repeated incidents of markets in the main cities of Idlib province being bombed. The most recent was the bombing of al-Hal Market in Maarrat Misrin and the city's largest bakery. The attack on Saturday 14 December 2016 caused the death of nine civilians according to the city's local coordination committees.
Supermarkets are not new to Syrians, but the war has led to their gradual decline. The hardship and financial difficulties most Syrians are experiencing have led to their return but customers' biggest fear is that they will be targeted by the warplanes.
if you think the article contain wrong information or you have additional details Send Correction