The Fifth Division Empties Deraa al-Mahatta of its Youth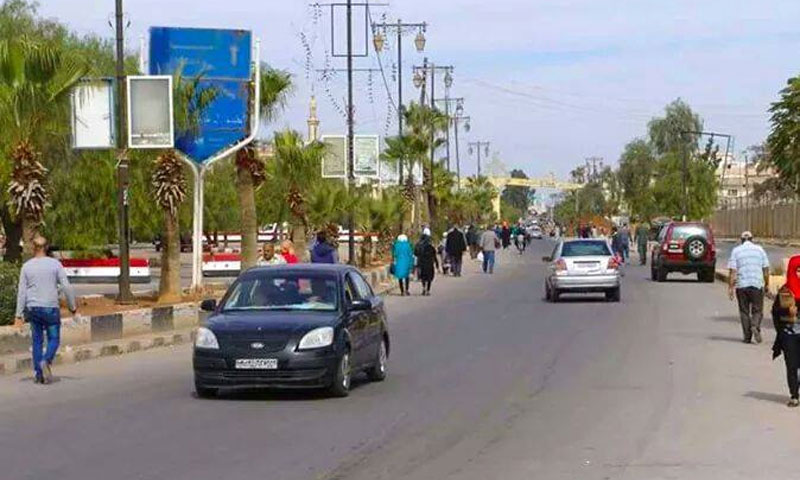 Deraa – Enab Baladi
The al-Assad forces have launched an extensive campaign in recent days to conscript men wanted for reserve military service in the areas under the regime's control. The campaign differs from previous campaigns as it targets a larger number of recruits and conscripts men who are almost fifty years of age.
The campaign came in conjunction with an announcement by the al-Assad forces that it has established a "Fifth Division" of storm troopers. The Division aims to conscript thousands of civilians to fight in an attempt to address the drop in the number of fighters in regime forces and militias allied with them.
Conscripts' ages vary between 30 and 50 years old
Several factors have emptied the areas in Deraa under regime control of their young men, forcing them to migrate to opposition-held areas. Young men are now largely absent in the areas under regime control, and their cities and towns have become communities with a majority of women, children and elderly people. Only a small number of men in their thirties remain in regime-controlled parts of Deraa, most of them workers in the public sector or shop owners.
These men, despite their small number, have been surprised by the regime's announcement of the establishment of the "Fifth Division" since regime forces have begun recruiting every male who had already completed his mandatory military service and has added their names on the reservists' list. Enab Baladi obtained information indicating that the age of those included on the list range between 30 and 50 years old.
Dozens of young men migrate to opposition areas
Dozens of young men from regime-held areas arrived in opposition-held areas of Deraa during the month of December. Among those who moved is Abu Abdulrahman, a resident of the al-Sabil neighborhood in Deraa al-Mahatta who moved to the town of Tafas in Deraa's western countryside.
The young man told Enab Baladi that he had preempted his arrest and conscription by leaving the area after news spread of the conscription measures. "I found out that my name was included on the lists so I left before my name was circulated to the checkpoints."
Abu Abdulraham did not have a lot of time to think or plan, "Getting out quickly was the most important thing, and after I reached the liberated areas I started thinking about what I should do and about my family's situation there." He pointed out that he was "surprised" when he arrived in the opposition areas that he was not the only one fleeing, "The funniest incident was meeting one of my neighbors by coincidence, and when I asked him what he was doing here, he responded, 'the same thing you are doing'."
Fear of the future
Abu Abdulrahman left many stories and memories behind him in Deraa al-Mahatta. A family's entire life changes suddenly as the head of the household leaves and loses his job. The mother takes over managing the household in the exceptional circumstances of war. The family is divided between remaining in their home or following the father. These are some of the issues that the young man is afraid of, "The living conditions in the liberated areas are unstable even today and I can barely provide for myself, so it is better for my family to remain where they are for now."
Abu Abdulrahman described the situation in the city before he left, saying, "There are dozens of households where there is only an old man and his wife left, while their sons have been displaced or killed or perhaps detained."
Another young man (who refused to disclose his name) said that it has become common in Deraa al-Mahatta for shops to advertise jobs for women to compensate for the absence of men. He commented, "This is a new phenomenon for a conservative society like Deraa but the difficult financial circumstances of many families have pushed women to work."
Abu Abdulrahman expressed his sorrow at leaving his city, "I refused to leave my house and neighborhood throughout the last few years and I did not migrate although it was possible for me to do so." He insisted, "I'm against migration and change but when I'm faced with the idea of being conscripted to fight against my own people, then it is normal that I leave immediately."
Deraa al-Mahatta is not unique in this sense. The same situation is being replicated in most areas under regime control. Enab Baladi and dozens of local and international media outlets have all documented this phenomenon and similar stories from Damascus, Homs and other cities. The young men of Deraa al-Mahatta describe their city today as "almost abandoned", fearing that they will face a similar fate to that of Daraya, whose residents were all forcibly displaced.
if you think the article contain wrong information or you have additional details Send Correction