Water 'black market' has reportedly emerged due to fighting near the capital's main supplier with residents reporting a steep jump in prices
Damascus: Authorities Call on Citizens to Conserve Water After Fighting in Barada Causes Shortage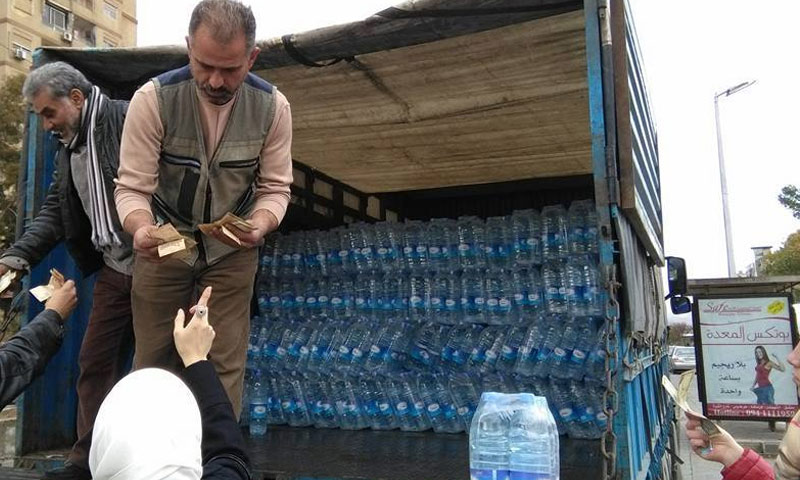 The suffering of citizens in Damascus and its surrounding suburbs has increased recently due to the shortage of water following the ongoing conflict in the nearby Barada valley.
The shortfall of available water has contributed to the development of a black market headed by water tank owners and store vendors, who aim to exploit the public during a time of crisis.
Abdullah Jumaa, a store owner in Masaken Barzeh, Damascus told Enab Baladi that the price of a liter and a quarter water refill had reached 140 Syrian pounds ($0.70), and sometimes up to 150 pounds.
He said that prior to the crisis he had been buying a water container with 12 refills for 1,200 pounds, a cost of 100 pounds per refill, and selling it for 125 pounds. But after the Barada valley came under attack the same item now costs 1,500 pounds —125 pounds per pack and selling it for 140 or 150 pounds, due to the high demand for water among residents.
The general manager of the water authority in Damascus and its countryside, Mohamed al-Shiyah, called on residents to conserve and not overuse water, and also to avoid storing large amounts.
Shiyah told the newspaper al-Watan, which is close to the regime, that "the city of Damascus and its countryside needs more than 300,000 cubic meters of water a day and the amount currently distributed is no more than 40 percent of what is needed."
Shiyah had earlier announced that there was no thirst in the city of Damascus and that the share of water for each person during the emergency plan ranged between 30 to 35 liters a day.
But Syrians on social media said that Shiyah's statements were untrue, and that many areas of Damascus and their suburbs had not received water for four days.
This article was translated and edited by The Syrian Observer. Responsibility for the information and views set out in this article lies entirely with the author.
if you think the article contain wrong information or you have additional details Send Correction