Alternative housing… Damascus governorate states contract value for "Barada Suburb" regulatory plan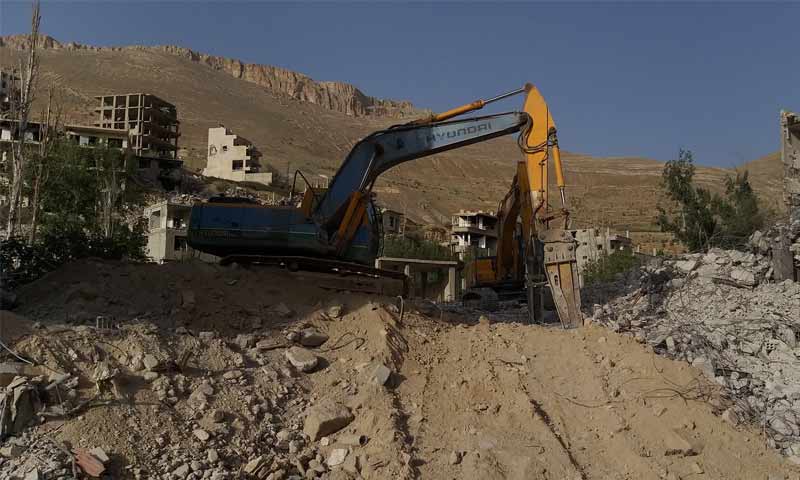 Damascus governorate has stated the contract value signed with the "General Company for Engineering Studies" for the regulatory plan of the "Barada Suburb," which will be established in the Wadi Barada area.
According to what the regional decision and planning support manager in the governorate, Abdul Razzaq Dameiriya, said to the state-run Syrian Arab News Agency (SANA) on 17 August, the contract value is worth 450 million Syrian pounds (212,264 USD).
Dameiriya added, "the proposed residential suburb will be an alternative accommodation for citizens whose houses were damaged in the Wadi Barada area, provided that it is far from the direct campus of the Ain al-Fijeh Spring, without affecting or removing the people's land and property."
Dameiriya pointed out that the number of alternative housing recipient populations is known and that work is currently underway to prepare an organizational plan for the Barada suburb within a year.  According to Dameiriya, one of the public sector companies will be responsible for the building of the Barada suburb in the form of the Qudsaya suburb.
The Barada suburb spreads over an area of 50 hectares, to the eastern part of Bassima and Ain al-Fijeh, and in the middle between Bassima and al-Draij areas, with which the suburb is connected by a local strategic road network.
The head of the Syrian regime, Bashar al-Assad, issued Legislative Decree No. 1 of 2018, regulating the direct and indirect campus for the Ain al-Fijeh Spring.
The law provided for the construction of two campuses along the two water tunnels from the Ain al-Fijeh Spring to Damascus and defined the width of the direct campus of the two water tunnels to the distance of ten meters for each end of the tunnel.
According to the law, the width of the indirect campus of the two water tunnel was set at 20 meters for each end of the tunnel, starting from the tunnel axis, including the direct campus.
The Ain al-Fijeh and Bassima areas in the Wadi Barada region are considered one of the most famous tourist areas in Damascus and its countryside, and one of the most important summering areas in the region.
The Wadi Barada area is characterized by its beautiful nature traversed by the famous Barada River. The Ain al Fijeh is among the most important destinations for tourists and includes around 80 restaurants on the river banks and around the spring.
In early January 2017, the Syrian regime forces regained control over the area after a massive military campaign accompanied by aerial bombing.
Back then, the regime's forces completely closed the exits of the area's villages and declared them a "military zone," preventing people from entering for any reason and started demolishing houses under Decree No. 1 of 2018.
if you think the article contain wrong information or you have additional details Send Correction