Cosmetic Surgery Invades Damascus … "Cheats" Gain at the Expense of the "Vain"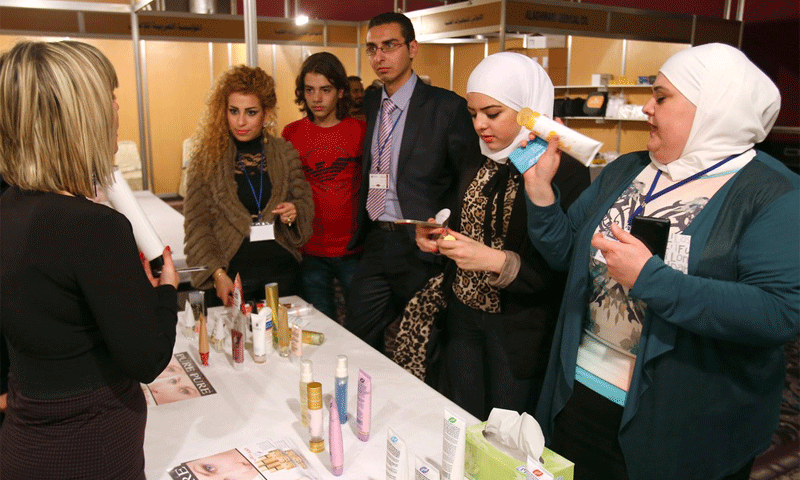 Aya Fakahani was bothered by the "freckles" on her face. The 14 year-old wanted to surprise her friends by getting them removed during the school holidays.
The girl begged her mother to take her to a group of women who carry out laser surgery operations in their homes in Aqiba (close to Baghdad Street in Damascus). Her mother felt obliged to say yes to please her young daughter.
So Aya and her mother went to the house. One of the women began the process of removing the freckles, applying powder to the girl's face. Aya felt her chest tightening and her face burning but the woman paid no attention and told her mother, "It's natural. Your daughter is exaggerating."
A few minutes later, Aya's face started to melt and she began to vomit a white substance from her mouth. Her mother rushed her to the al-Mojtahed hospital but it was too late.
According to the story that spread on social media, confirmed by Enab Baladi from different sources, the girl died and the women disappeared, amid widespread astonishment and condemnation. People asked, "Why aren't these imposters being regulated?" The mother sent a warning to all, "Protect your girls from unlicensed cosmetic surgeries."
"Obsession" with cosmetic surgeries invades Damascus
The province of Damascus is witnessing a new "trend" that was previously rare among Syrian women. With the increasing complications of marriage and the overwhelming demands of grooms when it comes to their future wife, according to Damascus' women, the "obsession" with cosmetic surgery has spread. Syrian women are increasingly resorting to surgery in the hope that it will increase their chances of marriage.
Most beauty centers provide surgery for the face and body. The prices vary according to the type of surgery from 50,000 lira (the equivalent of 50 US dollars) for the simplest surgeries up to an unlimited amount.
However, many ladies have warned against the spread of unlicensed centers whose owners have no previous experience and where the surgeries lead to disfiguring clients rather than achieving the improvements they are after.
Most women's pages and groups targeted at young women receive requests for recommendations of a "good cosmetics doctor" at least once a week.
Enab Baladi researched the most famous cosmetic centers in Damascus and found that, according to social media users, the Rodina Center is the most popular, followed by the Safe Beauty Center.
Most popular surgeries … and their prices
Enab Baladi spoke to a beauty specialist at the Rodina Center about the most popular surgeries requested by women in Damascus. She told us that these vary depending on the season and demand increases according to the latest trend.
The Rodina Center considers its prices to be "very normal" and average in comparison to other centers and clinics. A gastrectomy operation costs 350,000 lira, while it exceeds 500,000 lira in other centers, as the specialist asserted.
Breast enhancement operations cost 500,000 lira and the same goes for face lifts. Body sculpting costs 275,000 lira. Nose jobs costs around 150,000 lira. A Hollywood smile will set you back 50,000 pounds per tooth.
The specialist told us that during the first consultation, which is done before carrying out any surgery, she explains the surgery, its side effects, procedure and duration of recovery in detail.
She says that she shows the patient the expected result and they discuss the details of what needs to be changed. Sometimes, more than one consultation is needed in order to ensure that the client gets a result that she is fully satisfied with.
She added, "The patient has a clear understanding of the issues. We advise the patient when the surgery is not necessary. Of course we do not proceed with it if it is unsuitable and unhealthy."
How does psychology explain girls' "obsession" with beauty?
Psychological specialist, Asma Rushdi, links the tendency for girls to resort to cosmetic surgery to many reasons, starting with lack of self-confidence and having an "inferiority complex." A girl often compares herself to other girls and resorts to cosmetic surgery in order to fill this feeling of deficiency using physical means.
The specialist explained that Syrian women currently suffer from internal weaknesses, especially given what it is happening in Syria. This causes them to be influenced by any fashion to prove that they are strong and that they still live a normal healthy life.
According to Rushdi, most of the girls have become breadwinners for their families, which has pushed them to have plastic surgery as a kind of self-reward and compensation for their efforts and hard work.
Given the shortage of young men in the country and the image of the ideal woman in the media, a woman enters into conflict with herself and society in the struggle to be a perfect replacement. With her beauty, she tries to hang on to her husband or win the heart of a perfect groom.
She continued, "Sometimes, there is a clear deformation in a girl's physique, such as a prominent nasal bone or obesity, which pushes her to do plastic surgery. However, the prevalence of photo editing software and the trend of uploading (perfect) selfies on social media increases the myth among girls who want to be beautiful without photoshopping themselves."
Cosmetic surgeries in numbers

Nearly 10 million plastic surgeries take place worldwide each year. In 2013, the number of surgical procedures reached 12 million, according to statistics published by the German website "DW."

A study reported by the English "Daily Mail" newspaper confirmed the increase in the number of those carrying out facial cosmetic surgery, especially the removal of excess fat in the chin.

According to the Daily Mail's statistics, there was a 16% rise in the number of people having chin cosmetic surgeries in 2015.

Selfies are among the main reasons for this increase. Sometimes, there is no obvious deformity in the shape of the chin but individuals are opting for these surgeries just because they do not like themselves in "selfies."

Winter is considered the best time to do plastic surgeries, while the most suitable seasons for face facial procedures are Fall and Spring since it is hard to protect this part of the body from cold weather.

According to the Daily Mail, permanent make-up procedures have seen huge demand from women in the last three years days due to evolving technology and its increasing professionalism and accuracy.

It also reported that many procedures fail and results are not as expected.

Despite the large number of plastic surgery operations and their success in most cases, everyone still agrees that natural beauty is better than artificial beauty, especially with new make-up techniques or what is known as "contouring", which hide facial defects without the need for surgery.
What do Damascus' women think?
Enab Baladi conducted an opinion poll among girls in Damascus through a private group on Facebook, asking them what they thought of cosmetic surgeries. Noor, a teacher at a private school, answered that cosmetic surgery was necessary in the case of a disfiguration.
She went on, "In my case, for example, my face was very worn out after giving birth. Wrinkles and dark circles appeared around my eyes. Physical changes occurred due to pregnancy. That's why plastic surgery is necessary to remove the signs of illness."
Raba, a media graduate, expressed her approval of cosmetic surgery even when there is no deformation, saying that beauty and perfection are a "right" for every woman but without turning it into an obsession.
However, Majd, a 23 year-old university student, had a different opinion, saying, "Age has its effects. There is no problem if signs of ageing start to show, it shows that I'm natural."
She added, "With cosmetic surgery, we try to change ourselves and ask the world not to accept us the way we are unless we fit exactly the image they have of us in their minds."
She insisted that she refused to be a victim and an advert for a stereotypical image of the modern woman.
if you think the article contain wrong information or you have additional details Send Correction