Amputees Wait: Daraya's Injured from Northern Syria to Turkey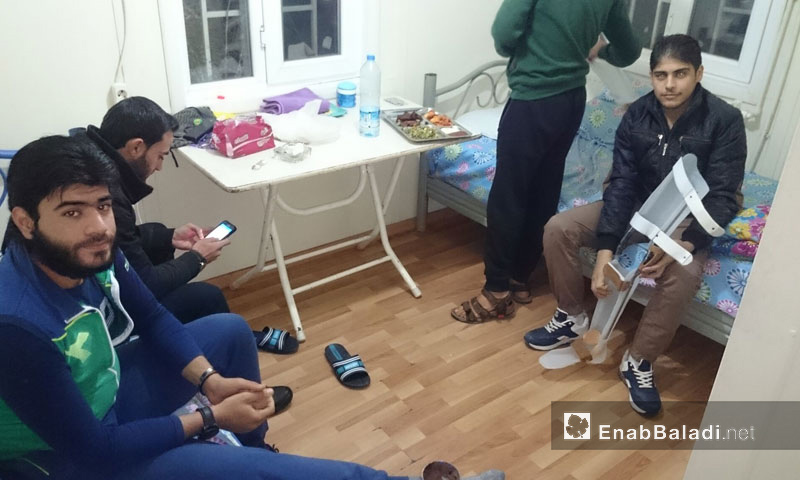 Zein Kanaan – Idlib
"Four years have passed and I am looking forward to the day I will say goodbye to my cane. I've tried to go out without it several times already with no success," Farid al-Deeb, a young man from Daraya, told us, describing his situation before he left Daraya with fighters and their families towards northern Syrian, hoping to receive treatment.
Tens of injured from Daraya in the rural outskirts of Damascus suffered for years before they were received in hospitals and medical centers in northern Syria, which they say are lacking equipment. Others arrived in Turkish border cities and are still receiving treatment in what are called "Houses for the Injured" amid obstacles of a different kind.
Cases of Daraya's Injuries in the North
Al-Deeb (28) was injured by sniper bullets at the start of the major offensive launched by al-Assad forces on Daraya city, as he told Enab Baladi. The injury resulted in several fractures in the hip joint, which has to be replaced with an artificial joint. He added, "My happiness on leaving Daraya is not complete. After all the waiting and suffering I endured, I am still waiting today for a phone call from the hospital to specify the date of the operation."
As soon as he arrived in the countryside of Idlib, al-Deeb contacted Aqrabat hospital, which specializes in orthopedic surgery, to continue his treatment and do the pre-surgery tests. However, he was surprised when the hospital told him, "Write down your phone number and we will call you." He adds, "Tens of injured who need to be fitted with an artificial limb are waiting for their turn before me because of the high cost of the surgery while the hospitals wait for funds from organizations."
The lack of a set date for the operation led the young man to try to cross to Turkey but he was stopped at the Bab al-Hawa border station, which does not give permission to leave for cases like his, according to al-Deeb. He confirms that his operation is critical, "The operation needs to be by an experienced surgeon and I do not know how much experience they have here in the liberated areas."
Most of those who Enab Baladi surveyed among Daraya's injured expressed their gratitude to hospital and medical center staff in northern Syria who "looked after them well and gave them medications" when they arrived in Idlib. Jalal al-Najaar, a young man, told us, "Once you mention you are from Daraya, you have priority in checkups and surgeries."
Al-Najaar suffers from an injury to the nerve plexus in his hand and several fractures and amputations to his fingers. Although he admits there is medical care, he told Enab Baladi about the limited resources in the hospitals amid the huge pressure of large numbers of patients and disparity in quality depending on who is funding the hospitals.
Amputees Wait While Some Hold Interim Government Responsible
To assess the overall situation of Daraya's injured in northern Syria, Enab Baladi contacted the medical officer of the House of the Injured of Shuheda al-Islam Brigade, Maen Sharbaji. Sharbaji attributes the complaints by the city's injured to the fact that they are still holding onto hope, "They thought that as soon as they arrived in the north, they would get treatment and recover."
Sharbaji sees that the injured and especially those who have neurological injuries, "did not know that they cannot get treatment in the liberated north or outside Syria. Physiotherapy is the best thing that can be offered to them." He pointed out that amputees "faced indefinite waiting and endless promises."
Sharbaji holds the Interim Government and administration of the liberated areas responsible for the shortages in medical service and lack of organization. He considered that strong infrastructure, especially in the medical field, "is one of the most important foundations of an independent state. It is shameful that until today, many injured are transferred to Turkey to receive treatment." He confirms, "Until we establish an internationally recognized government, the government has to at least organize itself and manage services well in order to gain trust and international support."
House for the Injured in Turkey
At a House for the Injured, the manager Osama Suhaib, tells us that the house opened after Daraya fighters and their families left the town, in order to monitor their health needs. Osama told Enab Baladi that the house was founded in cooperation with Daraya Local Council, Shuheda al-Islam Brigade and Daraya Hospital staff, with funding from individuals and in-kind assistance from some organizations. He confirmed, "There is no regular monthly support for the house."
The house officers provide medical services to the injured and follow up on surgeries and medical consultations in Turkish hospitals, according to Suhaib. He indicates that the house has received 34 injured so far, six of whom have undergone orthopedic surgery. He attributed the delay in operations to "the procedures for obtaining an ID card and refusal of Turkish hospitals to receive the injured without the ID."
According to some medical staff in the north, the cases of injuries from Daraya who crossed into Turkey were those could not be treated in northern Syria. This is what made the administration of the Bab al-Hawa border post allow them to cross into Turkey, amid severe restrictions depending on the circumstances of each case.
"I have not found what I dreamt of for years," al-Deeb concludes, still waiting for the operation to replace his joint. He sees that the medical situation in northern Syrian does not live up to the potential of the available resources, "In my opinion, Daraya's hospital provided far better medical services under siege than those here." Others disagree and consider the medical services in the north good to a certain extent, although they have to be developed in order to be able to provide care for all patients.
if you think the article contain wrong information or you have additional details Send Correction